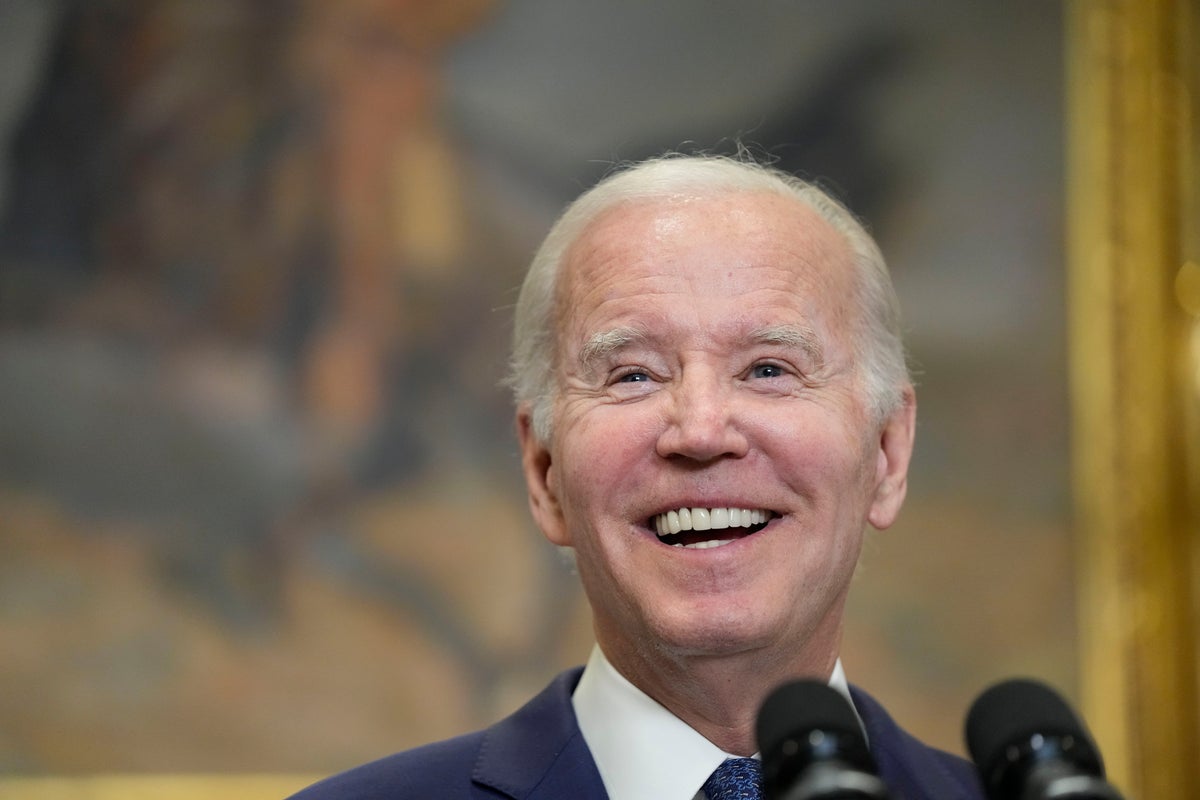 President Joe Biden on Monday scoffed at the idea of granting his predecessor, former president Donald Trump, a pardon absolving him of any crimes he may have committed during or after his presidency.
Mr Biden was asked if he'd consider a reprieve for Mr Trump as he departed the White House en route to his Delaware home on Monday, the day before the eighth anniversary of his late son Beau Biden's death.
Asked whether he'd heard that Florida Governor Ron DeSantis has said he'd pardon the disgraced ex-president — and if he'd consider doing so himself, the president flashed a smile and chuckled as he turned towards the South Lawn and his flight aboard Marine One.
During his 2020 campaign for the presidency against Mr Trump, Mr Biden was asked if he'd commit to not following the example of the late Gerald Ford, who famously awarded his disgraced predecessor, Richard Nixon, "a full, free, and absolute pardon unto Richard Nixon for all offenses against the United States" committed between the start of his aborted second term and his August 1974 resignation, if the same issue might arise with Mr Trump.
The question about pardoning his then-opponent came during a Covid-era virtual town hall hosted by MSNBC in May 2015.
The then-former Vice President replied: "Absolutely, yes. I commit".
He added that the question of whether to prosecute Mr Trump was "hands-off completely" because, in his view, the attorney general of the United States is "the people's lawyer" and not "the president's lawyer".
Mr Trump has already been indicted by a New York grand jury on more than 30 counts of falsifying business records, but US presidents cannot grant any pardons or reprieves for crimes prosecuted by state or local prosecutors.
The twice-impeached former president could face federal charges as a result of two investigations being supervised by a Department of Justice Special Counsel, Jack Smith.
Mr Smith, a former war crimes prosecutor, was appointed in November by Attorney General Merrick Garland shortly after Mr Trump declared his candidacy in next year's presidential election,
He is currently overseeing an investigation into Mr Trump's alleged unlawful retention of national defence information at his Palm Beach, Florida home, and his alleged obstruction of that investigation, and has reportedly wrapped up questioning of witnesses before a Washington DC grand jury.
Mr Smith is also looking into the ex-president's role in fomenting the January 6 attack on the US Capitol, which came as Mr Trump pushed to remain in office despite losing the 2020 election to Mr Biden.