Leaning up against one of the most political border fences in Europe, young mum Munira Nour represents a challenge for the European Union and a possible escalation from Belarusian dictator Alexander Lukashenko.
Munira and her family left the war-torn Syrian city of Aleppo in search of safety, travelling through Iraq and Iran before arriving in Moscow and eventually taking a car journey into Belarus. 
But instead of finding a refuge, they have ended up on the wrong side of the fence at the front line of a brewing political crisis. 
At the Belarus-Poland border, with Russian President Vladimir Putin's war to the south-east and the full force of the European Union to the west, this family has nowhere to go. 
Behind them are Belarusian border guards who have threatened their lives, but in front of them are the Polish counterparts who are under strict instruction to protect the external border of the EU.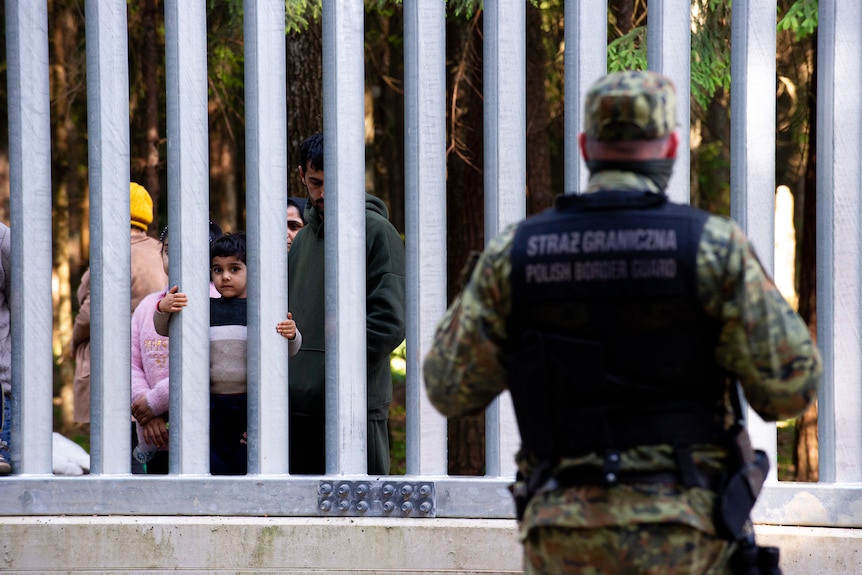 Munira, her husband and their two children Kawthar, 6, and Asad, 3, expected to find safety after leaving their war-ravaged home.  
"We have been in the woods for 12 days without food or drink," Munira said. 
"There is war in Syria and the earthquake. My father and mother died. They died in the war and I came here.
"We escaped death. We said we would start a new life and we found more death here." 
There have long been stories of asylum seekers staying in the forest, with no shelter or access to supplies for weeks.
"We are here just sitting and sleeping, only wanting asylum," Munira said. 
"The mosquitoes have eaten the children alive. We got very tired from the journey. We fell in the swamps."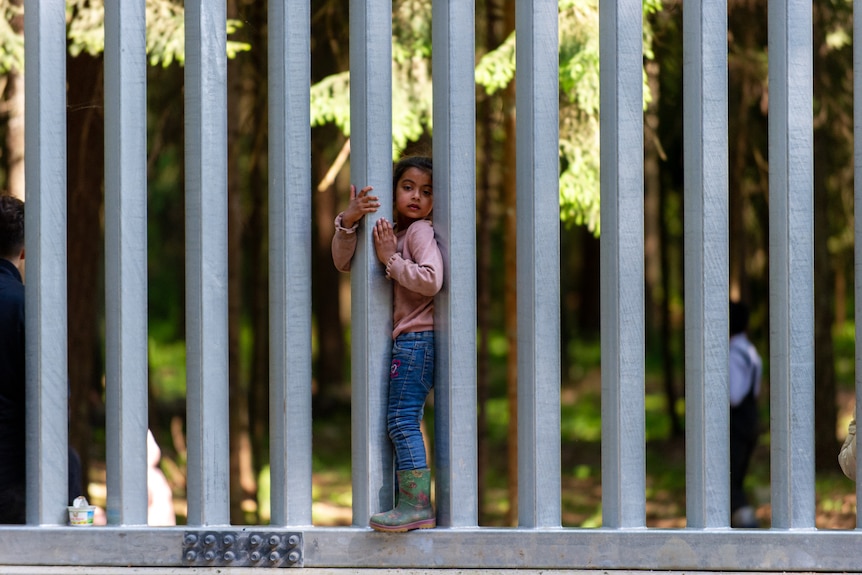 Families like Munira's are believed to have been lured to Belarus by Mr Lukashenko on the promise of passage into central and western Europe, but are ultimately pawns in his political game, according to the Polish government and the EU. 
The allegation is that, together with ally Mr Putin, Mr Lukashenko again wants to create a refugee crisis and destabilise the continent.
This week, Munira and a number of others appeared at the fence where they accessed food and water from NGO workers and activists on the Polish side.
From a distance and over Polish border guards, Munira was able to answer the ABC's questions.
"I didn't imagine it would be this hard. I mean, I didn't know this way is hard, [but] it's very hard," she said.
"I thought that we would be able to cross very easily."
'There is no going back'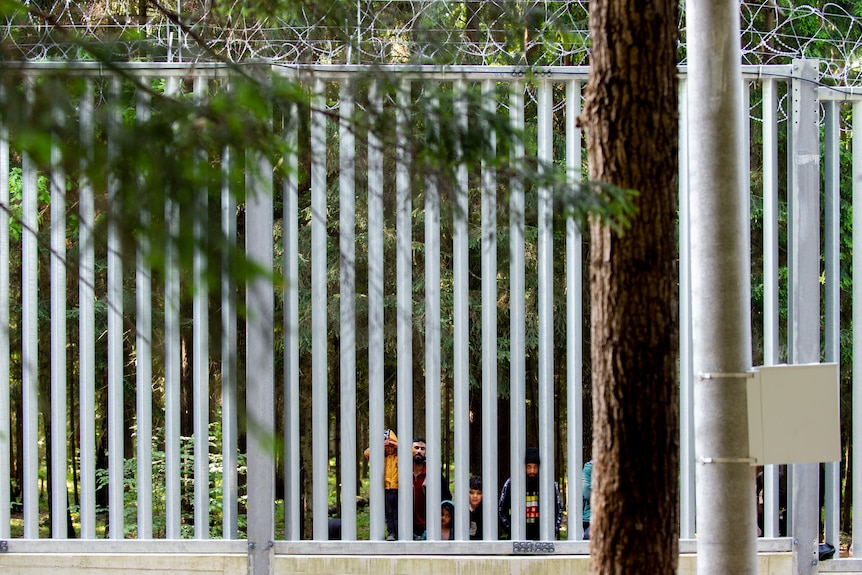 Munira and her family are up against the fence Poland built to fortify its boundary. 
The fence stretches for 186 kilometres and this family is able to move along it, but at this location they will not be allowed through and they fear going back. 
"My husband was threatened. [The Belarusian guards] put a weapon to his head and were going to kill him. There is no going back," she said.
Earlier in the week, there were reports Belarusian soldiers threatened to set dogs on them. 
The presence of this group at the fence has come as other indicators are emerging across Europe that Belarus is again trying to create a political storm on the border of the Schengen Area.
On Tuesday, Polish and German interior ministers met to discuss the issue. 
"Our actions on the external border, especially in this direction with Belarus, are to protect the Polish border, but also the common European border," deputy head of the Polish Ministry of the Interior and Administration Bartosz Grodecki said after the meeting. 
"This is the goal which both Putin and Lukashenko want to destabilise."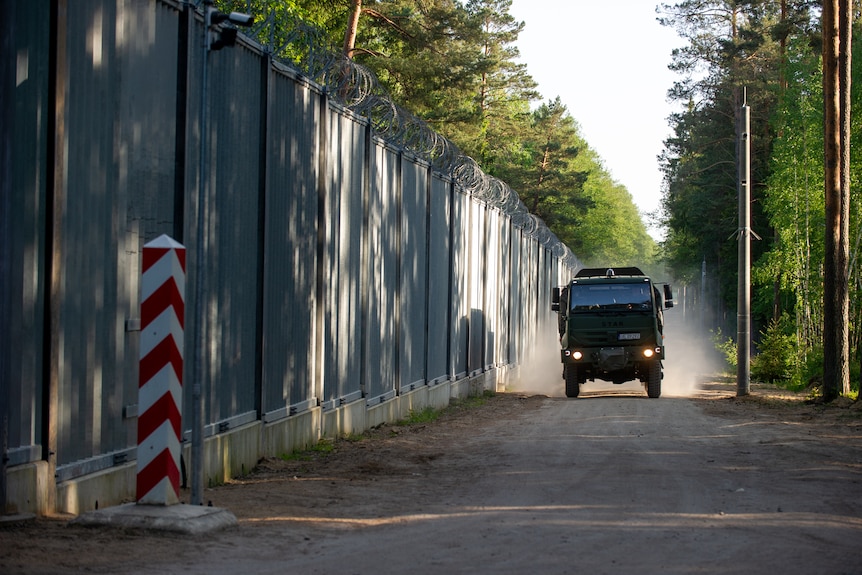 Another Polish deputy minister called the current situation "a provocation of the Belarusian services".
German Interior Minister Nancy Faeser acknowledged the increased migration pressure along the country's border with Poland from the activity in Belarus, and announced checks at crossings into Germany would be widened.
This issue hit crisis levels two years ago when "men, women and children were ping-ponged" across the Belarus-Poland border for days or weeks "in freezing weather, desperately needing humanitarian assistance" that was blocked on both sides, according to Human Rights Watch. 
The group said Belarus manufactured the situation "without regard for the human consequences", but Poland shared responsibility for "the acute suffering in the border area" by not allowing safe passage.
The crisis unfolded after Mr Lukashenko lashed out at the EU for sanctions placed on his country, saying: "We were stopping migrants and drugs — now you will catch them and eat them yourself."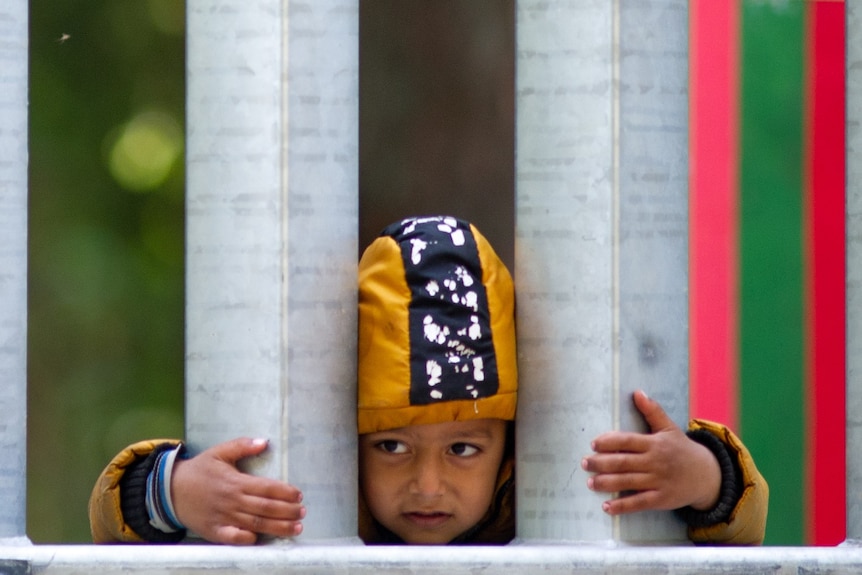 Poland even accused Belarus of flying in people from the Middle East and Africa and attempting to push them across the border. 
The impact on the ground was devastating. 
"People trapped on the Belarus border with Poland said they had been pushed back, sometimes violently, by Polish border guards to Belarus despite pleading for asylum," Human Rights Watch said. 
"On the Belarusian side, accounts of violence, inhuman and degrading treatment and coercion by Belarusian border guards were commonplace." 
That crisis is referred to as Usnarz — the location along the border where people were trapped in the forest. 
Now, a group of asylum seekers is gathered further south.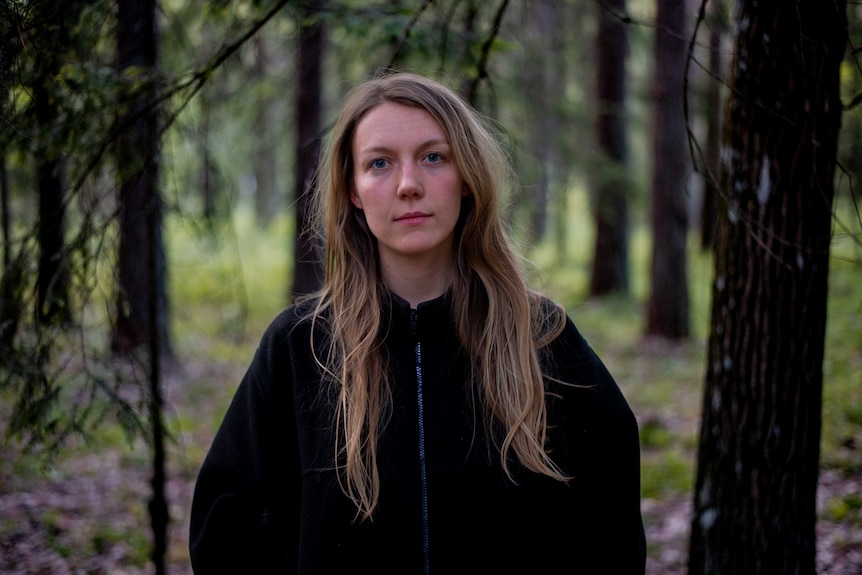 Dominika Ozynska is an activist and volunteer for Grupa Granica — a group that has been working to help those trapped at the border for two years.
She has been camping in the forest on the Polish side, providing support and helping with translation. 
"The only thing I hope for is that Usnarz will not happen again," she said.
"We're trying to support them to some degree: to be here, observe what's going on, monitor the situation and the behaviour of the services and to distract the children a little from what's going on." 
Grupa Granica recently released a report that said at least 45 people had died on the border since August 2021.  
The gateway to the European Union
Activists say Polish law is on the side of those trapped in the forest. 
Because if Munira and her family are genuinely fleeing conflict in their home country, they are allowed to seek asylum in Poland.
The Polish border guards say that avenue is open to them providing they enter the country legally, but it is nearly impossible for them to do that.
"There is no legal or factual possibility of admitting foreigners in an unregulated manner to Poland, and thus to the territory of the Schengen Area countries," border guard spokesperson Katarzyna Zdanowicz said.
"All migrants on the Belarusian side entered Belarus legally, as well as Russia, and are staying there legally.
"If they want to continue their journey, taking into account the conditions of entry and stay in Poland or another European country, they should do so in a regulated manner." 
The closest official border crossing to Munira is 100 kilometres away and there is no guarantee Polish border guards would accept their claim for asylum. 
"I have hope that some day you will let us through this door," she said as she grips the steel structure in front of her. 
"We are asking for your protection and for asylum in Poland. I am begging you to help us. I have children who will die if we stay in the forest."