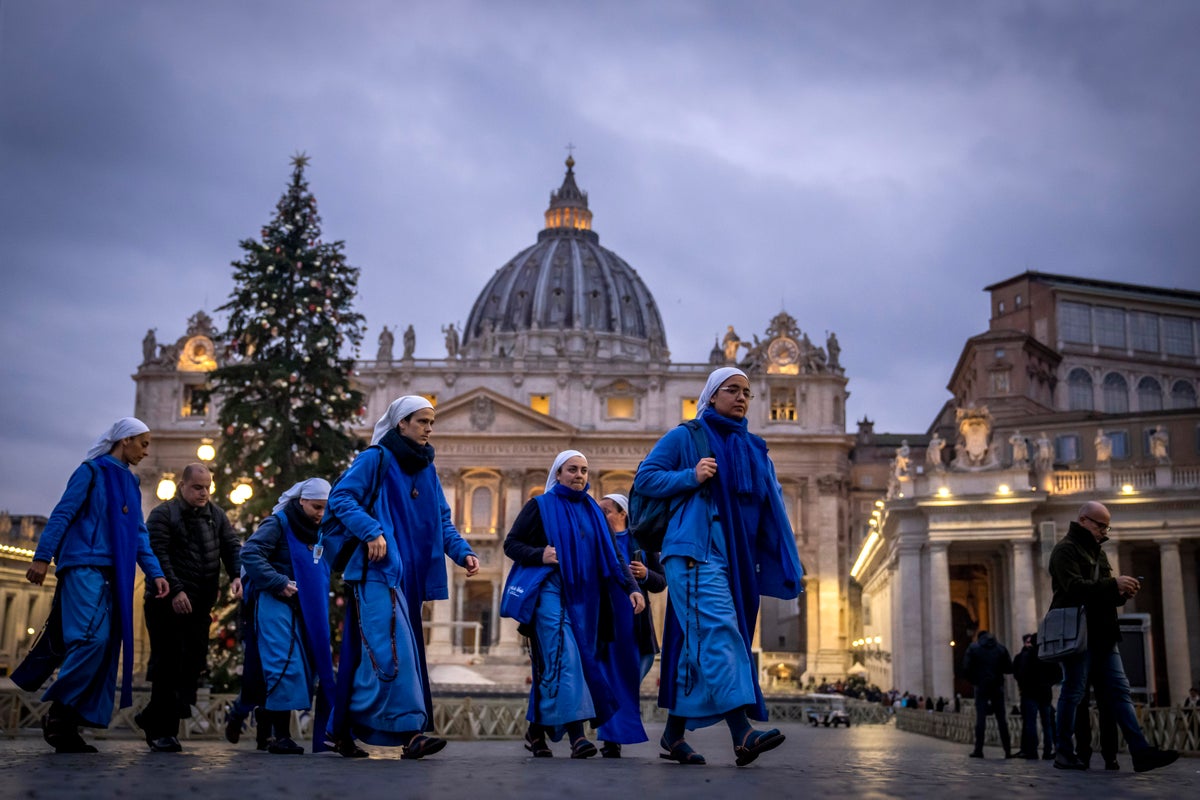 For a second day, lines of people wanting to honor Pope Emeritus Benedict XVI 's service to the Catholic church snaked around St. Peter's Square on Tuesday to view the late retired pontiff's body.
Benedict died on Saturday at age 95 after 10 years of retirement from the papacy and after increasingly frail health. His body lies in state in St. Peter's Basilica, where thousands of faithful and curious came for the viewing.
On Monday, the first day the general public could view the body, around 65,000 people paid their respects — about double what Italian security had predicted. A third day of viewing is set for Wednesday.
On Thursday, Pope Francis will lead the funeral Mass at St. Peter's Square for his predecessor, the first pontiff in 600 years to resign.
The basilica's doors opened before dawn on Tuesday and among those paying respects was 6-year-old Miriam Groppelli, who is an altar server in her parish in Milan.
She and her father, Giuseppe Groppelli, 40, traveled by train in the early hours to offer their homage, along with the child's grandparents, and older brother and sisters.
"I told her his story and she was really excited to come to Rome to say goodbye," the father said. "Benedict has been very important for the Church, his speeches were so clear and beautiful, he leaves a great legacy of knowledge."
"We came here to express our gratitude to him but also to God who send him to us," he said.
Like other faithful, Groppelli offered his take on the unusual, nearly-decade-long arrangement that saw Benedict's retirement in the Vatican City monastery where he died on Saturday, and Francis, who was elected in 2013 by fellow cardinals to succeed him.
"I believe there's no real war or competition within the church and between popes. The church lives and grows every day, also thanks to their words," he said.
Benedict, who as German Cardinal Joseph Ratzinger had served for decades at the Vatican as the church's guardian of doctrinal orthodoxy, was known for his theological knowledge as well as for eloquent speeches, which — unlike like many of his predecessors — would write himself.
Francis will eulogize his predecessor at the funeral, which the Vatican has said would be marked by the simplicity that Benedict requested.
Since Benedict was no longer head of Vatican City State, as opposed to funerals of previous popes, who died when they were reigning, only two countries — Italy and his native Germany — will send official delegations.
Political leaders and royalty, especially of predominantly Catholic countries, will attend in a private role.
With no need to elect a new pontiff following this former pope's death, cardinals who attend the funeral won't be staying on to meet in a secret conclave to pick the man who will help shape the Church's direction.
In a possible reflection of the absence of immediate intrigue that usually builds before a conclave, Francis largely conducted business as usual. On Tuesday, he was set to meet with the cardinal who heads the Italian bishops conference, bid farewell to South Korea's ambassador to the Holy See in a courtesy visit and greet a delegation of an organization promoting brotherhood.
Also on Francis' schedule was a meeting with the basilica's archpriest, who on Monday, after Benedict's body was transferred in a pre-dawn procession from the monastery to the basilica, sprinkled holy water and incense by the bier.