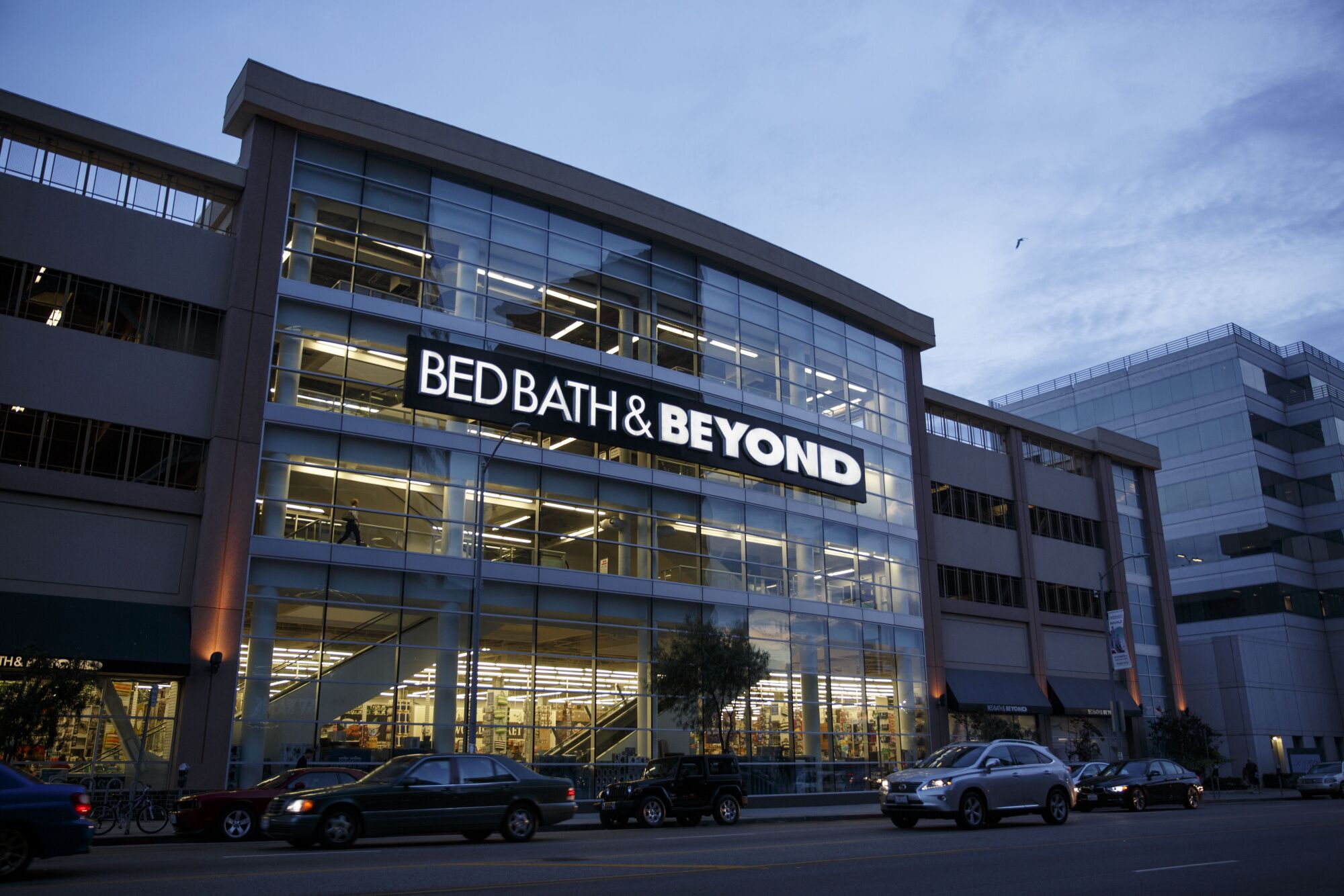 Bed Bath & Beyond Inc. edged closer to a bankruptcy filing on Thursday after the retailer said it had received a default notice from JPMorgan Chase & Co., its loan agent, and warned it didn't have enough funds to make payments. 
Creditors are demanding immediate repayment of the company's debt after it breached the terms of a credit line, according to a regulatory filing Thursday. Bed Bath & Beyond listed around $2.1 billion of obligations it owed as of November. 
Bed Bath & Beyond stock rose 8.3% at 9:45 a.m. in New York trading on Friday. The shares plunged 22% on Thursday. 
"Generally, in situations like this where a company defaults on their loan agreement our experience is, if they don't come to an agreement with their lenders, the likelihood of a bankruptcy filing within the next 30 days is relatively high," said Dennis Cantalupo, chief executive officer of Pulse Ratings, a credit-rating and consulting firm. Bed Bath & Beyond had said earlier this year that it was considering all options to fix its strained finances, including the possibility of filing for bankruptcy. 
"At this time, the company does not have sufficient resources to repay the amounts under the credit facilities and this will lead the company to consider all strategic alternatives, including restructuring its debt under the US Bankruptcy Code," the company said in the filing.
In an emailed statement, a Bed Bath & Beyond spokeswoman said the company is continuing to "work with our advisers and implement actions to manage our business as efficiently as possible." She added: "We will update all stakeholders on our plans as they develop and finalize."
The notice is the latest sign that one of the largest sellers of home goods in the US is likely to seek bankruptcy protection in short order after years of falling revenue.
The company has begun speaking with potential lenders that would fund the firm during bankruptcy proceedings, Bloomberg reported earlier. 
Bare Shelves
"I'm expecting a filing any day," said Cristina Fernández, a Telsey Advisory Group analyst. "I'm not sure what other avenues there are for them at the moment." 
Fernández said she had visited a Bed Bath & Beyond store in Paramus, New Jersey, in recent days and noticed that many shelves were bare — echoing the observations of many shoppers in recent months as the retailer struggles to convince suppliers to supply merchandise. 
Bed Bath & Beyond's revolving credit line, administered by JPMorgan, is secured by a claim on its inventory, the fluctuating value of which determines the amount of credit available at any given point. The company must provide regular updates to the bank regarding the value of inventory it has on hand, calculated at an agreed discount. 
The filing indicates that the value of Bed Bath & Beyond inventory during the most recent update to JPMorgan had fallen below the amount the company had already borrowed from its revolver. The mismatch breaches the terms of the loan, and must be remedied by a cash payment in order to avoid a default.
Separately, Bed Bath & Beyond said it had appointed Carol Flaton to its board. Flaton specialized in restructuring and turnarounds at consultancy AlixPartners and also at the bank Lazard. The retailer said she will be paid $30,000 per month. 
Supplier Pullback
The ubiquitous US brand, founded in 1971 in Union, New Jersey, Bed Bath & Beyond was once a staple of going-to-college shopping lists and wedding registries.
The firm's decline has been years in the making and has accelerated in recent months as suppliers become increasingly concerned about the retailer's future and demand to receive payments in advance. Other manufacturers have lowered their credit limits with the retailer in order to reduce the risk of not getting paid.
That limited the retailer's merchandise during the pivotal holiday season, exacerbating a vicious cycle of falling inventory levels, declining foot traffic and declining revenue — making it harder, in turn, to pay suppliers.
--With assistance from Reshmi Basu.
©2023 Bloomberg L.P.