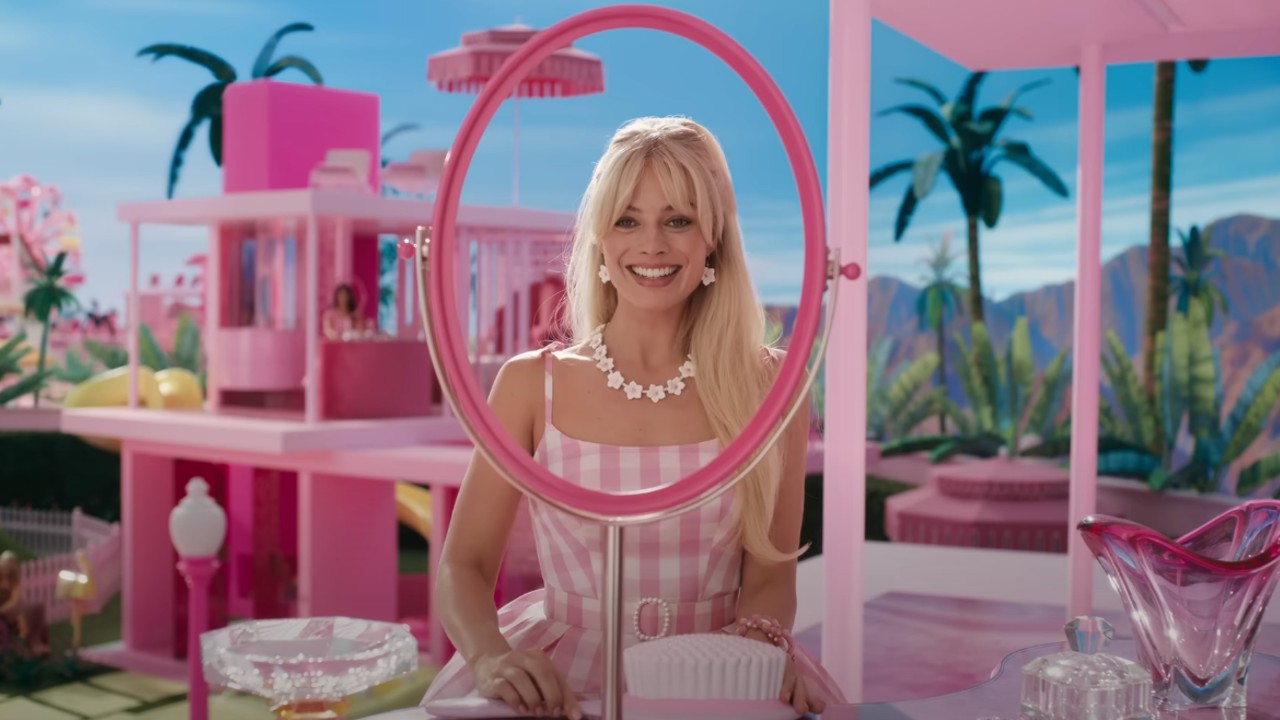 With June being Pride Month, it's that time of year to really get up and out to celebrate the LGBTQIA community. While Pride Month is all about embracing the colors of the rainbow, the Barbie movie has inspired celebrities to dress in full Barbiecore with the color pink being one of this year's colors. And the Barbiecore continued to spread making its way to West Hollywood's Pride Parade with the cast of Greta Gerwig's comedy arriving on a hot pink float.
When the first look of Barbie came out a year ago, we were introduced to the pink, pink world of the iconic doll. Just when you thought it couldn't get pinker, Alexandra Shipp, who plays a Barbie in Barbie's cast, posted a video of herself and other residents of Barbie's World as they made a dazzling appearance with their hot pink float. Take a look at the cast looking all pretty in pink in this Instagram video:
As you can see, the X-Men: Apocalypse star is just gleaming with her hot pink attire as she's waving her rainbow fan with the rest of the cast. This beautiful float featured the Barbie movie's logo with the release date on the front. Surrounding the float were baskets of Barbie and pride flags with two disco balls behind the float. This creatively-designed spectacle is not only a fun peak into what we can expect from the movie, but it's also such a fun way to celebrate pride. 
Along with Shipp, you can also spot Scott Evans, brother of Captain America's Chris Evans, waving his rainbow fan with gusto. He will be playing one of the many Kens we'll be seeing in the Warner Bros. Pictures film, and it seemed like he was having a blast on this float. Not only did the Barbie cast look proud to be part of this important event, but the fans were amped holding their "B" logos from the movie. 
Alexandra Shipp came out as a member of the LGBTQIA community in June 2021, per her Instagram. In her latest post about her upcoming movie and pride, she noted that she felt very proud to be part of the magic that the cast of Barbie brought to the parade. Due to her work schedule, the Love, Simon actress said she's never been able to attend the WeHo Pride Parade before. She expressed that it was an amazing feeling for her to be there, and she thanked the "pure souls" who attended. 
Overall, the large-ensemble film has done a great job casting people of different races, cultures, and sexualities, and it's amazing that the Barbie movie continues to show its support for the LGBTQIA community. 
It's a relief that there was enough pink to be able to fill this Pride Parade float as creating Barbie's world with the vibrant color led to an international shortage of it. As production designer Sarah Greenwood said, "The world ran out of pink." However, I'm thrilled that they were able to get enough pink to make Barbie Land, and had some leftovers to create this epic pride float. If you'd like to see more fans celebrating Barbie's pink goodness and pride, check out the movie's Instagram post:.
The color pink brought by the cast of Barbie was welcomed into West Hollywood's pride parade, and it was amazing. If you feel like you can't get enough pink into your life, you'll be able to catch the 2023 movie release when it hits theaters on July 21.