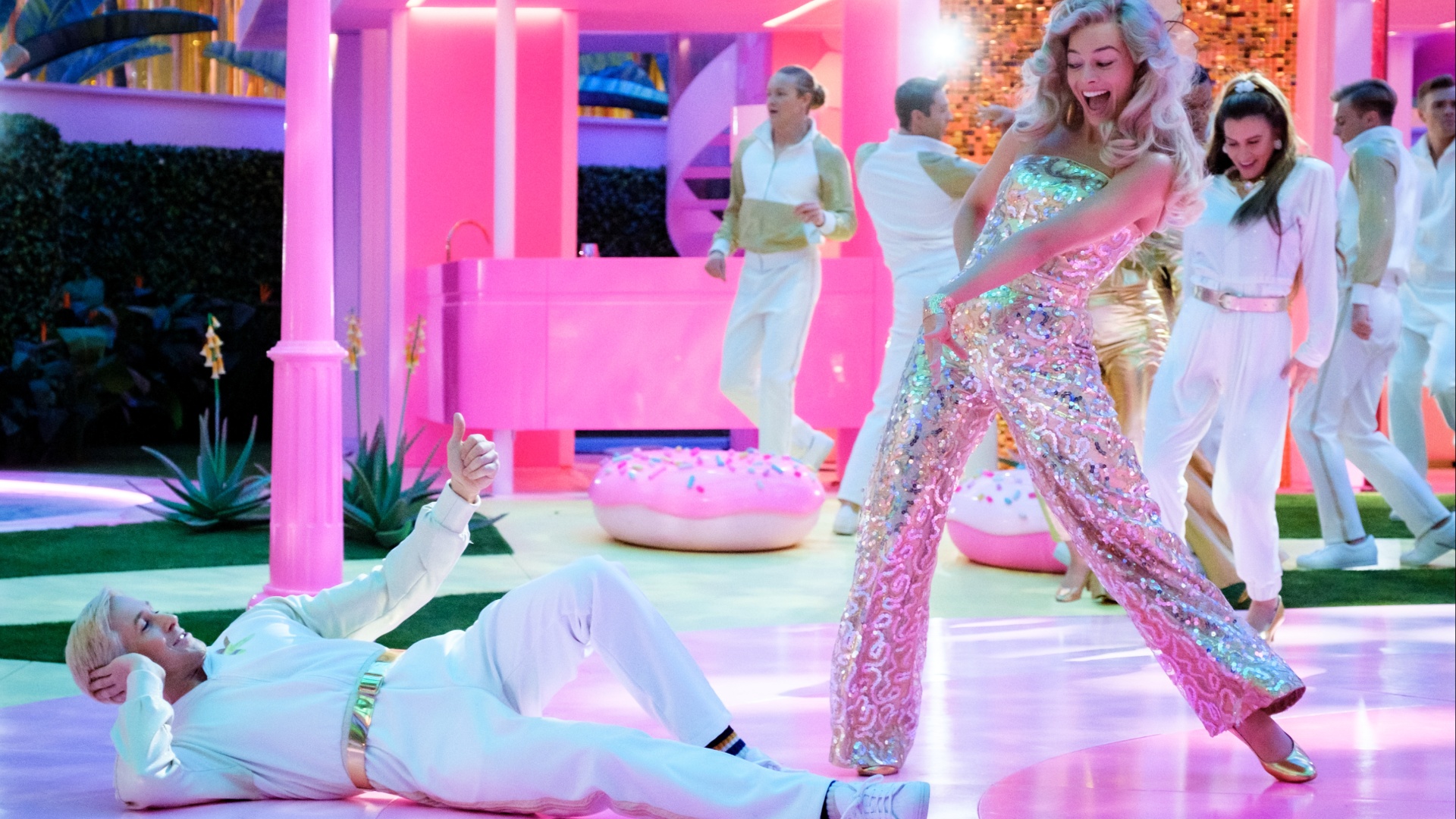 After one of the most full-powered (and pink) marketing campaigns in recent history, Barbie has now hit the big screen. Margot Robbie plays the titular doll – as does Issa Rae, Emma Mackey, Kate McKinnon, Hari Nef, Alexandra Shipp, and more… hi, Barbie! – alongside Ryan Gosling as Ken. When thoughts of existential dread start to kill the vibe in Barbie's Dream House, she sets out on a mission to the real world to try and return everything to normal – but her and Ken bite off a little more than they can chew.
The latest movie from Greta Gerwig, the brains behind movies Lady Bird and Little Women, the film is packed full of Easter eggs and references to movies from 2001: A Space Odyssey to Top Gun, as well as tidbits from Barbie and Mattel's own history (anyone remember Sugar Daddy Ken?). You'd be forgiven for missing some of these, so we've compiled everything to make the ultimate guide to Barbie. A quick note, though, that the below contains spoilers for the movie. So, without further ado, let's go party…
Movie references
2001: A Space Odyssey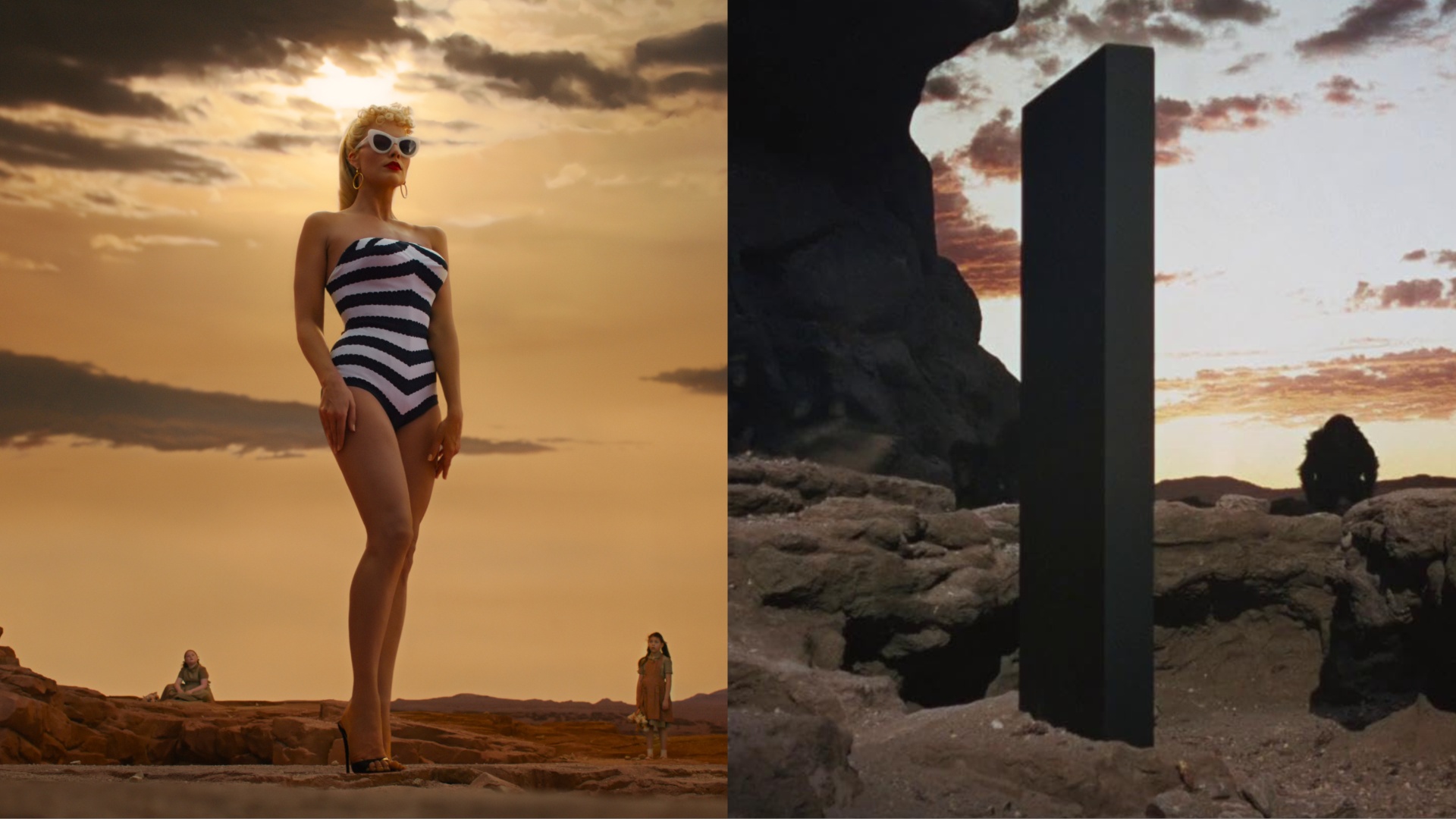 Barbie begins with a shot-for-shot homage to 'The Dawn of Man', the iconic opening sequence from Stanley Kubrick's 2001: A Space Odyssey. Instead of chimps gathering around a towering black column in a desert, little girls – tired of their old toys – flock to see a giant Barbie (Margot Robbie). In each movie, the metaphor is the same: this is new, this is a paradigm shift, and no one will ever be the same again after witnessing it. This scene was also the first glimpse we got of Barbie back in 2022.
The Godfather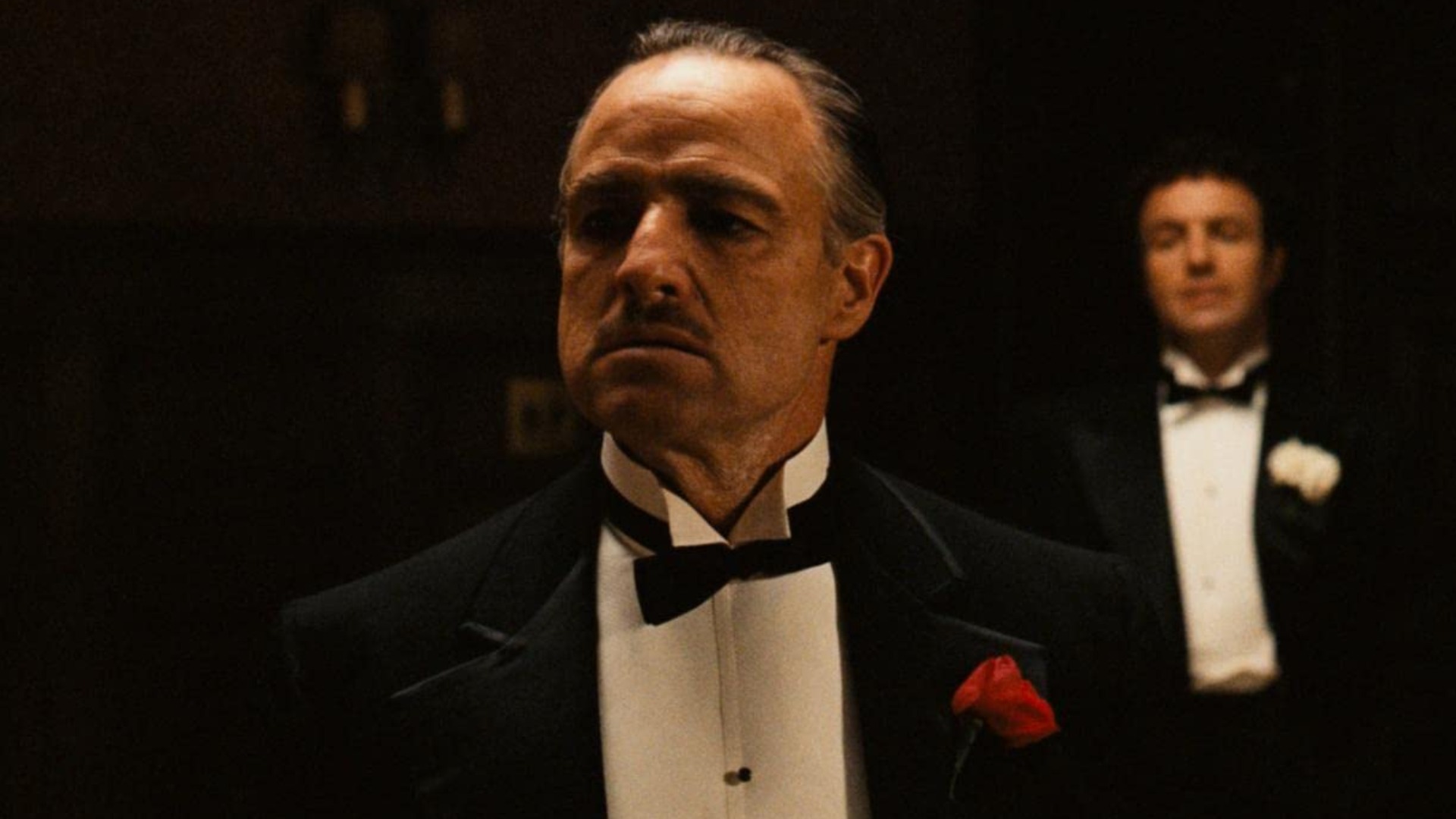 After the Kens discover patriarchy and take over Barbie Land, Kingsley Ben-Adir's Ken is seen watching The Godfather on TV. To distract him, one of the Barbies pretends she's never seen the Godfather, which immediately makes him start to explain why it's so good. She asks him to talk to her throughout the whole movie, which keeps him so busy the others are able to rescue a hypnotized Barbie. 
The Matrix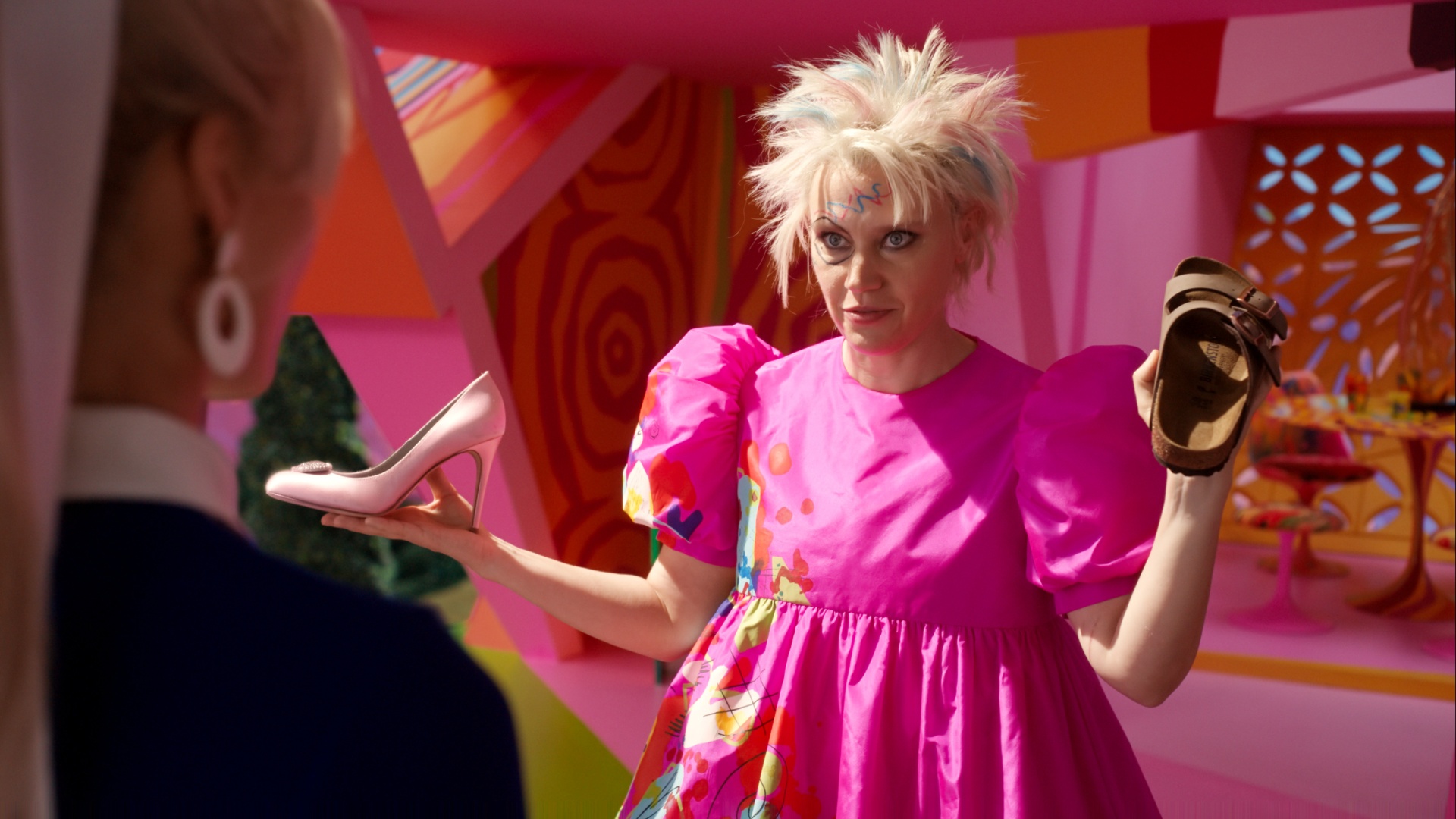 When Margot Robbie's Barbie starts feeling strange, she goes to Kate McKinnon's Weird Barbie for help. Weird Barbie tells her she has to go to the Real World – and holds up two objects symbolizing the choice. One, a Birkenstock sandal, means entering reality, and the other, a fancy pink high heel, means staying in Barbie Land. That mirrors the choice Morpheus gives Neo in The Matrix – a blue pill to stay in the simulation, or a red pill to wake up in the real world. Neo chooses red, but Barbie prefers the pink shoe…
The Wizard of Oz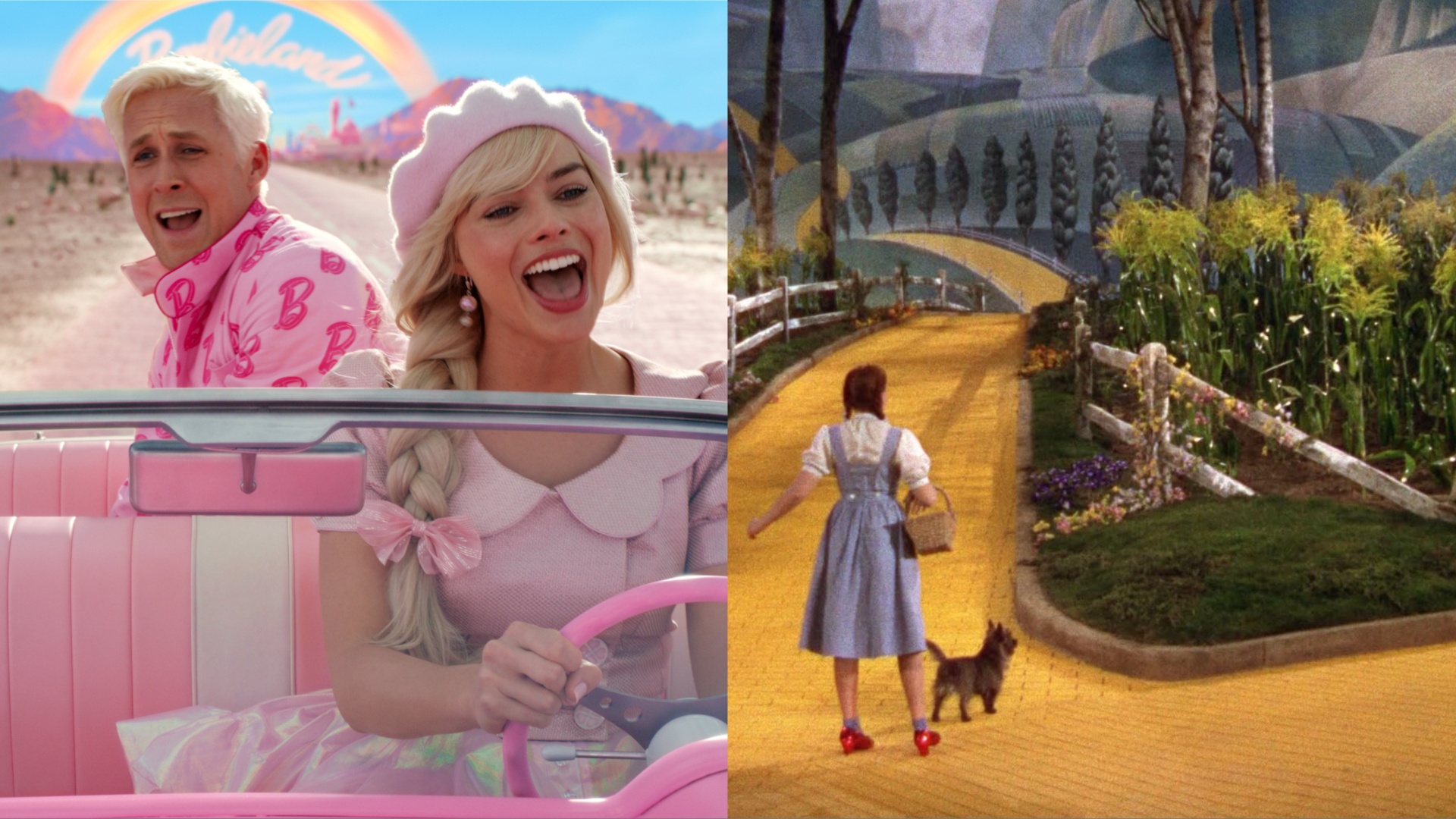 The way out of Barbie Land begins with a pink brick road – in the Wizard of Oz, Dorothy and her friends must follow the yellow brick road to get to the Wizard. Barbie flips the script, though; Dorothy follows the yellow brick road to go home to Kansas, but Barbie follows the pink brick road to leave her home and go to Los Angeles. 
Zack Snyder's Justice League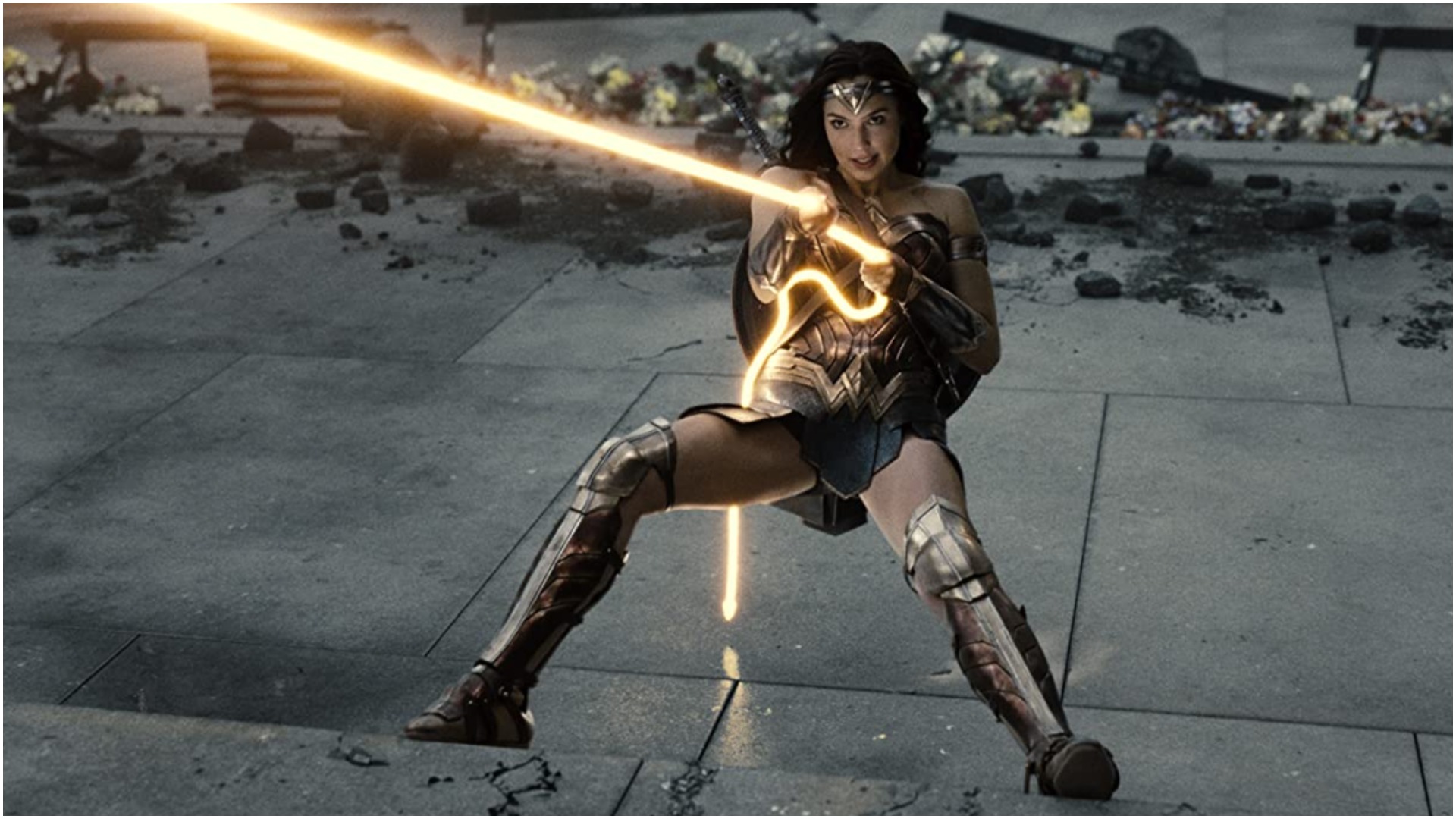 Alexandra Shipp's Barbie, who has been hypnotized by the Kens, breaks free from her new programming when America Ferrara delivers an impassioned monologue on the difficulties that come with being a woman. As she comes out of her trance, Shipp's Barbie comments that she feels like she's woken up from being really invested in seeing Zack Snyder's Justice League. That means the Snyder Cut, AKA the director's cut of the film released following a fan campaign; the theatrical version of Justice League was finished by Joss Whedon after Snyder stepped away due to a family tragedy (and it's radically different to the Snyder Cut). 
Grease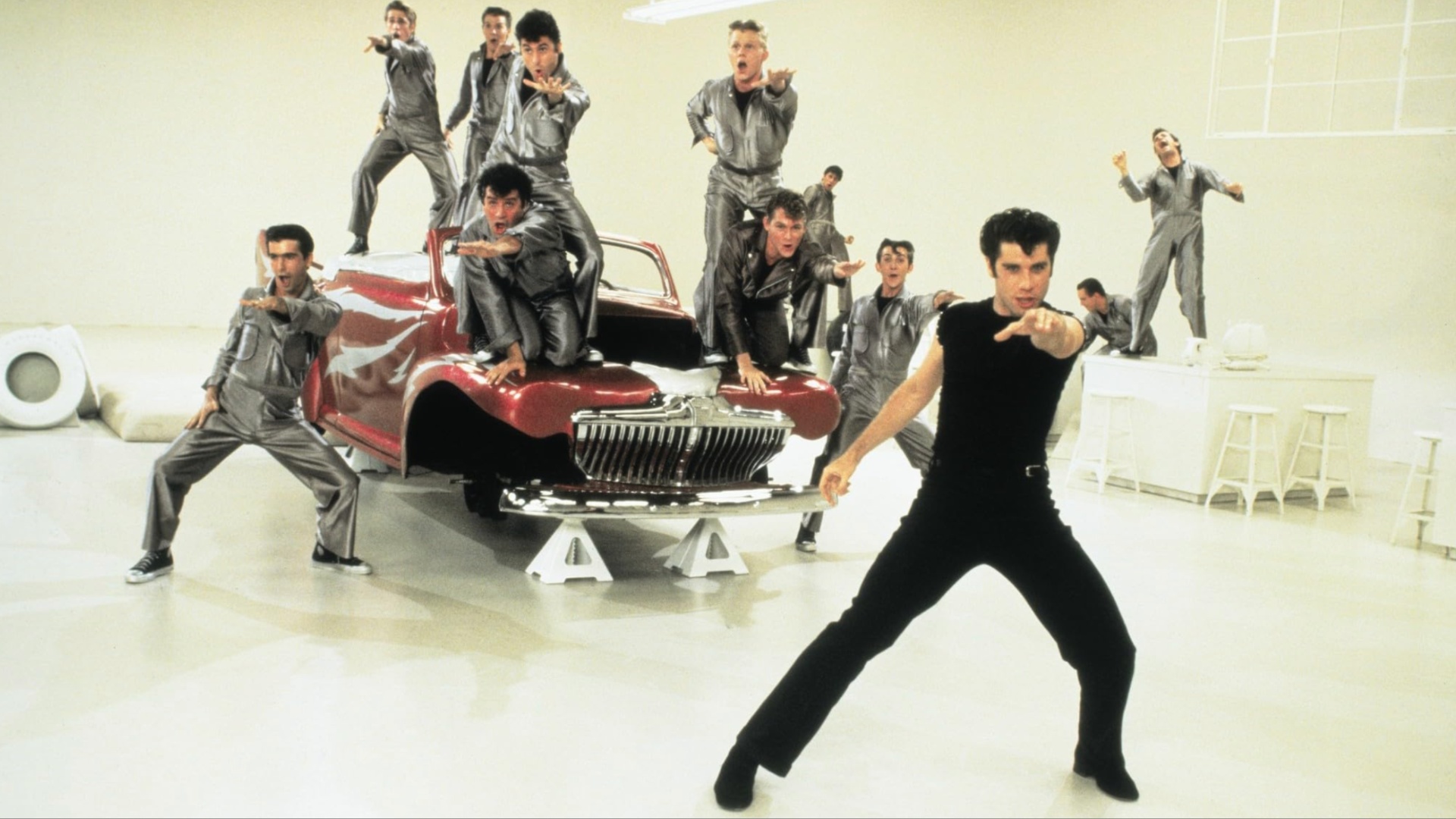 When Ryan Gosling's Ken goes to the real world, he gets a quick lesson in patriarchy. One of the parts of the manly montage that follows is an excerpt from the "Greased Lightnin'" scene in Grease – what could be more macho than a bunch of dudes singing about a car?
Playtime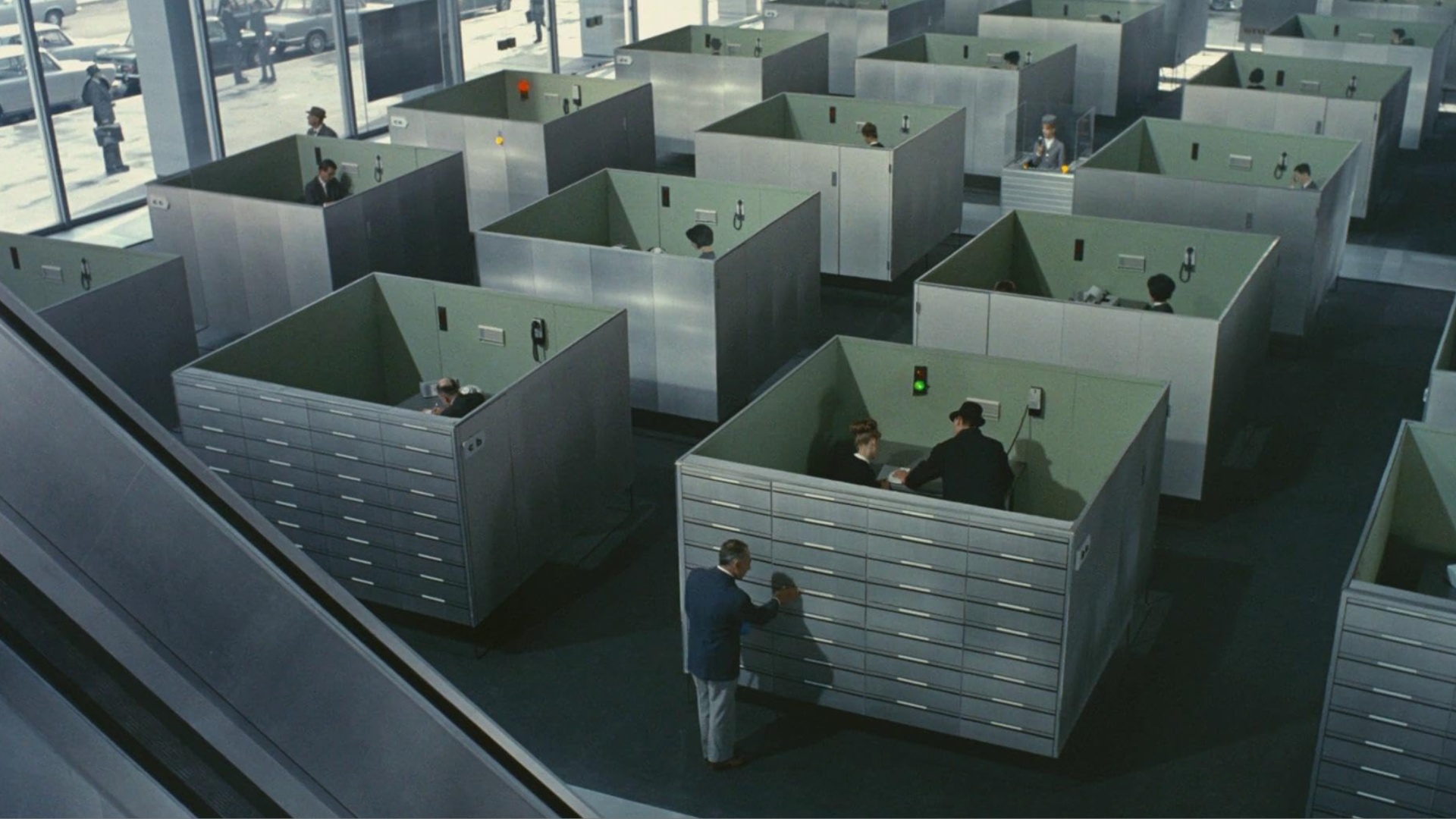 When Barbie arrives in the real world, it's a big deal – even the FBI gets involved, contacting a low-level employee at Mattel, Aaron Dinkin (Connor Swindells). Aaron and the other Mattel underlings work in a room of identical grey office cubicles, which just so happen to look identical to The Offices in Playtime, the 1967 French comedy directed by Jacques Tati, which is set in a futuristic version of Paris. As Barbie makes her escape from the company's headquarters later on in the movie, a hilarious chase scene ensues between the rows of cubicles. 
Pride and Prejudice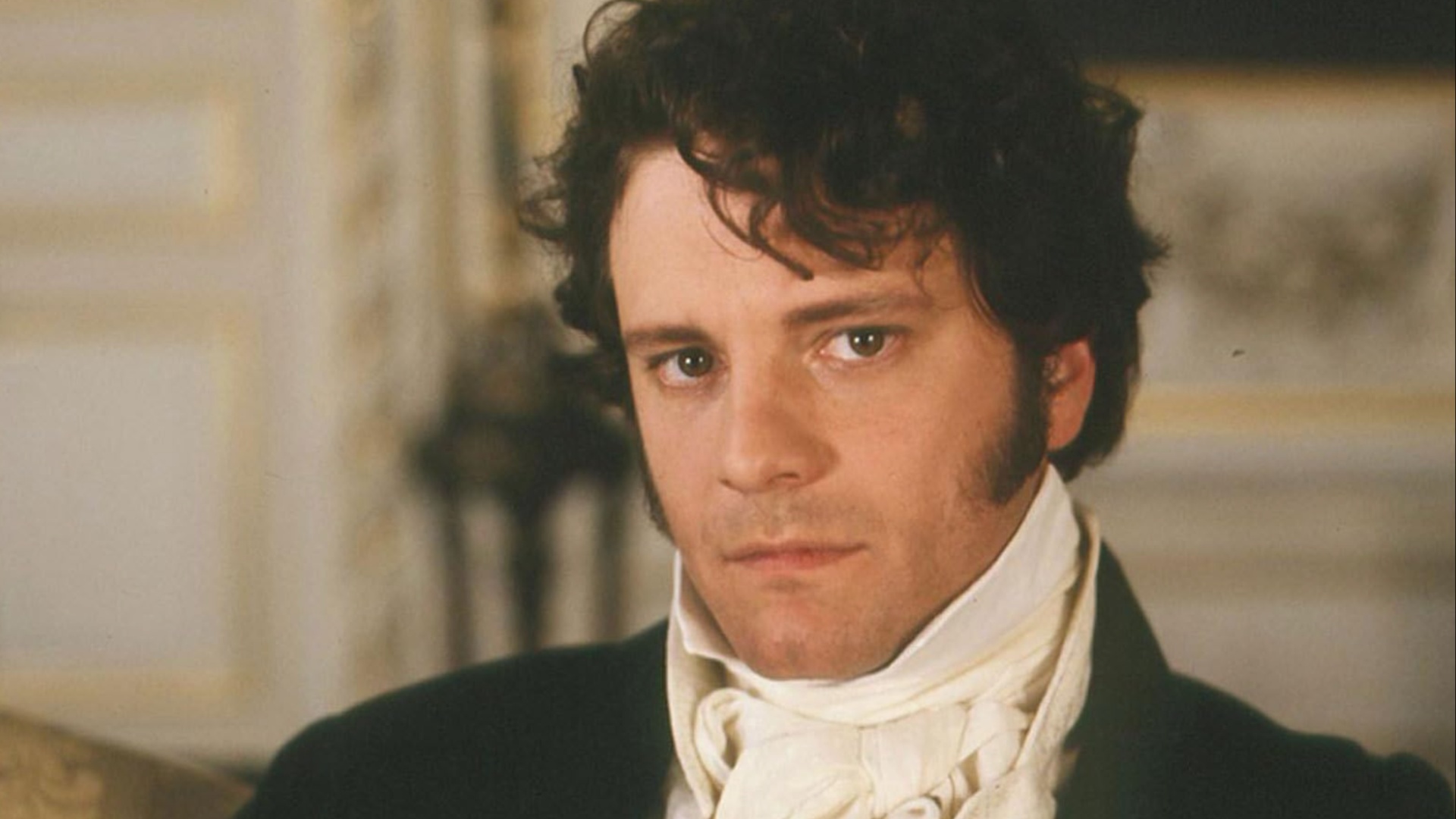 We know, we know – this one isn't technically a movie. When Barbie gets back to Barbie Land from the real world, she discovers that Ken has introduced his pals to patriarchy and the men are now on top. Spiralling into despair, we're shown an advertisement for 'Depressed Barbie', who does things like "scroll Instagram for seven hours." Another feature of Depressed Barbie is re-watching the 1995 BBC miniseries adaptation of Pride and Prejudice, starring Colin Firth as Mr. Darcy and Jennifer Ehle as Elizabeth Bennett, and a brief clip from the series plays. Don't worry, Barbie, we've all been there.
Rocky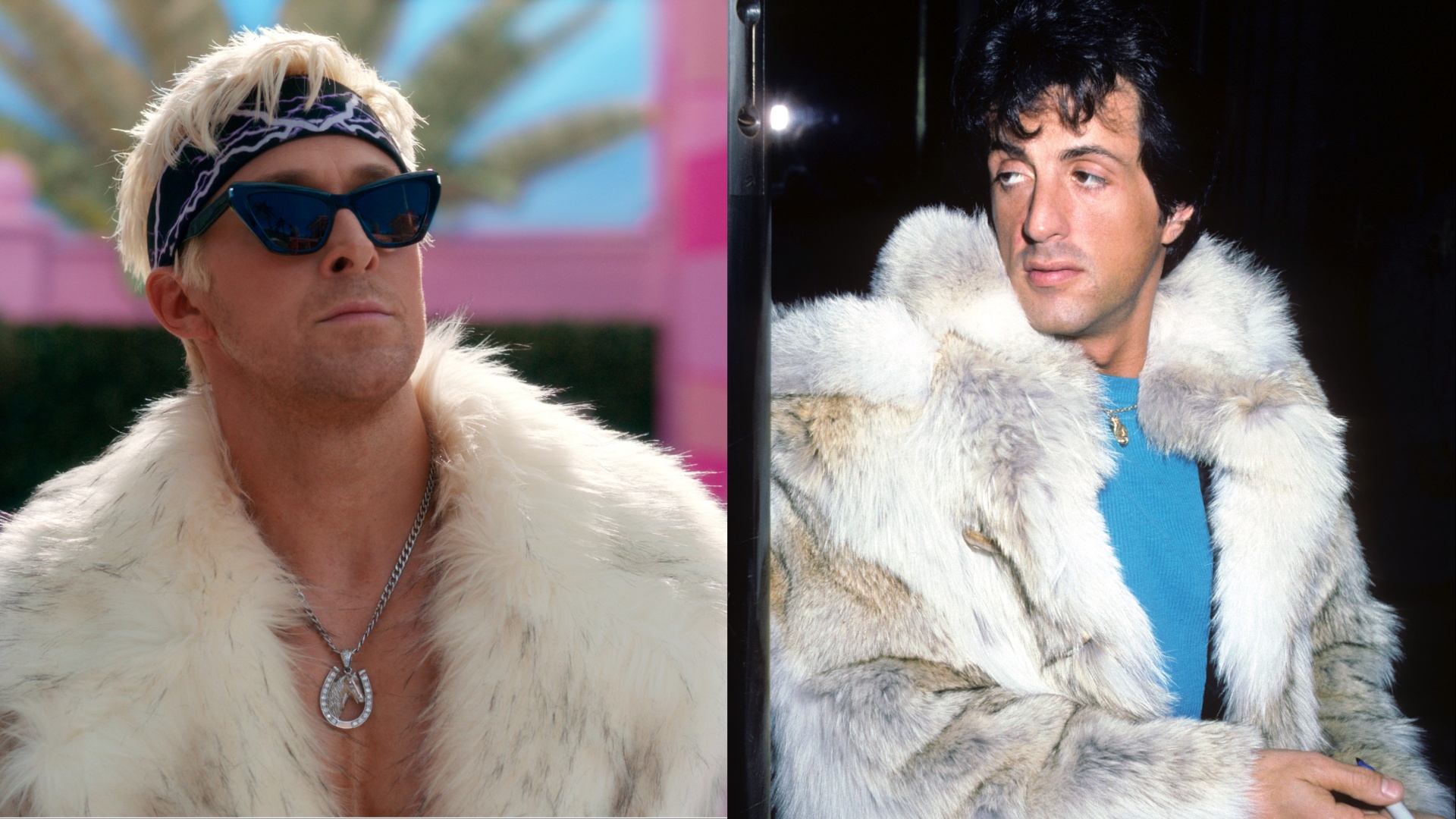 Another symptom of patriarchy, for Gosling's Ken, at least, is the addition of a fur coat to his wardrobe. And not just any fur coat – Ken's new garms are inspired by Sylvester Stallone's '80s get-up after he discovers the Rocky movies during his visit to the real world. And, somehow, Gosling pulls it off…
Top Gun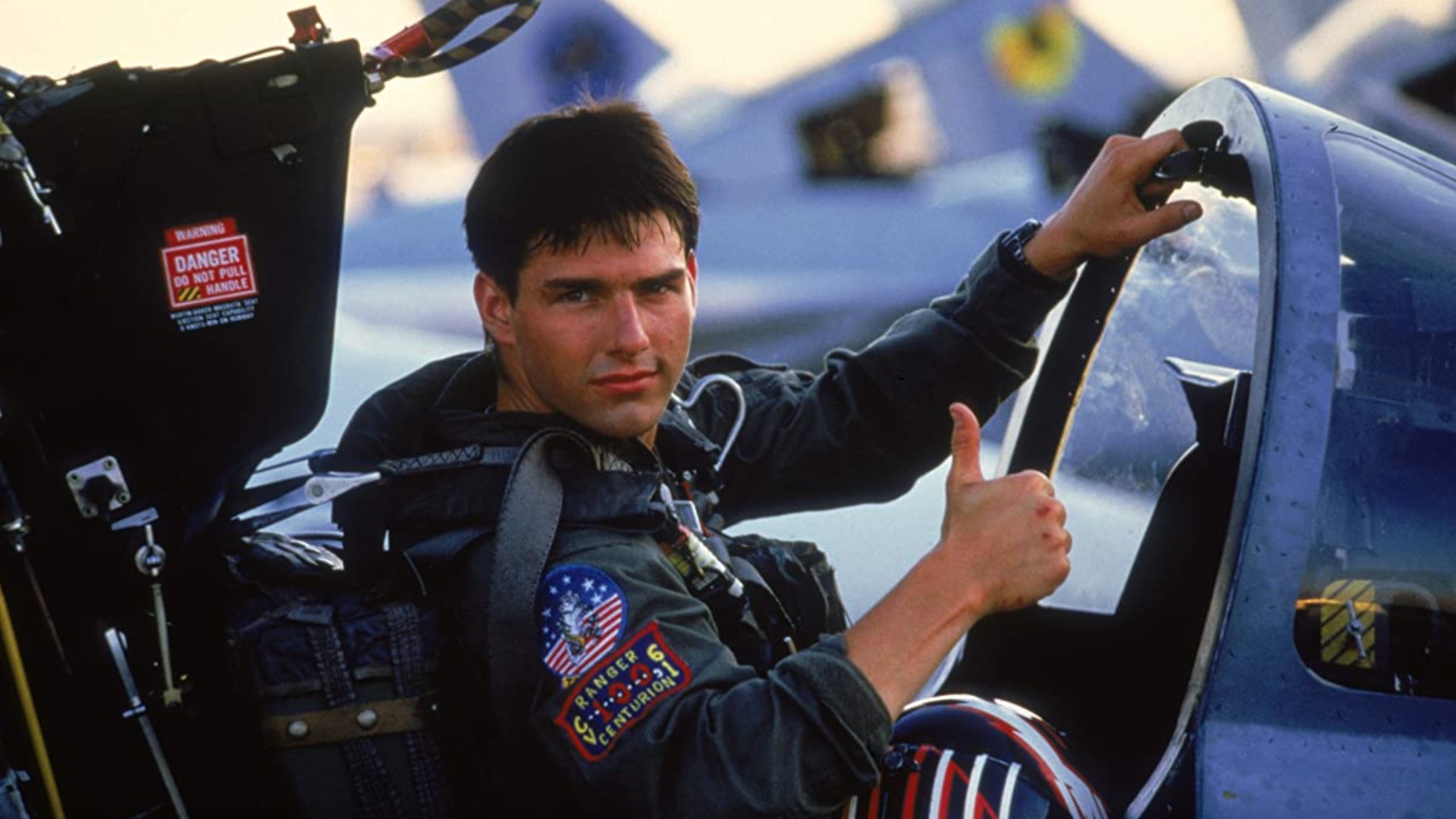 While there may not be any planes on the journey from Barbie Land to the real world, Barbie still contains one tongue-in-cheek homage to 1986's Top Gun. The latter movie involves a scene where Tom Cruise and co. play beach volleyball (shirtless, sweaty, and not homoerotic at all…), and the Kens partake in a similar scene that's filmed in a comparable way. A high five between Kens also mirrors the exchange between Cruise's Maverick and Anthony Edwards' Goose.
Discontinued dolls
Pregnant Midge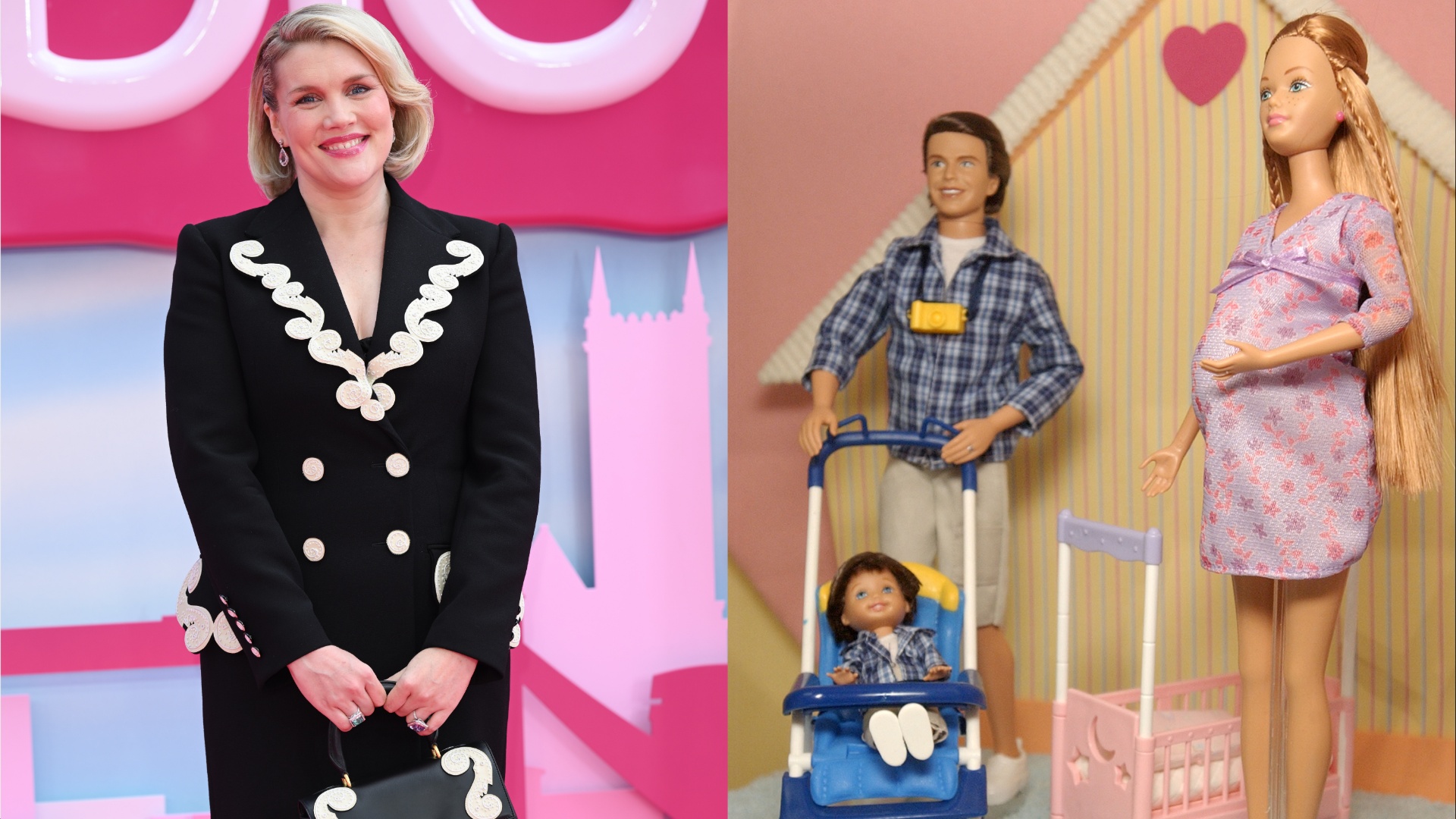 Emerald Fennell plays Midge, a Barbie with long red hair and a purple dress. She's also heavily pregnant – Pregnant Midge came with her own detachable baby bump and a small infant to put inside. Walmart recalled her due to complaints from parents. Midge was reintroduced in 2013, but no longer pregnant or with any kids (the original Midge wasn't pregnant, either). The father of Midge's children was none other than Allan/Alan, played by Michael Cera in the movie – Midge, Alan, and their kids were also part of the 2003 Happy Family line. 
Allan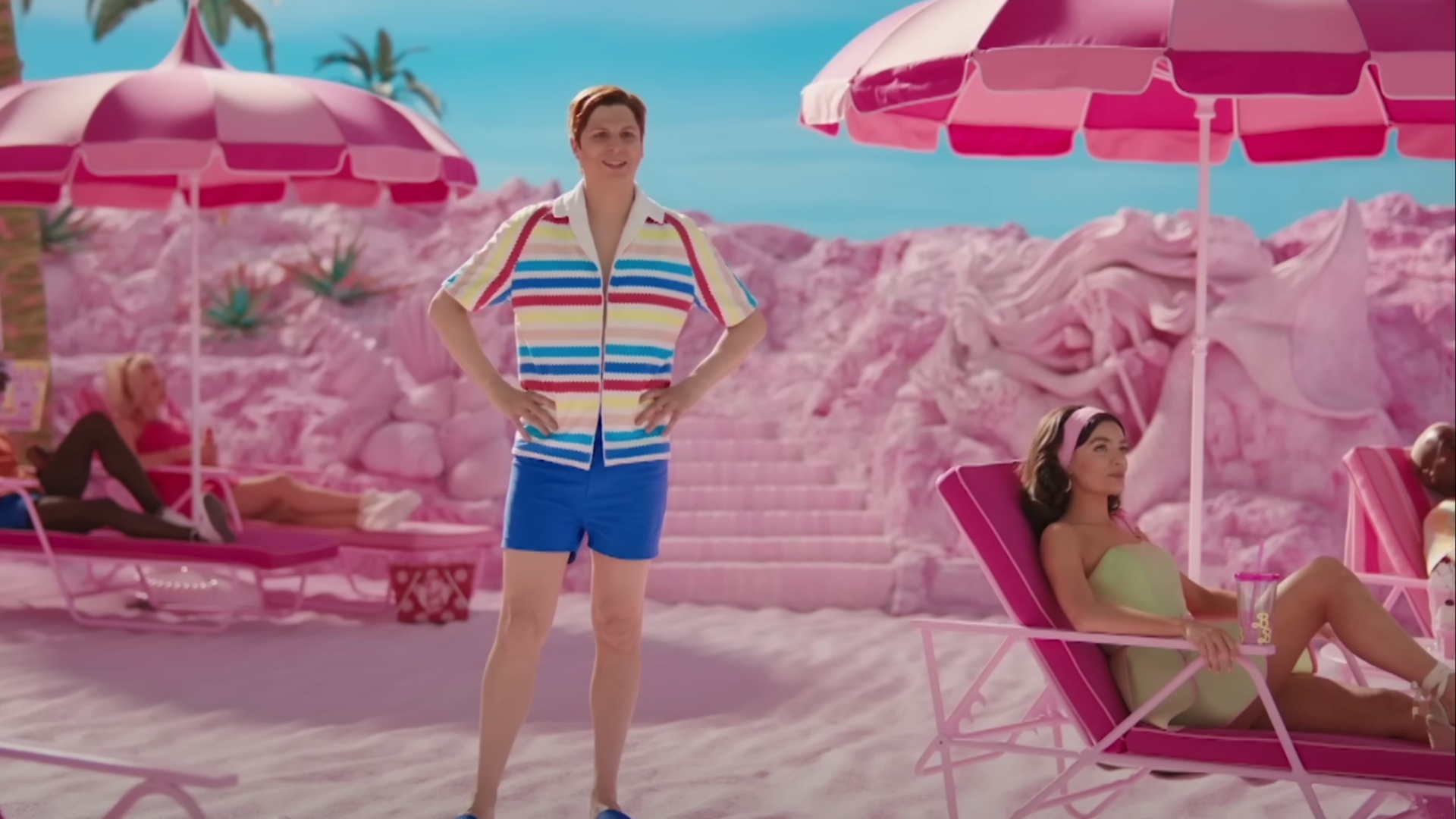 Ryan Gosling is Ken, Kingsley Ben-Adir is Ken, Simu Liu is Ken, Ncuti Gatwa is Ken, and Michael Cera is… Allan? He's Ken's best friend, and "all of Ken's clothes fit him!" He's based on a real doll that was first released in 1964, but Allan had a very short run and was discontinued in 1966. He was brought back in the '90s, though, with a radical rebrand: now, he was Alan. He married the aforementioned Midge.
Video Girl Barbie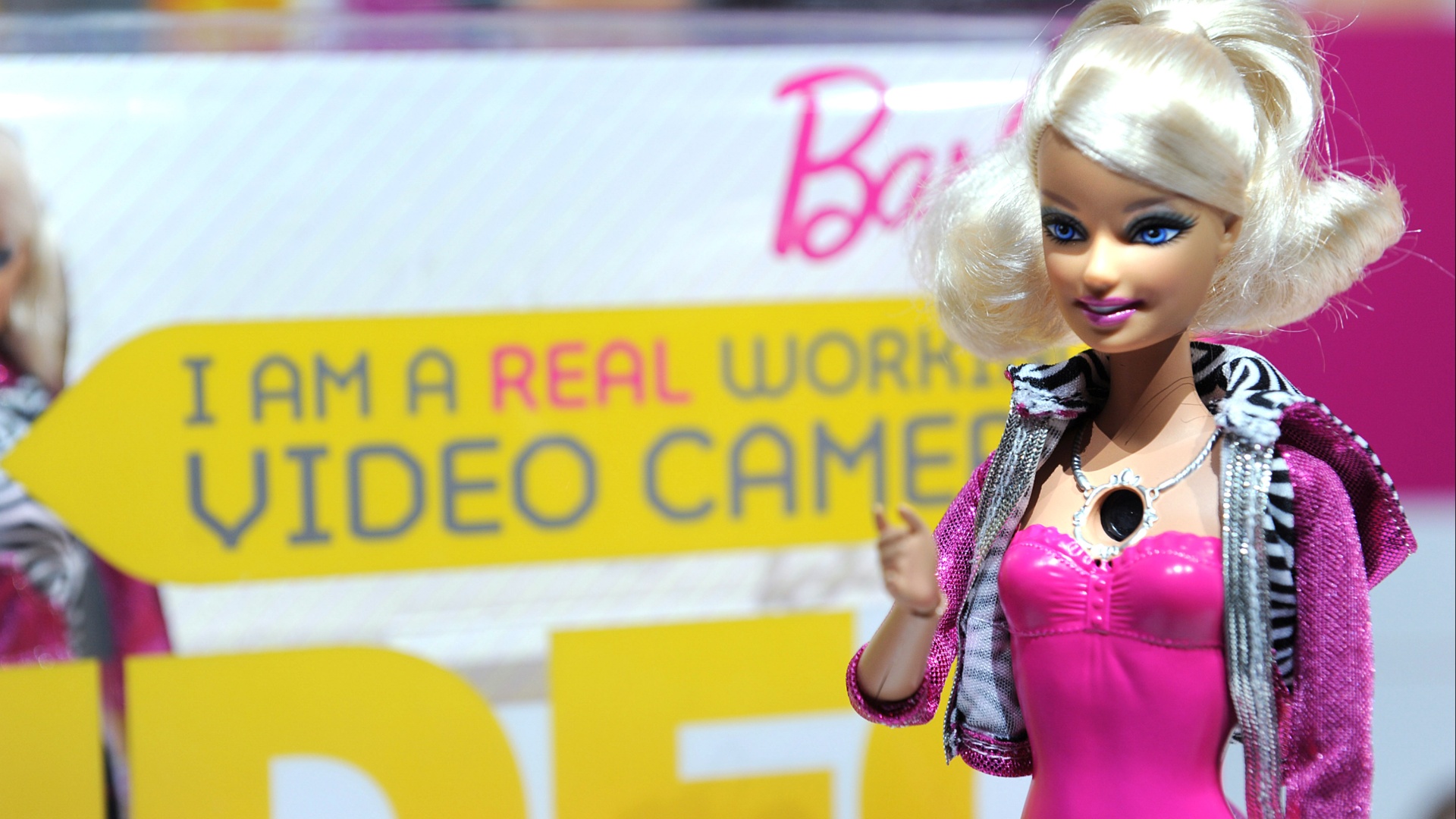 One of a handful of discontinued dolls living in Weird Barbie's house, Video Girl Barbie was a controversial figure released by Mattel in 2010. The back of the doll, as also seen in the movie, featured a working camera that could stream up to 30 minutes of video and send it to a computer. Unfortunately for the toymakers, an internal FBI memo was leaked, warning of possible illegal use of Video Girl Barbie thanks to its hidden camera.
"The alert's intent was to ensure law enforcement agencies were aware that the doll, like any other video-capable equipment, could contain evidence and to not disregard such an item during a search," the FBI later said in a statement.
 Growing Up Skipper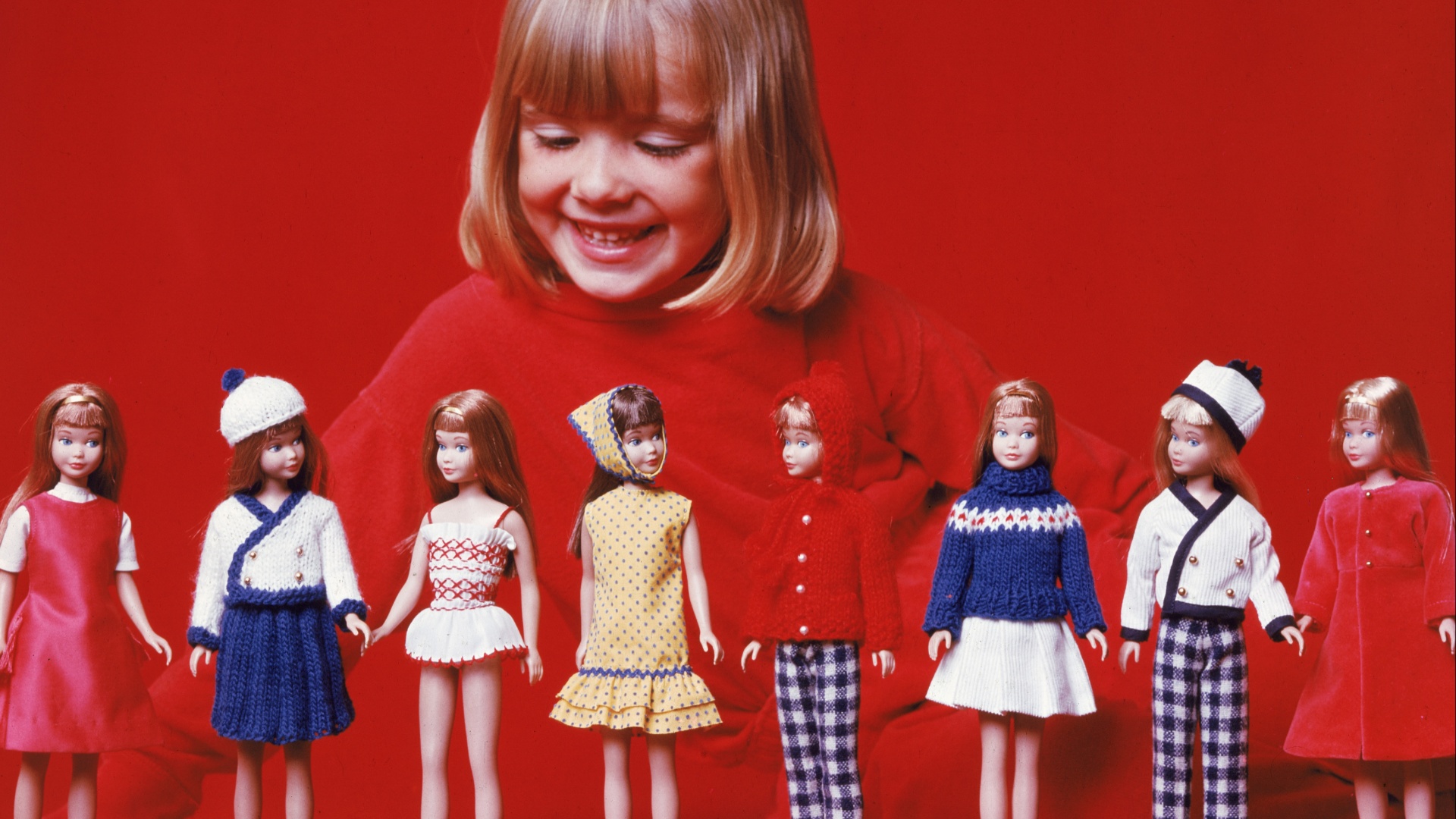 We can't believe this one is real. America Ferrera's Gloria owned a Growing Up Skipper when she was a child. In the present, she even got to try out its eye-popping feature when she met the outcast at Weird Barbie's. 
Released in 1975, Growing Up Skipper featured a switch – activated by twisting its arm – that inflated the doll's breasts and made her grow an inch. Unsurprisingly, the doll proved less than popular and new Skipper ranges replaced this model in the late '70s.
Proust Barbie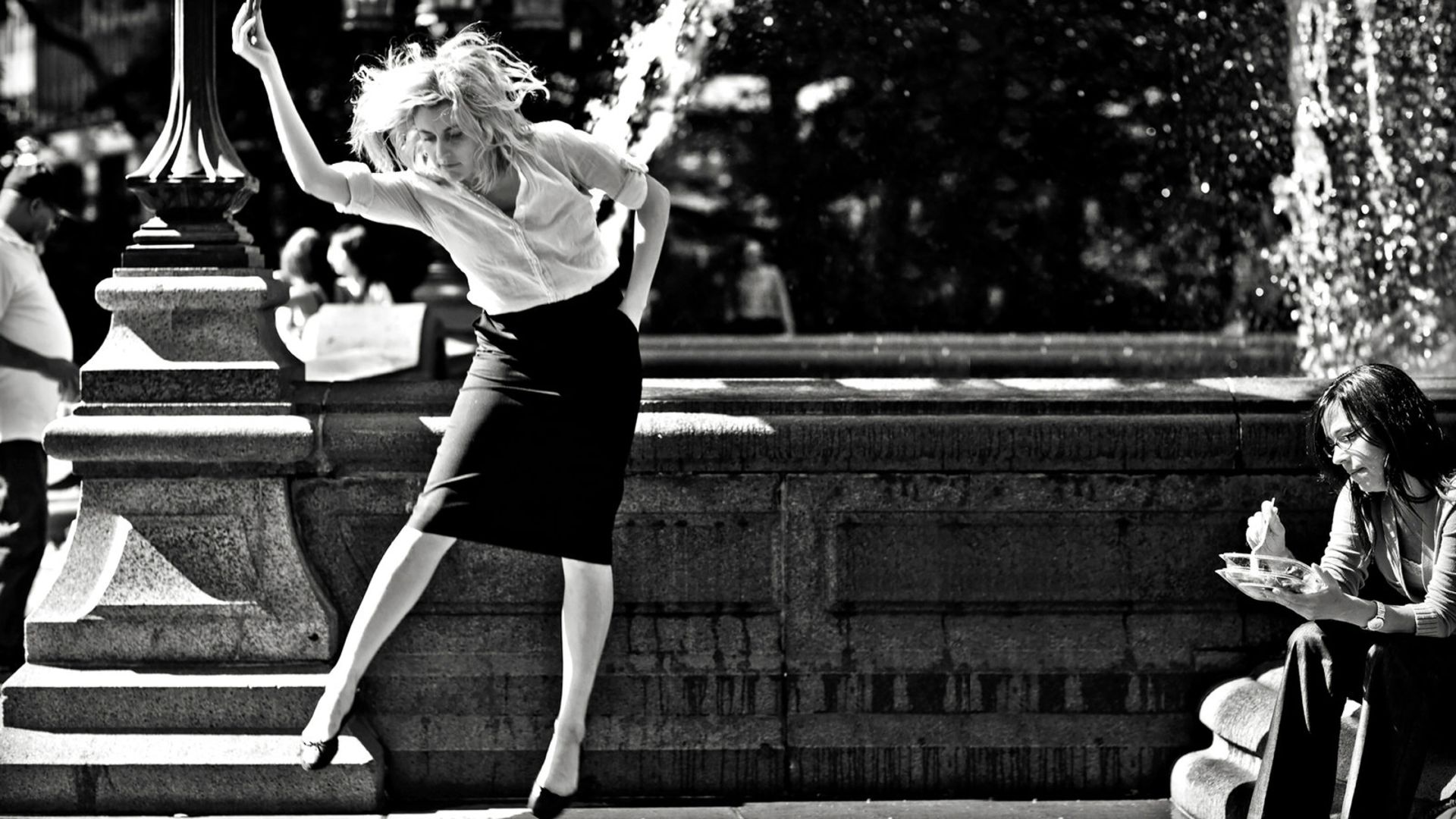 Up in Weird Barbie's house, with the other discontinued Barbies, lives Proust Barbie. A reference to the French writer Marcel Proust, she isn't based on a real doll, like her fellow discarded companions (yes, 'Sugar Daddy Ken' and 'Growing Up Skipper' really existed), but she has a thematic link to the movie. Proust's most well-known work is In Search of Lost Time, is a novel about the search for meaning and truth – much like Barbie's quest in the movie. When she steps inside the box in Mattel HQ, Barbie even says that the smell of it is a "Proustian memory." 
Proust is also referenced in Frances Ha, the 2012 comedy-drama that starred Barbie director Greta Gerwig and was written by Gerwig and her Barbie co-writer Noah Baumbach (Proust is pretty heavy." "Yeah, but it's worth it, I hear." "No, I meant the book. Carrying it on the plane.").
Sugar Daddy Ken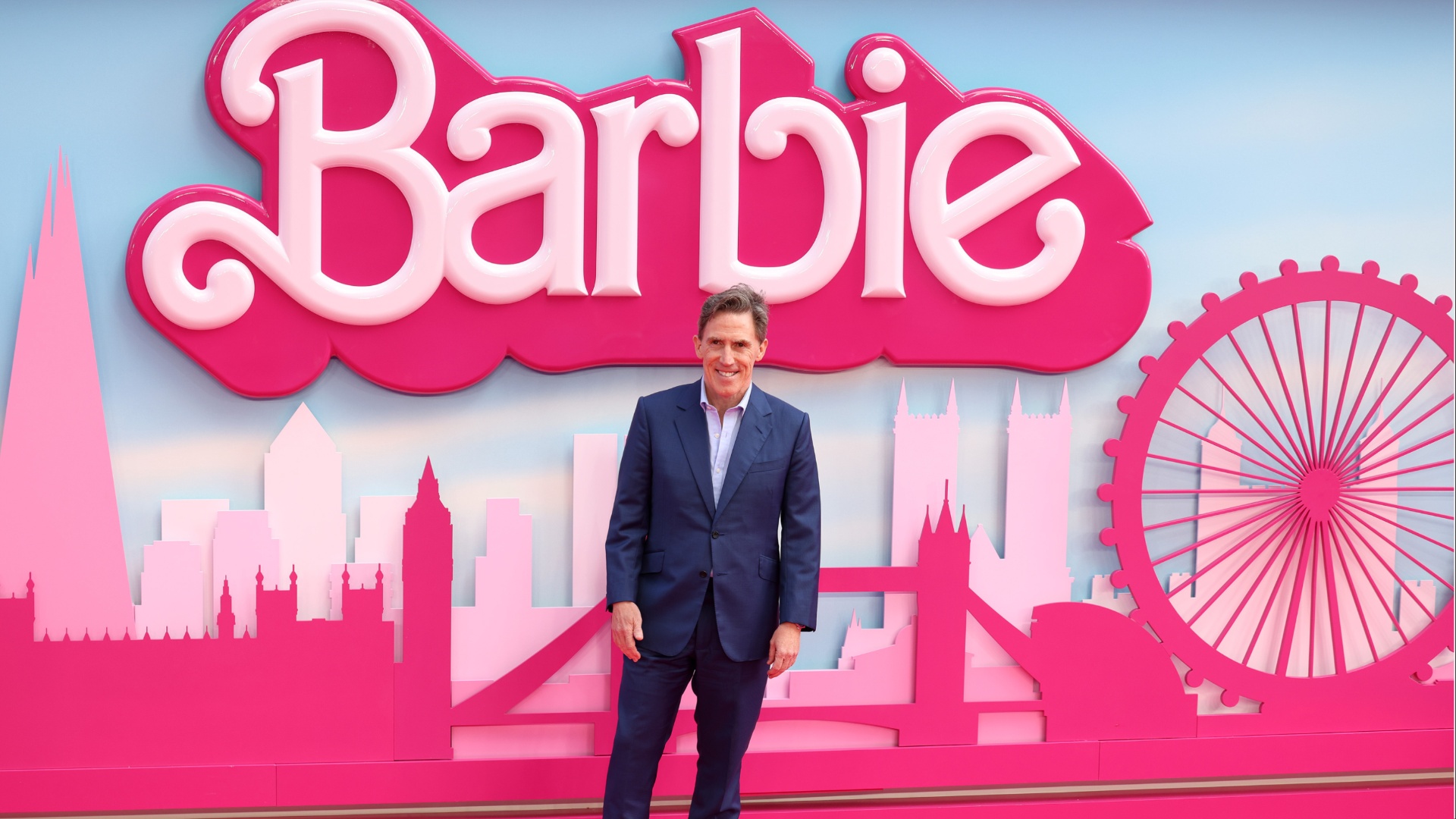 It's not just discarded Barbies who live in Weird Barbie's house – they're joined by the discontinued Kens, one of which is 'Sugar Daddy Ken'. Doesn't sound very family-friendly, does he? Luckily, Rob Brydon makes a hilarious cameo to set the record straight: he's not a sugar daddy! His little white dog is named Sugar, and he's her daddy. Unsurprisingly, that detail wasn't immediately obvious when Sugar Daddy Ken was released to mark Barbie's 50th anniversary in 2009, and Mattel even had to issue a clarifying statement to the New York Post. 
Earring Magic Ken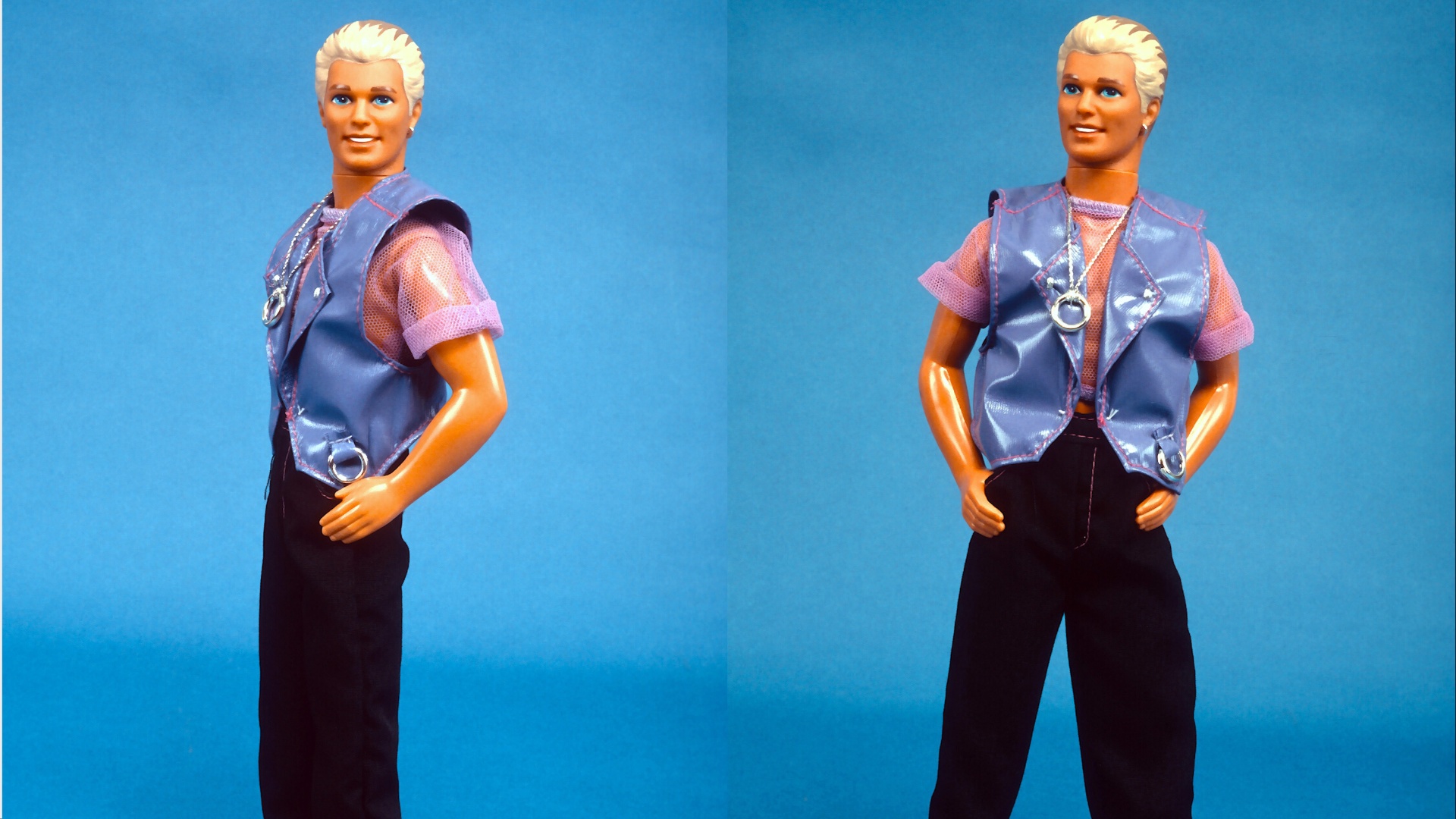 Hanging out with Sugar Daddy Ken is Earring Magic Ken. Played by Tom Stourton, Earring Magic was the result of Mattel trying to make Ken "cool" again in the '90s, which meant they decided to give him a mesh shirt, a faux leather vest, and an earring. So far, so (unintentionally) queer-coded. Needless to say, this doll didn't go down too well with homophobic members of Barbie's customer base, and Earring Magic Ken was pulled from shelves only six months after his release. RIP to an icon.
Mattel history
The OG Barbie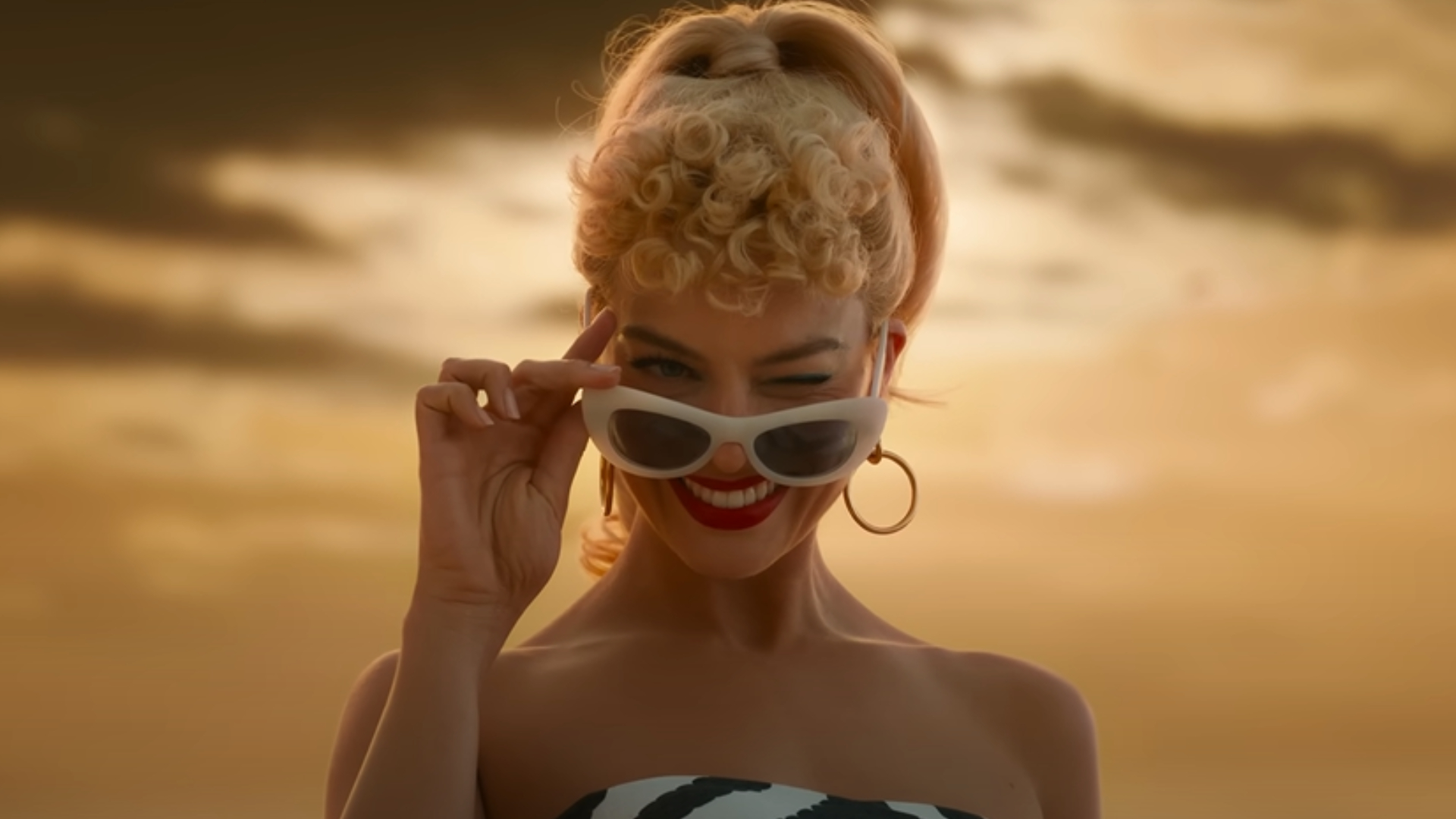 In the movie's opening scene, which perfectly parodies the opening of 2001: A Space Odyssey, it's Margot Robbie's Barbie who appears in a barren landscape instead of an alien monolith. She's dressed in a black and white striped swimsuit, with white-framed sunglasses, heels, and blonde hair styled in immaculate curls – which is exactly what the first-ever Barbie doll looked like when it was released in 1959. 
Ruth Handler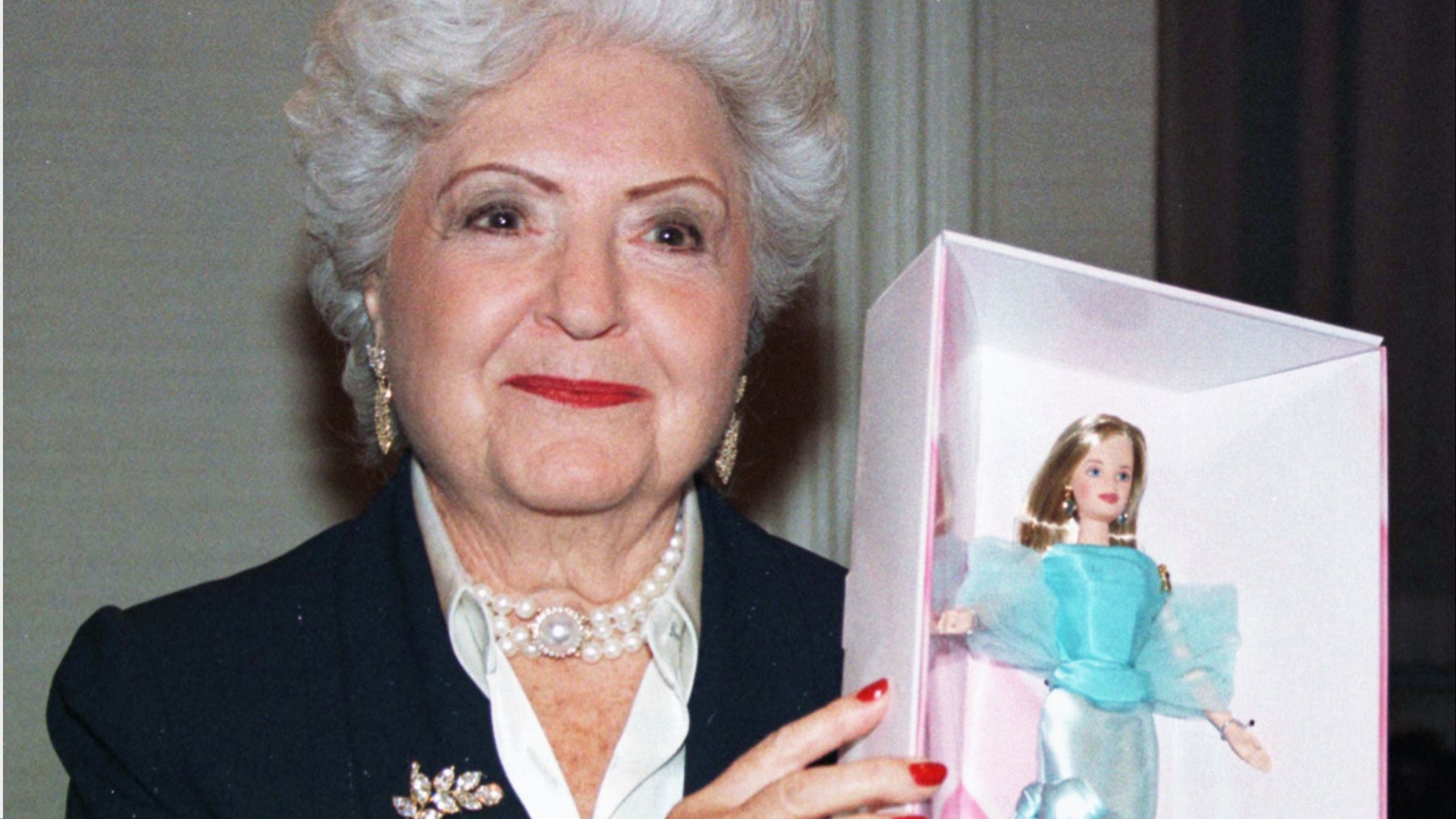 Ruth Handler, the first president of Mattel and the inventor of the Barbie doll, makes an appearance in the Barbie movie, played by Rhea Perlman. Margot Robbie's Barbie encounters her 'ghost' (Handler died in 2002) in a backroom of Mattel HQ, and they have another encounter later in the movie when Barbie decides to become human. Ruth explains that Barbie's name came from her own daughter, Barbara, who she invented the doll for, which is true to life. Also true to life are the jokes about tax evasion – Handler and her husband and business partner were forced to resign from Mattel in 1975 after the company was found guilty of issuing false and misleading financial reports. 
 Mattel's female CEOs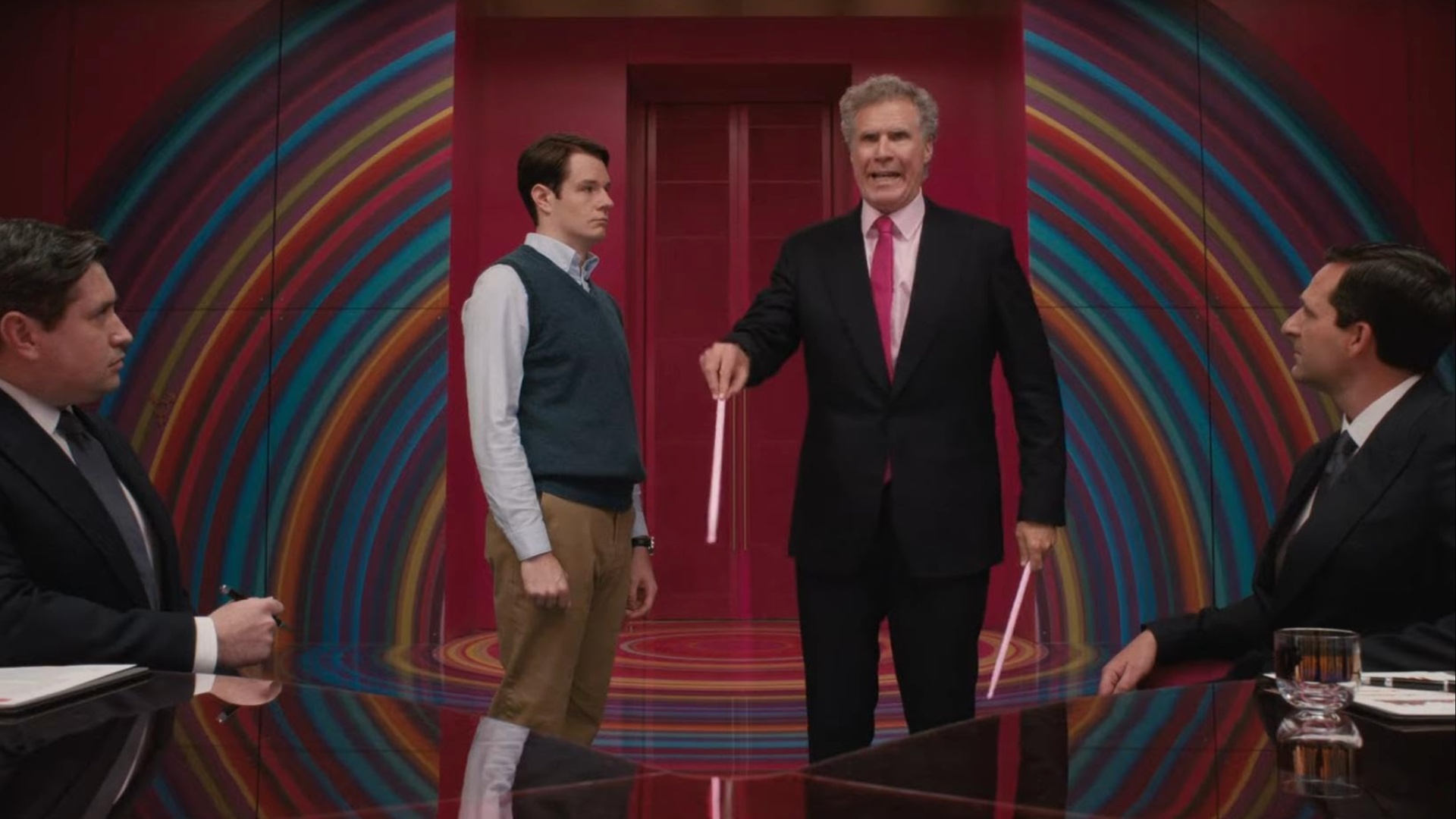 Will Ferrell's Mattel CEO – surrounded by his horde of exclusively male executives – namechecks and backpats the toy company's illustrious history of having… more than one (1) female CEO.
Barbie's creator Ruth Handler first held the role from 1945 to 1975, while Jill Barad was in the post from 1997-2000, transforming Mattel into a billion-dollar company. The most recent female Mattel CEO was Margo Georgiadis, who departed the business in 2018.
---
Barbie is out now in cinemas. For more on the movie, check out the Inside Total Film podcast interview with director Greta Gerwig.