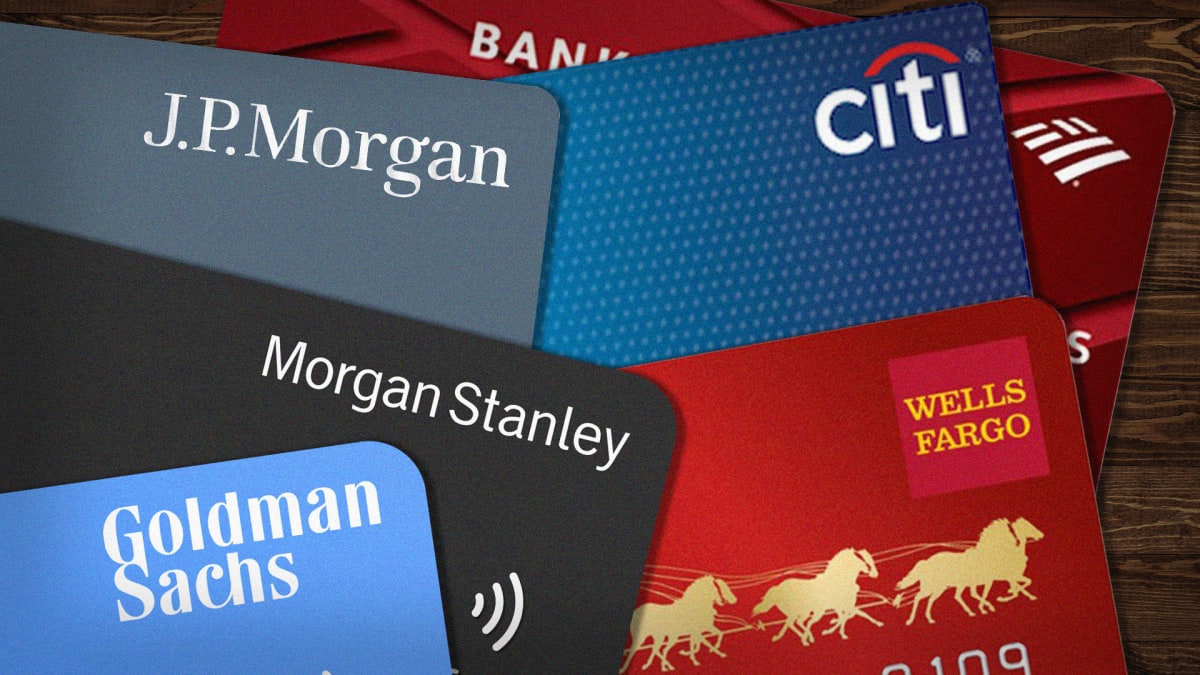 Over the weekend, UBS (UBS) agreed to buy Credit Suisse (CS), as worries about CS continued to grow and its share price hit lows.
The development followed the seizures of SVB Financial (SIVB) and Signature Bank SBNY, both of which failed earlier this month.
Now the worry is shifting to First Republic Bank (FRC), a stock that continues to see extreme volatility.
The market has been doing its best to hold up through this mess. The S&P 500 and Nasdaq are still up year to date, sporting gains of 2.75% and 11.2%, respectively. In particular, tech has done quite well, as the Nasdaq rallied 4.4% last week.
Don't Miss: an AMD Stock Break Out Over Major Resistance?
But the SPDR S&P Regional Banking ETF (KRE) is still down 27% from this month's high, while the Financial Select Sector SPDR Fund (XLF) is 13.6% below the March high.
Put simply, investors are wary of the banks right now. 
Trading the Bank Stocks (XLF)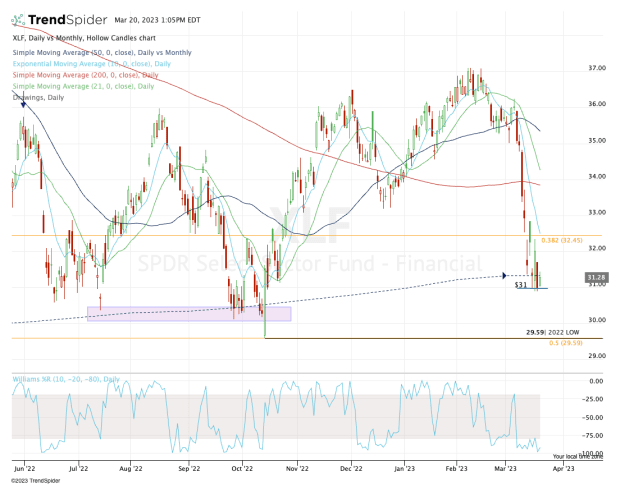 As Caterpillar (CAT) did last week, the XLF ETF hammered out support over a several-day period last week. In this instance, support came into play around the $31 mark.
That's also near the 50-week and 200-month moving averages. It also helps that the XLF has found support in the $30 to $31 zone several times over the past few quarters.
Now, investors want to know where we go from here.
The upside is a muddy path. Last week's high is up at $32.85, while the key daily moving averages have all turned lower. That's going to create several hurdles on the upside in the event that the XLF ETF rallies. 
For now, the $31.50 to $31.75 zone and $32.50 are the two major must-clear hurdles on the upside. 
Don't Miss: Is Nvidia One of the Best Stocks to Own Right Now?
An inside week — where this week's range is completely contained with the prior week's range — may be the most constructive action for investors in the short term.
The downside is much clearer. On a daily-closing basis, bulls have one job, which is to keep the XLF ETF above last week's low of $30.90. That's also the exact low from Wednesday and Thursday.
If the XLF ETF does close below that mark, it could open the door down to $30 and potentially down to $29.60. Near the latter of the two, we find the 52-week low, as well as the 50% retracement of the rally from the March 2020 low.
Action Alerts PLUS offers expert portfolio guidance to help you make informed investing decisions. Sign up now.