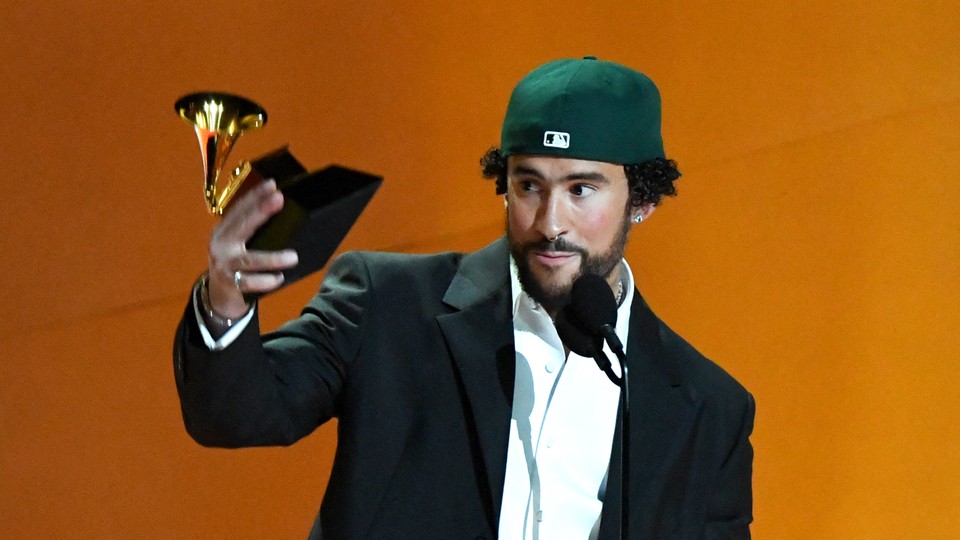 Updated at 11:04 a.m. ET on February 7, 2023.
The musical artist Bad Bunny—Benito Antonio Martínez Ocasio—is known on social media as "San Benito": Saint Benito, perhaps a wink to his anything-but-chaste lyrics. But the nickname has taken on a somewhat literal meaning. Bad Bunny is—particularly after his bomba- and merengue-infused, fully Spanish-language opening-act performance at last night's Grammys—the official patron saint of Latinidad. He's nothing like what white America, or even the Latino community, expected. But he is the saint we needed.
For the uninitiated, the Recording Academy produces two shows that are separate but, frankly, unequal: the Latin Grammys, which recognize the best Spanish-language music in the world, and the "gringo Grammys," which recognize everything else. The latter, despite its American and white bias—even in categories rooted in Black history and heritage, such as hip-hop—has traditionally set the bar for who has, and hasn't, been accepted into the American mainstream as pop-culture royalty.
This is why Bad Bunny made history last night, despite the fact that his blockbuster album, Un Verano Sin Ti, did not win Album of the Year. He was the first Spanish-language artist ever nominated for the award (which in the end went to Harry Styles; Bad Bunny won in the Música Urbana category instead). In the grand scheme of things, what matters is that a Latino artist—a Puerto Rican, and therefore United States–born, American artist—was recognized for an album recorded in the musical tradition of his home and in his native language. His commercial success forced an acknowledgment that you cannot have American pop culture without Latinos. And Latinos are no longer Living la Vida Loca or doing Mambo No. 5 as we did during the so-called Latino Explosion of the 1990s and 2000s—an explosion that started and ended on white America's terms.
Bad Bunny is primarily a reggaeton artist, a genre born in Puerto Rico from the influence of Caribbean reggae and mainland American rap. But he bucks the misogynistic and homophobic history not just of the genre, but of Latino stereotypes altogether. He wears skirts, he paints his nails, and he has, on national television, made out with backup dancers both male and female. His rejection of the narrow confines placed around Latino men, by both white America and Hispanic patriarchal culture, is just one of the things that make San Benito's rise so remarkable and important—to Puerto Ricans as a community and to outsiders who constantly struggle to understand us.
The mistake a white American watching last night might have made was to think of the performance that opened the show merely as a vibrant set filled with what Pitchfork described as "colorful skirts" and "papier-mâché heads" that got Taylor Swift on her feet and Harry Styles clapping. What Latinos understand, and Puerto Ricans know in the depths of our soul, is that Bad Bunny doesn't just serve up music. He serves up culture, and the culture is political. Even when you can dance to it.
Art, with its passions and abstractions, is often the only viable way to make sense of an absurd world. Perhaps this is why, since the Spanish first conquered the Taino on the island of Boriken, the arts have been such a vital part of Puerto Rican existence.
Puerto Rican culture—visual, musical, lyrical—has long been wound around resistance. Slaves forcibly migrated from West Africa to work on Spanish sugar plantations transformed rum barrels into drums. They wove Spanish into the lyrics to create bomba—the island's first true original music. Bomba celebrations—gatherings of slaves from across plantations—became birthing grounds for uprisings. The songs, rallying cries.
Bad Bunny began his performance last night with a bomba beat—the opening of his own song "El Apagón," which samples Ismael Rivera's "Controversia." The women who flanked him in his entrance—many of them Afro-Latinas—wore traditional skirts and danced the plena. Trailing them were dancers in cabezudos—giant papier-mâché heads—in the likenesses of Puerto Rican icons and independence advocates including the poet Julia de Burgos and the reggaeton pioneer and anti-corruption advocate Tego Calderón.
The curtain then opened on the Dominican artist Dahian El Apechao and his band, as the medley shifted to "Después de la Playa." The song is a riff on merengue. Some say the beat of merengue was inspired by the rhythm of enslaved people cutting cane while their legs were chained together. Others say it was inspired by an injury sustained by a hero of the Dominican revolution: Everyone danced with a limp in his honor.
While the Dominican Republic successfully fought the Spanish for its freedom and Cuba was liberated, independence was denied to the people of Boriken. Not for lack of trying—in 1868, an uprising known as El Grito de Lares failed. That year the poet and feminist Lola Rodríguez de Tió wrote the lyrics to "La Borinqueña," which became an anthem for pro-independence Puerto Ricans and landed her in exile. It was one of the many songs that the United States later outlawed, with a gag law in place from 1948 to 1957. Puerto Ricans had U.S. citizenship but could still be stripped of their First Amendment rights. Music, the colonizer realized, could be dangerous.
Bad Bunny realizes this too. His lyrics, his performances, his music videos might seem like fun bops, but they are part of a tradition of rebellion. His 2019 collaboration with iLe and Residente, "Afilando Los Cuchillos," was made in direct response to the corruption scandal of then-Governor Ricardo Rosselló. Last year, he released a 23-minute video for one of the songs he performed last night. The "El Apagón" film begins as a celebration of Puerto Rican culture and nightlife but reveals itself to be a documentary about colonialism and resistance. It has been viewed 12 million times. The film is not a cry for help from outsiders; it is a dispatch from the front lines.
Last night, Bad Bunny may have earned some new fans, but the performance wasn't designed to please those newbies. The Grammys are about pop culture, and what Bad Bunny brings is rebellion; that's why I didn't care when he didn't win. What some saw as a show, I saw as a refusal to perform Latinidad on any terms but our own.