Westpac profit to suffer $1.3 billion hit, ASX drops for second straight day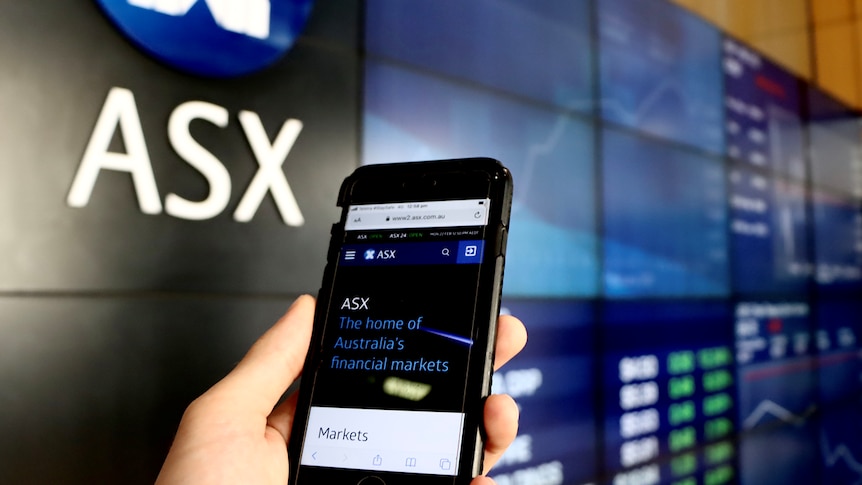 Australian shares have dropped for the second day in a row, as a global energy crunch fuelled inflation fears, clouding investor sentiment before the US corporate earnings season.
The ASX 200 index closed 0.3 per cent lower at 7,281 points.
Shares in casino group Star Entertainment fell by another 2.7 per cent, on reports that it enabled "suspected money laundering" (which it has denied). That was on top of yesterday's 23 per cent plunge.
Seven out of every 10 stocks fell, including tech companies Appen (-3.9pc), Afterpay (-2.7pc), and Zip Co (-3.2pc), along with Ansell (-4.6pc), Worley (-3.4pc) and REA Group (-3.5pc).
Mining and metal stocks were some of the best performers, like Alumina (+4.2pc), Perseus Mining (+4.3pc), Ramelius Resources (+2.3pc) and BlueScope Steel (+1.8pc).
Investors await US earnings
Oil prices are trading at their highest levels in years, with Brent crude futures rising 0.5 per cent to $US84.05 a barrel.
The Australian dollar was steady at 73.56 US cents at 4:45pm AEDT.
Markets in the Asia-Pacific were also lower, including the NZX 50 (-0.2pc), Hang Seng (-1.1pc), Shanghai Composite (-1.7pc) and Nikkei (-0.8pc).
"Risk markets had a mixed start to the week amid light data flow and ahead of the US earnings season," ANZ analysts said in a note.
"Economies appear to be entering a more challenging phase of the cycle and we think investors and corporates will be monitoring how the economic data and earnings results fall before making assessments of near term direction."
Westpac's profit hit by write-downs
Shares in Westpac fell by 1.7 per cent, after the bank warned investors that its second-half profit would suffer a $1.3 billion hit from a number of significant write-downs.
Australia's second-largest bank also lowed its earnings outlook, citing "subdued" financial markets.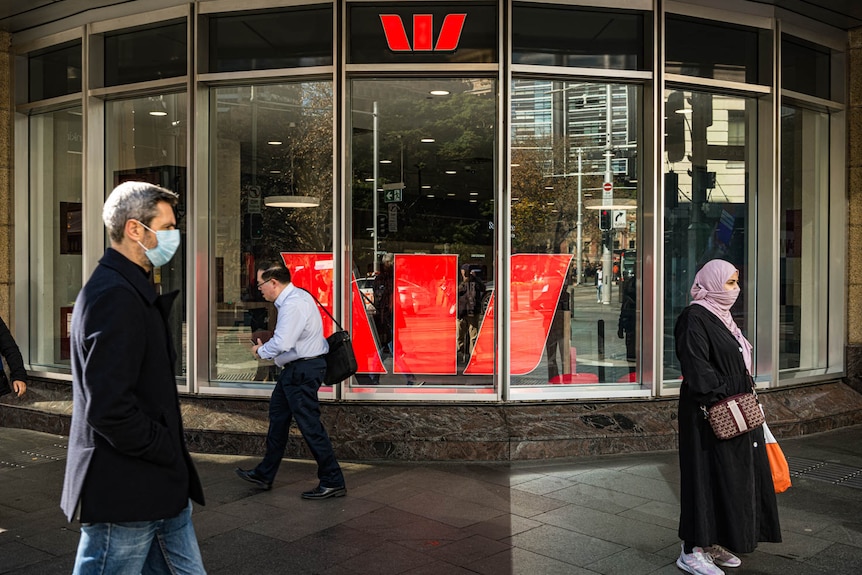 The biggest component of the one-off "impairment" was Westpac's decision to slash the value of its institutional banking (WIB) division by almost $1 billion.
Australia's second largest bank said it was for the purpose of "reducing risk in the division through the exit of energy trading, consolidating our Asian operations and reducing our correspondent banking relationships which have all impacted earnings".
"At the same time, medium term expectations of a prolonged low interest rate environment, subdued financial markets income and elevated compliance expenses have impacted WIB's earnings outlook," the bank added.
It also flagged $172 million in legal costs, customer refunds and oher costs associated with settlings lawsuits. It's currently being pursued by ASIC over consumer credit insurance.
Westpac will also take $267 million in previously flagged separation and transaction costs related to the sale of its Life Insurance business.
The bank is scheduled to report its full-year results on November 1.
It was expected to post a cash profit of $6.5 billion, according to the average forecast of 13 analysts polled by Refinitiv — nearly triple the previous year's result (which was impacted by COVID-19 loan repayment freezes and other macroeconomic shocks).
However, that was before today's write-downs were announced.
Business confidence rebounds
A measure of Australian business conditions slipped in September as long-running COVID lockdowns cut into sales and profits, though sentiment was boosted by the prospect of an imminent easing in restrictions.
Tuesday's survey from NAB showed its index of business conditions fell 9 points in September to (+5 index points), taking it just below the long-run average.
Yet the survey's measure of confidence rebounded by 19 points (to +13 index points), as firms in NSW looked forward to an easing of stay-at-home rules beginning this week. Victoria and Canberra should start opening up later in October.
"Businesses are really looking forward to reopening, and confidence increased markedly on the back of NSW and Victoria's reopening roadmaps," said NAB chief economist Alan Oster.
Confidence in NSW alone jumped 42 points in the month, while Victoria saw a rise of 16 points.
"Still, confidence is more about hope for the future than what is happening in the present," Mr Oster added.
"On that front, conditions really deteriorated which shows that lockdowns are taking a toll, despite the resilience the economy has shown."
The NAB survey's measure of sales halved in September to +10, with whole sectors of retailing shut in Sydney and Melbourne, while profitability fell 13 points to +2. The employment index fell 8 points to +1.
Capacity utilisation dropped to 78.4 per cent in September, almost 7 percentage points down from its peak in April and a sign of considerable slack in the economy.
The Reserve Bank of Australia (RBA) has argued that the economy would likely recover once the lockdowns eased and forecast strong growth for next year.
"With NSW achieving its 70 per cent vaccination target and further thresholds expected to be achieved in coming weeks, the economy is well placed to recover in October and November as activity is allowed to restart," Mr Oster said.
Consumer confidence rising as Australia re-opens
Meanwhile, the latest consumer confidence data from ANZ has shown a rise in optimism as Sydney geared up to re-open.
"Consumer confidence rose 1 per cent last week, its fifth straight week of small but consistent gains," ANZ noted.
"Anticipation of yesterday's reopening of Greater Sydney, after over 100 days of strict restrictions, likely added to last weekend's positive outlook.
"The rise was partially offset by a drop in confidence in Adelaide (-3.4pc) and Melbourne (-3.6pc).
"The dampened outlook in Melbourne may reflect rapidly rising COVID case numbers in the city."
However, the bank forecasts confidence will rise in the Victorian capital soon as it reaches vaccination targets and prepares to come out of lockdown in a few weeks.
Wall Street finishes lower
The Australian market's subdued performance came after a weak overnight session on Wall Street.
The Dow Jones, S&P 500 and Nasdaq Composite fell by around 0.7 per cent each.
While energy stocks were propped up by surging oil prices, that was not enough to boost US markets.
"Oil hit its highest level since 2014 with an intra-day high of US$82.18 to settle up 1.5 per cent to $US80.50," NAB analysts wrote in a note.
"The rise in energy prices is fuelling concerns that the transitory lift in inflation seen in the wake of the pandemic may prove to be longer-lasting."
That is lifting inflation concerns and boosting the US currency.
"AUD/USD bucked the broad USD trend and is trading higher near 0.7350 amid gains in oil and base metal prices," ANZ analysts wrote.
"The more positive Australia US 10-year bond spread may also be supporting AUD/USD.
The bank's analysts also expect that the easing of restrictions in Sydney while parts of New Zealand continue to be locked down would support the Australian currency against the NZ dollar.
"Yesterday, the New Zealand government announced that Auckland will remain under Alert Level 3 restrictions for at least another week," the ANZ analysts noted.
"The stark contrast between relaxed restrictions in NSW and extended restrictions in NZ will support AUD/NZD in the near term."
ABC/wires