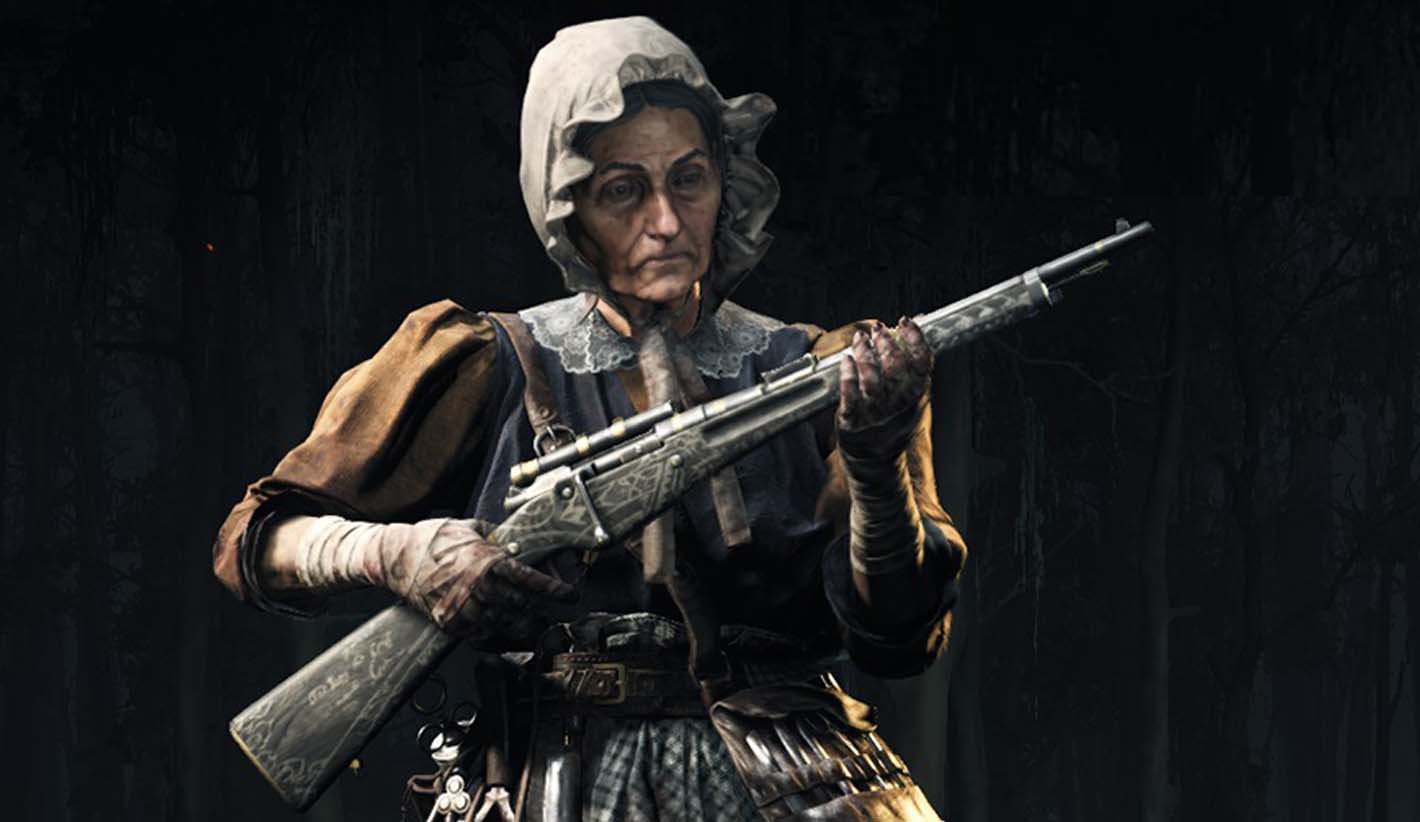 Six percent of gamers are over the age of 65, but I know how I'm going to be spending one-hundred percent of my time in Hunt: Showdown going forward: as Béatrice, a septo- (octo?) generian hunter who's just been released as part of the latest $10 DLC for Hunt.
Hunt: Showdown already features more than 60 legendary hunters, premium skins that range from mean cowboys and girls to straightjacketed freaks, native warriors, one actual college professor, shaman ex-slaves, animal-pelted wildlings, and enough becloaked edgelords to fill a subreddit. It's a spectrum of characters not just in terms of gender and background, but in terms of horror and Wild Westness. 
Béatrice, who is called The Bone Mason in Hunt, expands that broad roster as the only character wearing a bonnet. Her lore is upsetting. After her son apparently wanders into the Catacombs of Paris and dies, Béatrice hauls her PTSD across the Atlantic to join the party in Louisiana. An excerpt:
Béatrice cleaned her boy's remains carefully, giving him his last bath. Her mind clouded by remorse, she hoped to find closure in the Catacombs, where it all had begun. Each midnight she offered his bones to the walls, treating them with the respect and great precision of an artist, wishing they would accept her precious boy. But the walls had gone silent, and as years passed, she lost her will and name to become the Bone Mason—the phantom of the great Catacombs—so dubbed by those who witnessed her enter the abyss whenever the bells tolled twelve. 
And as time killed the last spark of hope, a mysterious letter pointed at Louisiana, where she could find other lost souls. Throughout her journey across the Atlantic, she tenderly caressed the satchel she'd crafted. No one believed the story behind the satchel, but Béatrice found comfort in the familiar touch of its cover, rumored to be bound in her boy's own skin.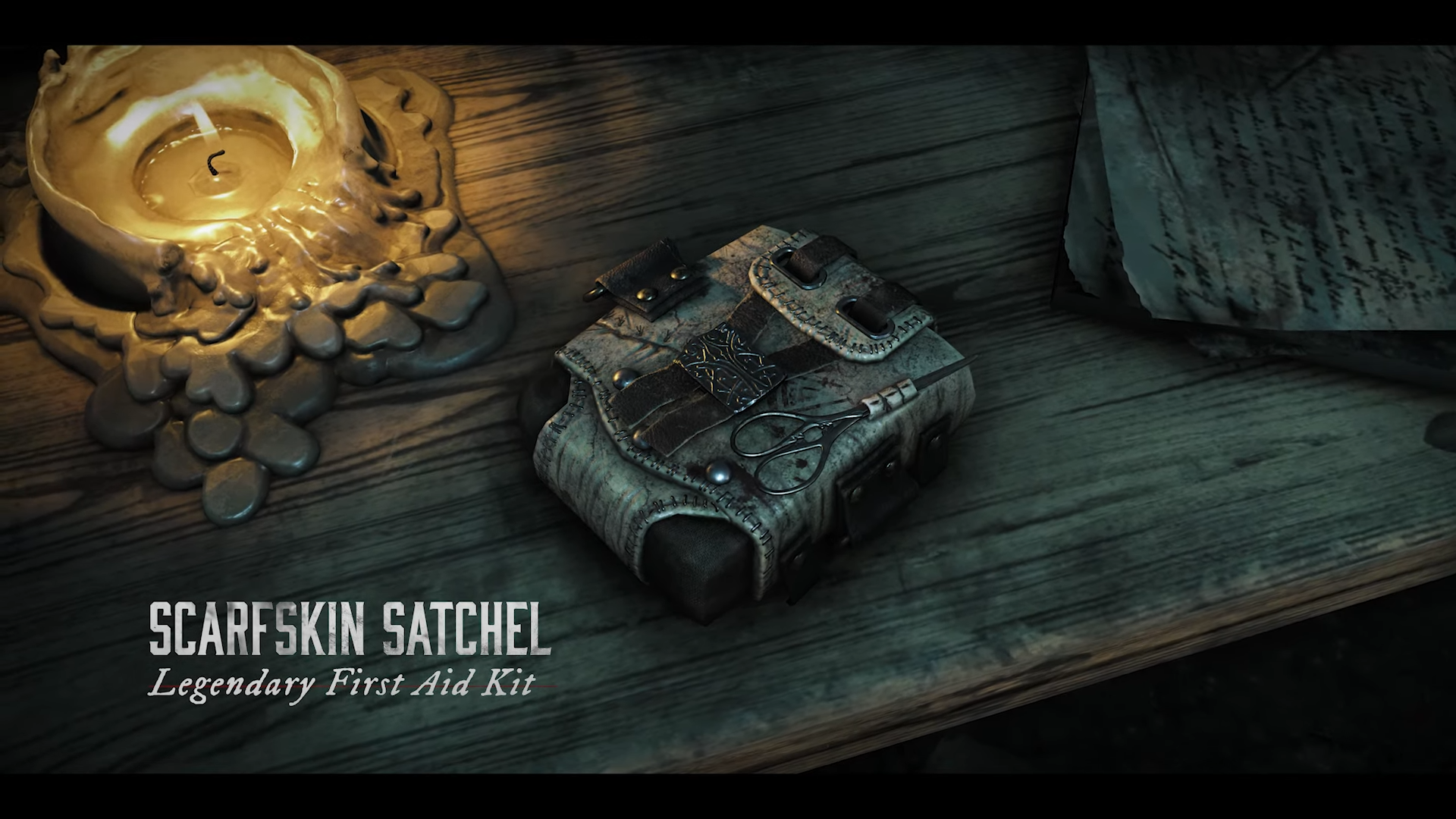 A health kit, probably-definitely made with human hide? Now that's what I call a legendary skin.
My friend group I play with is already conspiring to make "granny runs" for comedic and genuine intimidation value, and I'm not alone. I found a lot of enthusiasm for the character on YouTube and Reddit:
"Granny gang rise up"
"Can't wait to die to some Chad grandma after she bursts through a second story window and domes me in mid-air."
"Cant wait to see sweaty grannys doing 360 swan spiruets and bunnyhops."
"Granny running at you with a bomb lance is gonna be the scariest thing in the game"
"Finally, a character that matches my reaction time!"
"Instabuy <3 would be nice to not have another uppercut skin, but the hunter alone is a 10/10 gilfbw (granny i like to farm bounties with)"
"Meema is not f—ing around"
"Golden girls loadouts incoming"
The Phantom of the Catacombs DLC comes with the accompanying and grisly "Scarfskin Satchel" health kit, Fresh Marrow skin for the Caldwell Conversion Uppercut, and likewise Fissure cosmetic for the Romero 77 Hatchet.
Character diversity is a major pillar for Crytek in Hunt, as the game's general manager David Fifield told us as we marked the game's fifth anniversary earlier this year. "When people look at a lot of media, if they don't see familiar faces or a thing that resonates, they'll say 'yeah, that's not for me,'" said Fifield. "It fits with our secretive themes, the 'untold tales of unsung heroes,' so when we include traditionally marginalised groups and we put them in heroic or aspirational contexts, that's very woven into Hunt's DNA."