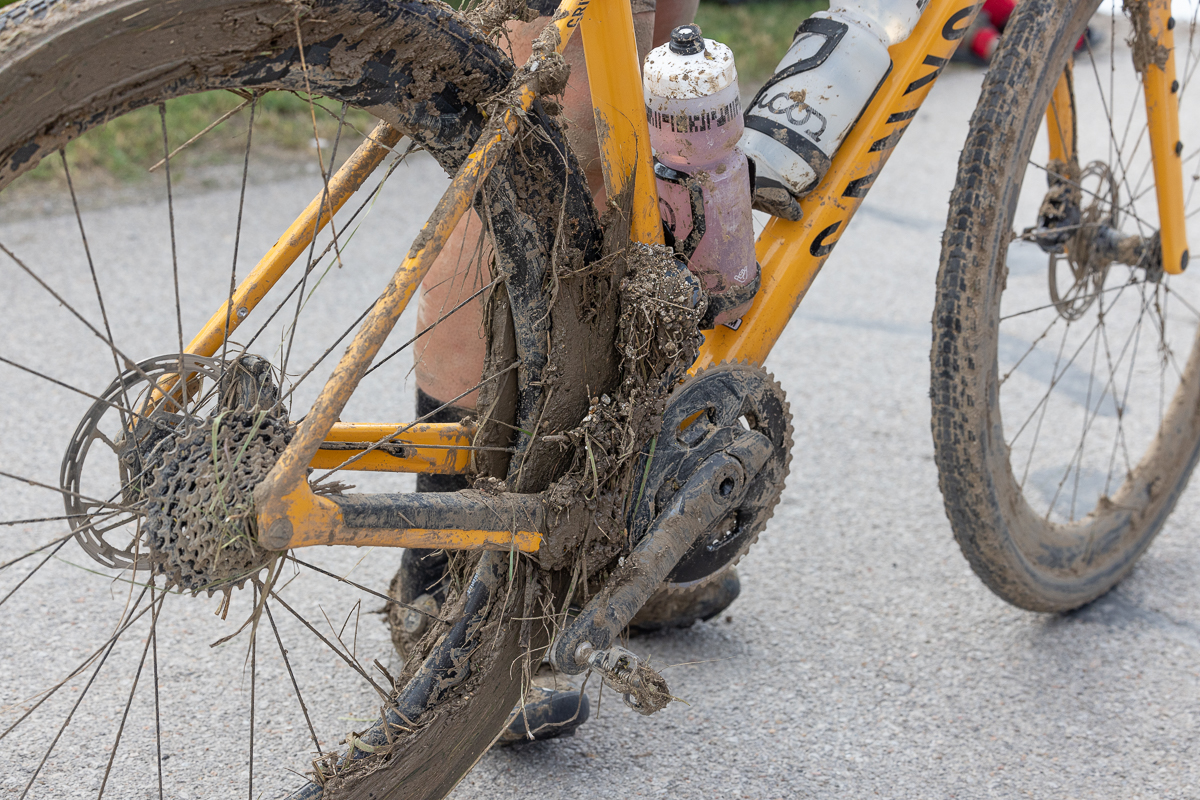 Unbound Gravel is known for its demanding nature. It's a true test of tenacity, strength and equipment as riders battle challenging weather conditions, rough terrain and a remote locale. No matter what race distance one signs up for, a certain degree of self-sufficiency, bike-fixing-know-how and sense of adventure is required. Organizers even demand that riders in many of the race distances bring or hire a support crew to get them back to Emporia, should something go awry. 
These epic conditions have been building the legend of Unbound for years, and every year the event sells out. In fact, the demand is so high that a random selection process determines who will be allowed to participate in the event as organizers are unable to accommodate everyone. Going into race week, approximately 4,000 riders were registered for the 2023 Garmin Unbound Gravel presented by Craft Sportswear across its five race distances. It was the event's largest field size yet and a far cry from its humble beginnings of just 34 riders in 2006. Many of these riders would never see the finish line, however. 
Thunderstorms and downpours led to some horrendously muddy sections on the already challenging 100-, 200- and 350-mile courses. For the 100- and 200-mile courses, the mud came as soon as 11 miles in. This sticky clay mixture clogged bikes almost immediately, rendering the mud sections unrideable. Worse than losing a race position or two, there were riders crashing, derailleurs being ripped off, broken frames and all-around carnage. For some riders — amateurs and elites alike— their Unbound experience ended there. 
The thunderstorms made way for a small media storm on Monday, with many opining that the epicness had perhaps been taken too far.
"I sincerely hope that this will be the hardest physical and mental challenge I will ever complete. That was simply… insane. Carnage. I am a broken woman," said mountain bike Olympian Haley Smith post-race. The Canadian finished seventh in the women's professional field of the Unbound 200 after battling the conditions for 12 hours and 24 minutes. A third of her field did not finish — nearly twice the dropout rate of last year.  
Talking to Cycling Weekly on Monday, Smith elaborated, saying: "I get that Unbound is about the challenge, and it's supposed to be epic. But to me, there's a difference between orchestrated epicness (i.e., deliberately including a section of unmaintained road that is already messed up before the race starts) and organic epicness that occurs due to inclement weather and adversity experienced throughout the course of the event."
"I don't think the conditions were too 'tough'. We certainly all proved that we are tough AF. But were they unnecessarily damaging? Yes, I think so."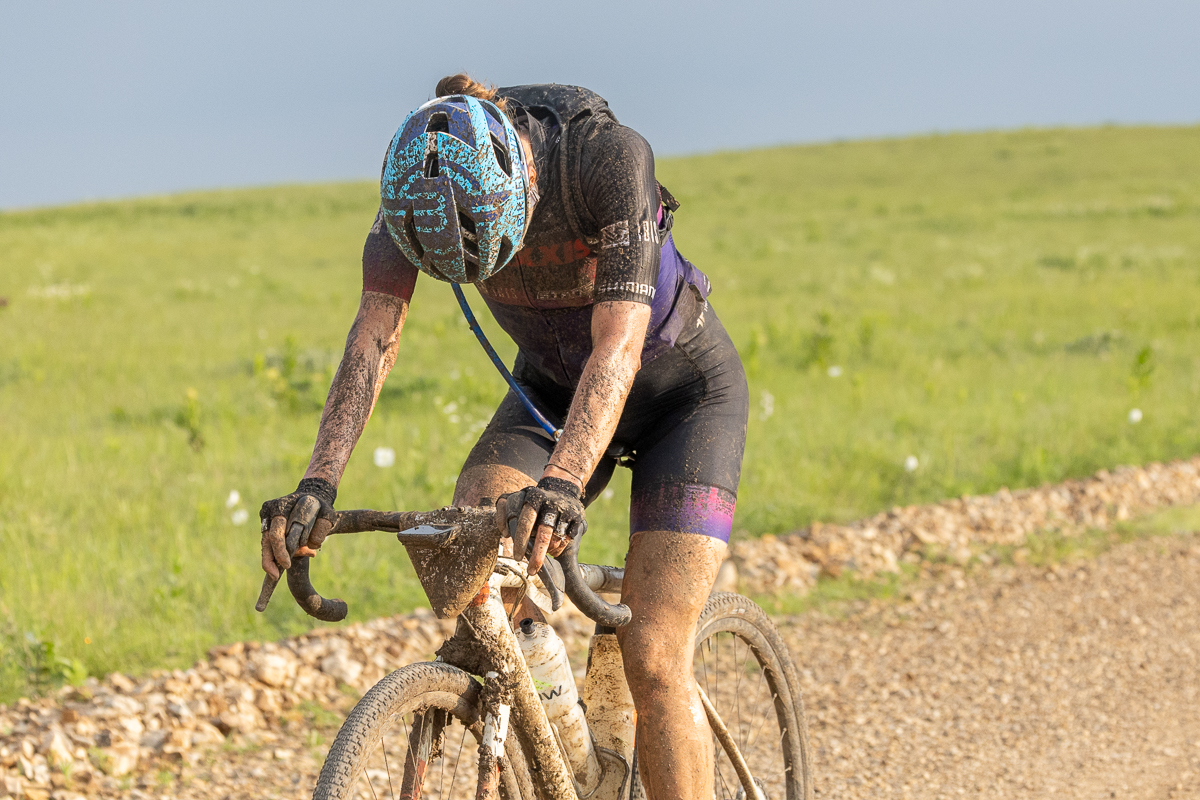 Some amateur riders agreed, expressing frustration of losing money, time and energy on such a short-lived experience. 
"This was my first go at Unbound. I trained hard for this event and spent a couple thousand dollars overall to attend and ride it. Without mile 11-14, I can 100% guarantee you I'd have finished this ride," said Doug Marker, a 49-year-old firefighter taking on the 200-mile event. 
"Instead, I don't believe I'll ever attend Unbound Gravel again, because that's a lot of hard earned time and money I threw away so someone could get a chuckle out of the 'spicy' Mile 11 segment."
Last year's Unbound 200 race winner and this year's runner-up, Sofia Gomez Villafañe, took to social media to express her discontent and advocate for the thousands of amateur riders on course. 
"I am truly gutted for all the amateur riders that were not able to complete their race yesterday," she penned. "There should have been a reroute around mile 10 so your bikes didn't get destroyed within the first hour." 
In a call with Cycling Weekly, Life Time's Vice President, Kimo Seymour, said that it's this very 'epicness' that makes Unbound so legendary. 
"Everybody's got a brilliant idea on how to do our jobs better than we do. But I think that the race speaks for itself," he said.
"As promoters, I think our team does an amazing job putting on an incredible experience. And yes, there are some years that people have more mechanical issues than others. Absolutely. But can we control the fact that there was a downpour that Friday night and it hit that area? There are things that are not within our control, and there's not a lot you can do. That's part of what you get with Unbound, and gravel racing in general."
While Unbound may have grown into the most prestigious gravel event in the world, with many world-class athletes descending upon Emporia, Kansas, year after year, Seymour was keen to remind folks of the event's roots.  
"The ethos of this event is that it was always an adventure ride that's now turned into an adventure race. I'll be the first to say that as long as I'm here, we're never going to change a course just because someone wants us to make it easier," he said.
"These are hard events. They are challenging, and the last thing we're going to do is change a course to make them easier because someone doesn't want ride through some mud, you know?"
Recalling the previous infamous mud year of 2009, Seymour stated that the finisher rate was just 15 percent. This year's finishing rate of 75 percent, in comparison, is quite the achievement. 
And so, while there's a fair bit of focus on the negative right now, Seymour encouraged folks to look at the great stories of perseverance and the high finish rate instead. 
"I don't want to sound cavalier. Yes, people destroyed their equipment. I have come home with a broken frame from this event once, too — it happens. It's rough country out there. It's part of the allure of Unbound, I think. It's hard on you and it's hard on your equipment.
"If you read the Athlete Guide, you can see the warnings that we give people and the heads up about the types of conditions they might encounter and what they need to be prepared for. I'm not sure how much more we can do for people to be prepared.
"It's our responsibility to put on a safe event and it's the rider's responsibility to make sure they're prepared and their equipment's prepared."
So is Unbound worth it?
There's a fine line of creating a course that is challenging and compelling versus calamitous. Due to the unpredictable nature of the weather and a rider's individual fitness and resources, that line is variable. What seems like a risk to one person, is an acceptable challenge to another. 
Luckily, the gravel calendar is growing fast and you can find challenges and experiences of all kinds. Events like Mid South and Unbound are known for their 'epicness' and unpredictable nature; Belgian Waffle Rides are for the underbikers who seek their thrills on singletrack and pavement alike; Lost & Found, Grinduro, SBT GRVL and Rebecca's Private Idaho prioritize fun over suffering and thereby draw in riders of all abilities. Check out our gravel calendar for an event near you.