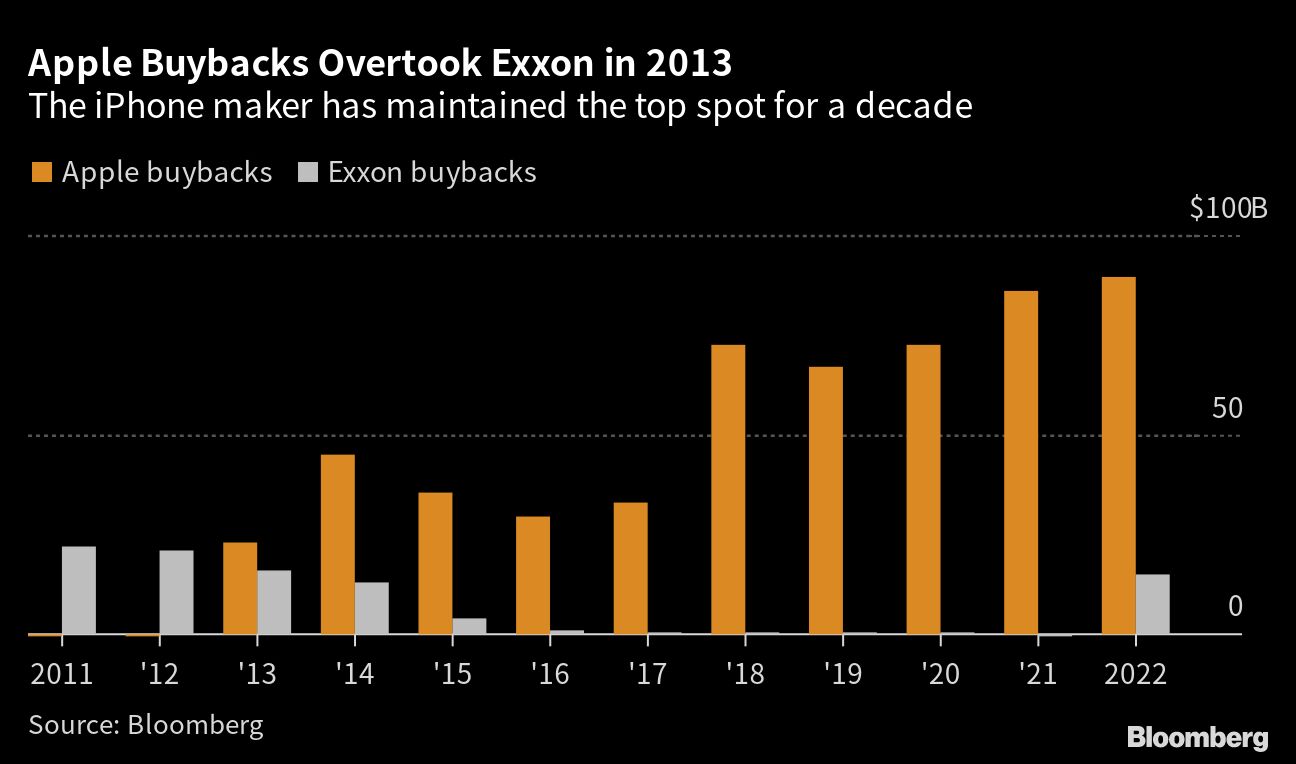 After a shaky start to the year, Apple Inc.'s stock has once again reclaimed the mantle of the go-to investment in Big Tech, even winning support from Goldman Sachs Group Inc. after years in which the brokerage refrained from recommending the shares. 
The Cupertino, California-based giant has risen about 15% in 2023 and is on course for the biggest quarterly gain in more than a year. The stock is outperforming fellow mega-cap technology companies like Microsoft Corp., Alphabet Inc. and Amazon.com Inc. 
Concerns about an imminent drop in demand for Apple's pricey computers and iPhones, along with supply bottlenecks, have dissipated. Goldman this week turned bullish on the stock for the first time in almost six years, after being mostly on the sidelines as the stock more than quadrupled in value. 
"Apple's strong balance sheet, talented team, and innovation capabilities could be viewed by investors as a safe place to park equity exposure," said David Waddell, chief investment strategist at Waddell and Associates.
Rewind to December and the picture looked gloomy: A fresh wave of Covid infections in China led to its key assembly partner shutting down production of iPhones in the run up to Apple's biggest quarter. The stock slumped to a 19-month low in early January and the company's market value dipped below $2 trillion for the first time since March 2021.
The Federal Reserve's series of interest rate increases also was crimping shares of all highly valued technology companies while sparking concern that the economy would tip into recession, hurting sales of computers and phones.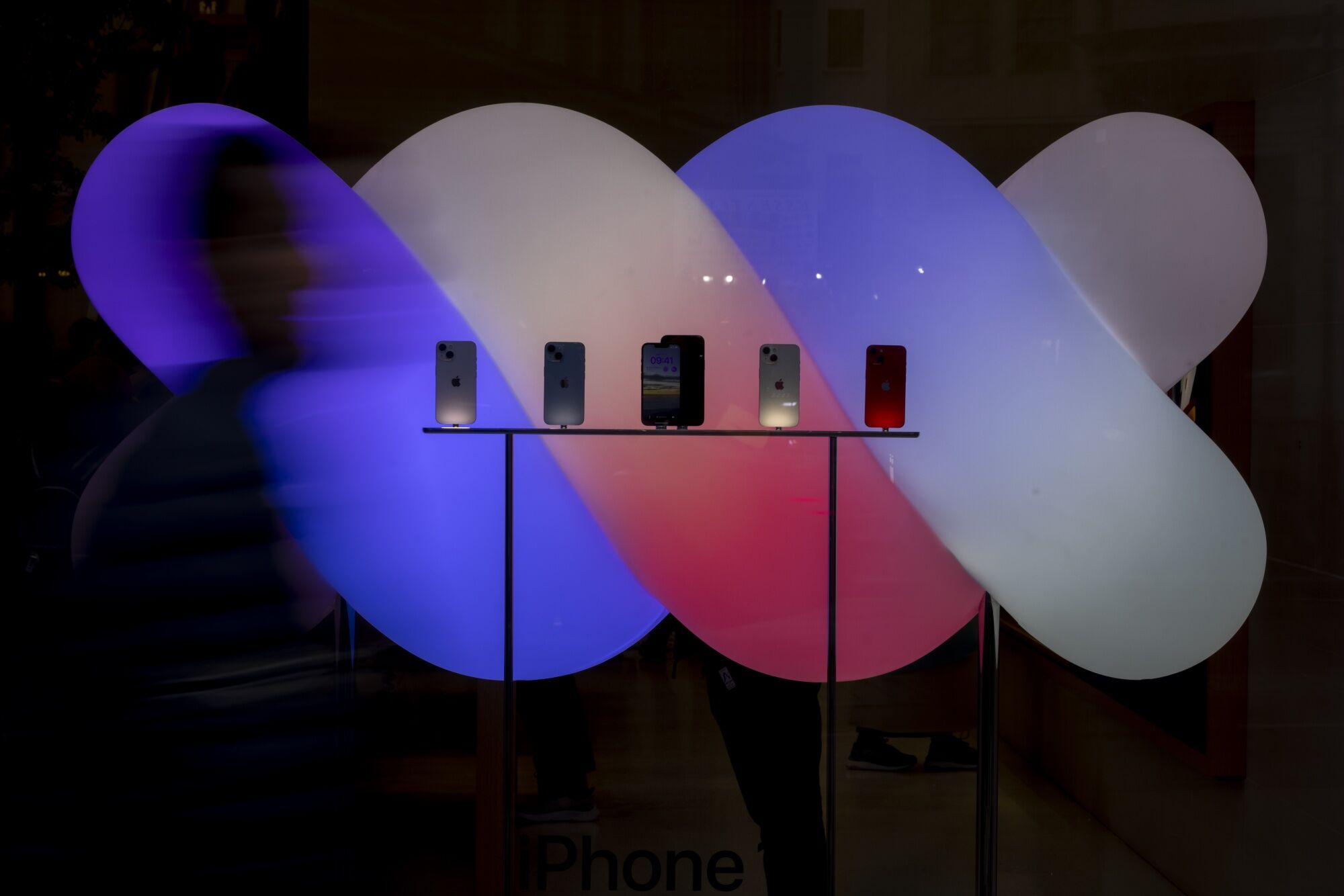 Now the factory is back online, supply chain snarls have dissipated and demand seems to be holding up. 
Apple also is seeing limited impact from economic pressures, Kyle McNealy, an analyst at Jefferies, wrote in a note last week, citing data on traffic to web pages by consumers looking to buy iPhones. That indicates that expectations for handset sales may be too low, he said.
Goldman analyst Michael Ng, who just took over the firm's coverage of the stock with a buy rating, says the company's large user base also will allow it to expand its services unit. The business, which houses services like Apple Music, Apple TV+ and the App Store, makes up about a fifth of the company's total revenue — doubling its share over the past decade.
Analysts see strong growth drivers in other business units too. Bloomberg Intelligence predicts the company will rake in $22 billion in sales of AirPod earphones in 2024, an amount equal to Mastercard's total revenue last year. 
And with the Federal Reserve warning that the pace of rate hikes may need to re-accelerate, investors are looking to a stock that has served them well during uncertain times.
Apple has been rewarding shareholders: The company has bought back $88 billion in stock over the last 12 months. That's the most by any US and almost more than the combined repurchases of its two closest competitors, Alphabet Inc. and Meta Platforms Inc., according to data compiled by Bloomberg.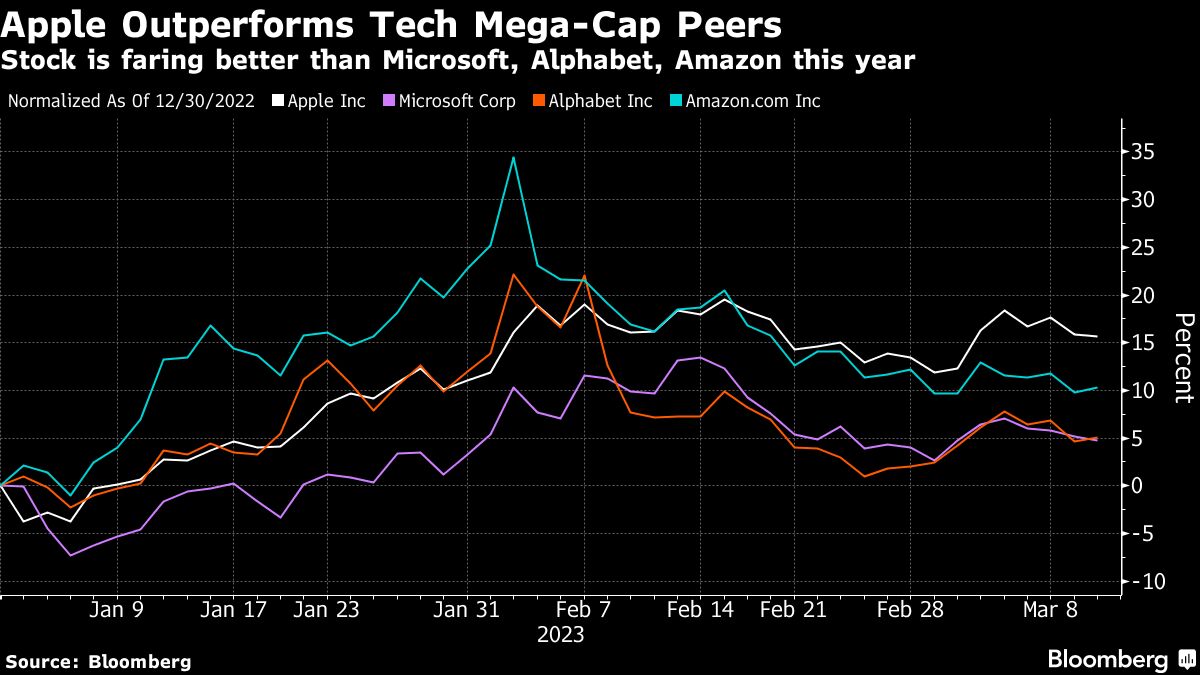 The stock is by no means cheap, but trading at 24 times forward earnings it's much more reasonable compared to the 35 times it traded at during the pandemic. Analysts expect the stock to rise about 13% over the next 12 months, based on the average price target compiled by Bloomberg. 
Tech Chart of the Day
Apple's share repurchases overtook those of Exxon Mobil Corp. in 2013, making it the company with the biggest annual buybacks in the S&P 500 Index. The iPhone maker has remained the top spender on its own shares, typically boosting its repurchase program along with its fiscal second-quarter earnings update, meaning the next increase may come in April.
Top Tech Stories
Panic spread across the startup world as worries about the financial health of Silicon Valley Bank, a major lender to fledgling companies, prompted Peter Thiel's Founders Fund and other prominent venture capitalists to advise portfolio businesses to withdraw their money, even as the bank's top executive urged calm.
Oracle Corp. reported quarterly sales in line with analysts' estimates after its cloud business failed to meet expectations for higher growth. The shares declined in extended trading.
The US is working to close a loophole in restrictions imposed on Inspur Group that leaves American companies such as Intel Corp. free to keep supplying the Chinese server maker's affiliates.
Sea Ltd. and GoTo Group, two of Southeast Asia's largest internet companies, are embarking on fresh layoffs as the region's once high-flying tech leaders retrench to focus on profitability over growth.
ASMPT Ltd., a semiconductor and electronics equipment maker, is attracting takeover interest from private equity firms, people with knowledge of the matter said.
--With assistance from Ryan Vlastelica and Tom Contiliano.
©2023 Bloomberg L.P.