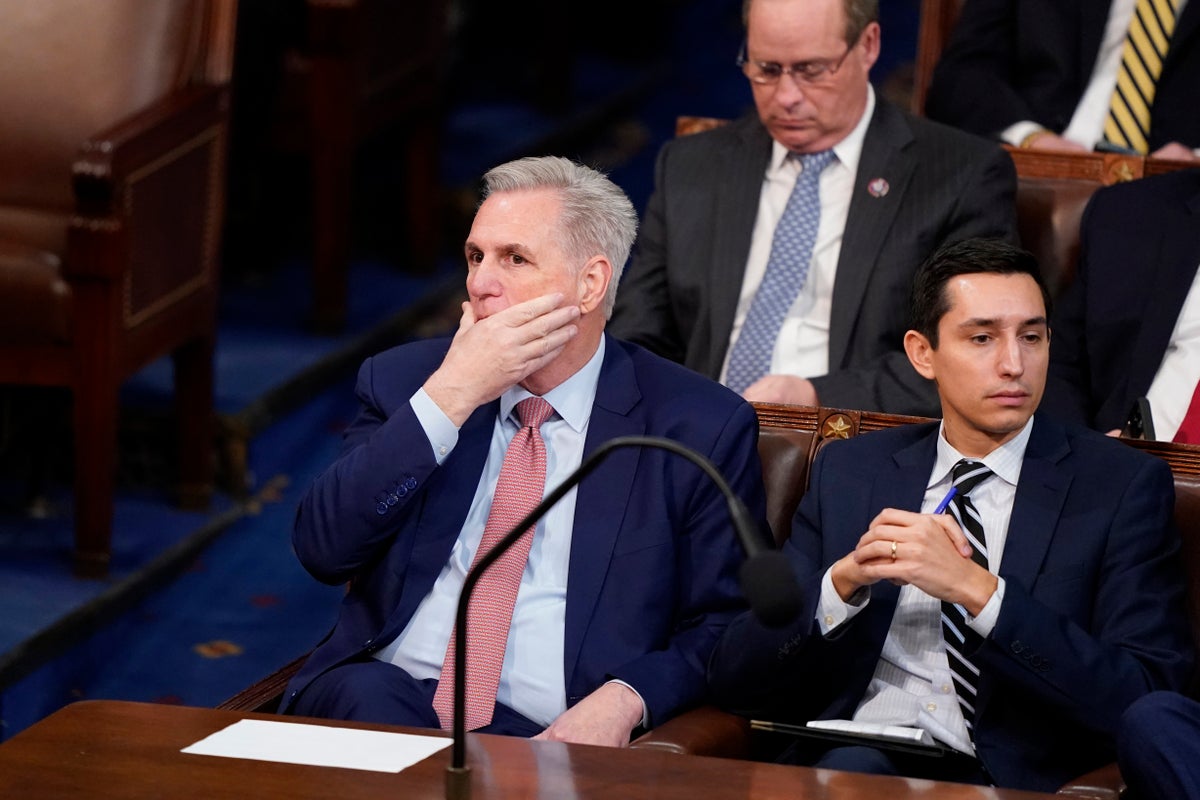 Here are the AP's latest coverage plans, top stories and promotable content. All times EST. For up-to-the minute information on AP's coverage, visit Coverage Plan at https://newsroom.ap.org.
————————-
TOP STORIES
————————-
CONGRESS — House Republicans try to regroup after party leader's Kevin McCarthy failure to secure enough votes to become as the new speaker of the House. There is no easy way ahead for McCarthy, who promised to fight to the finish to claim the gavel despite opposition from the chamber's most conservative members. By Lisa Mascaro, Farnoush Amiri and Kevin Freking. SENT: 1,080 words, photos, videos. UPCOMING: 1,100 words after House reconvenes at noon. With CONGRESS-SPEAKER-EXPLAINER — What's next in the House fight?
BILLS-HAMLIN — The NFL and its fans are rallying in support of Buffalo Bills safety Damar Hamlin, who remains in critical condition at a Cincinnati hospital after going into cardiac arrest on the field. Players and coaches from around the league were overcome with emotion while watching Hamlin be resuscitated back to life during Buffalo's game at Cincinnati. Hamlin's uncle told CNN there were some encouraging signs, including doctors reducing the amount of oxygen he was receiving. By Sports Writer John Wawrow. SENT: 1,230 words, photos, videos.
ABORTION PILLS — U.S. health officials have finalized a rule broadening availability of abortion pills to many more pharmacies, including large chains and mail-order companies. The Food and Drug Administration update removes a requirement that the medicine must be picked up in person. By Health Writer Matthew Perrone. SENT: 500 words, photo.
VATICAN-BENEDICT XVI-SUMMER VILLA — Pope Emeritus Benedict XVI is particularly beloved in the hilltop town of Castel Gandolfo. He spent every summer here as pope, joining a centuries-long list of pontiffs who vacationed at the papal villa overlooking Lake Alban in the hills south of Rome. Benedict's death has hit residents hard, since many knew him personally. By Nicole Winfield. SENT: 890 words, photos. With VATICAN-BENEDICT XVI — An account of Benedict's papacy to be sealed in his coffin.
BRAZIL-PELE-FUNERAL — Brazil said a final farewell to Pelé, burying the legend who unified the bitterly divided country. Pelé was placed in his final resting place as millions of fans around the world mourned. By Sports Writer Mauricio Savarese. SENT: 780 words, photos, video.
CUBA-US EMBASSY-VISA SERVICES — The United States Embassy in Cuba is reopening visa and consular services, the first time it has done so since a spate of unexplained health incidents among diplomatic staff in 2017 slashed the American presence in Havana. By Megan Janetsky. SENT: 660 words, photo.
———————-
TRENDING
———————-
PEOPLE-JEREMY RENNER — Sheriff: No foul play in "Avengers" star snow tractor injury. SENT: 660 words, photos.
BILLS-HAMLIN-GOFUNDME — Fans give millions to Damar Hamlin's toy drive for kids. SENT: 700 words, photos.
UFC-DANA WHITE — UFC president Dana White seen on video slapping his wife. SENT: 210 words, photo.
ROMEO AND JULIET LAWSUIT — "Romeo & Juliet" stars sue over 1968 film's teen nude scene. SENT: 420 words, photos.
UTAH CHAIRLIFT DEATH — Utah resort employee dies after being ejected from chairlift. SENT: 310 words.
CALIFORNIA-CAR FALLS OFF CLIFF — Man suspected of intentionally driving off California cliff. SENT: 630 words, photos.
MAGA HAT TEACHER-PROTECTED SPEECH — Court: Teacher wearing MAGA hat fell under protected speech. SENT: 300 words.
————————-
NATIONAL
————————-
EXECUTION-TRANSGENDER INMATE — A Missouri inmate was put to death for a 2003 killing, in what is believed to be the first execution of a transgender woman in the U.S. SENT: 860 words, photos, video.
FOUR DEAD-UNIVERSITY OF IDAHO — A criminology graduate student accused of the November slayings of four University of Idaho students agreed to be extradited from Pennsylvania, where he was arrested last week, to face charges in Idaho. SENT: 1,200 words, photos, video.
CALIFORNIA-STERILIZATION-REPARATIONS — About 600 people alive today can't have children because California's government sterilized them either against their will or without their knowledge, and now the state is trying to find them so it can pay them at least $15,000 each in reparations. SENT: 1,110 words, photos.
COLLEGE ADMISSIONS-BRIBERY — The mastermind of the nationwide college admissions bribery scandal is set to be sentenced after helping authorities secure the convictions of a slew of wealthy parents involved in his scheme to rig the selection process at top-tier schools. SENT: 660 words, photo. UPCOMING: Sentencing hearing scheduled for 2:30 p.m.
BODY SALES-SENTENCING — A Colorado funeral home operator accused of illegally selling body parts and giving clients fake ashes was sentenced to 20 years in prison by a federal court judge. SENT: 400 words.
———————————-
INTERNATIONAL
———————————-
MYANMAR-POLITICS — Myanmar's ruling military leader, Senior Gen. Min Aung Hlaing, described plans for an election later this year and called for national unity in a speech as he led a ceremony marking the 75th anniversary of independence from Britain. SENT: 550 words, photo.
AFGHANISTAN — The Islamic State group claimed responsibility for a bombing near a checkpoint at the Afghan capital's military airport that killed and wounded several people. SENT: 260 words, photo.
————————————-
BUSINESS/ECONOMY
————————————-
FINANCIAL MARKETS — Asian stock markets rose ahead of the release of minutes from a Federal Reserve meeting that investors hope might show the U.S. central bank is moderating plans for more interest rate hikes to cool inflation. By Business Writer Joe McDonald. SENT: 530 words, photos.
FTX-BANKMAN-FRIED — FTX founder Sam Bankman-Fried pleaded not guilty in Manhattan federal court to charges that he cheated investors and looted customer deposits on his cryptocurrency trading platform as a judge set a tentative trial date for October. SENT: 730 words, photos.
CES 2023 — Tech companies of all sizes are showing off their latest products at CES, formerly known as the Consumer Electronics show. SENT: 740 words, photo.
————————-
HOW TO REACH US
————————-
At the Nerve Center, Jerome Minerva can be reached at 800-845-8450 (ext. 1600). For photos, Masayo Yoshida (ext. 1900). For graphics and interactives, ext. 7636. Expanded AP content can be obtained from http://newsroom.ap.org. For access to AP Newsroom and other technical issues, contact apcustomersupport@ap.org or call 844-777-2006.