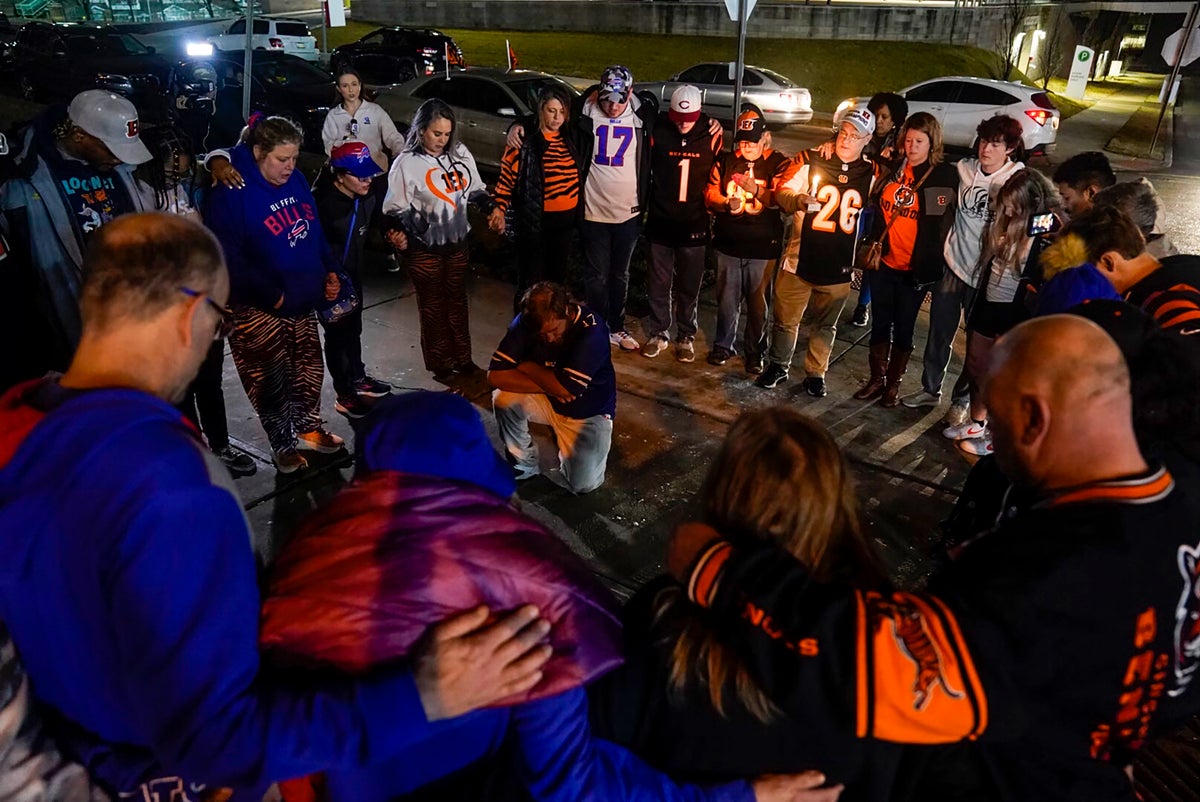 Here are the AP's latest coverage plans, top stories and promotable content. All times EST. For up-to-the minute information on AP's coverage, visit Coverage Plan at https://newsroom.ap.org.
—————————
TOP STORIES
—————————
CONGRESS — The new Congress opens with Republican leader Kevin McCarthy grasping for his political survival as he strives to become House speaker. Lawmakers convene to a new era of divided government as Democrats relinquish control of the House after midterm election losses. The Senate remains in Democratic hands, barely. By Congressional Correspondent Lisa Mascaro. SENT: 1,050 words, photos. UPCOMING: Congress convenes at noon.
BILLS-HAMLIN INJURY — Bills safety Damar Hamlin was in critical condition after suffering a cardiac arrest on the field after a tackle hours earlier, leading to the indefinite postponement of Buffalo's pivotal Monday night showdown against the Cincinnati Bengals. By Sports Writer Mitch Stacy. SENT: 1,070 words, photos, video. With BILLS-HAMLIN INJURY-REAX — NFL, sports world reaction to injury to Bills' Hamlin; BILLS-HAMLIN-GLANCE — Medical events that stopped play.
VATICAN-BENEDICT XVI-PAPAL MEMORIES — A longtime Associated Press Vatican correspondent recalls the graciousness of Pope Benedict XVI. But the journalist says Benedict would stand his ground and often would not back down, whatever the outside pressure. He also seemed almost oblivious to the storms he would create. By Victor L. Simpson. SENT: 930 words, photos, video. With VATICAN-BENEDICT XVI — Tens of thousands view Benedict XVI's body lying in state at Vatican.
BRAZIL-PELE-FUNERAL — Forty-five years after Pelé played his last game, it's hard to imagine modern soccer or Brazil without him. The soccer great who died last week will be buried in the city of Santos where he grew up, became famous and helped turn into a global soccer capital. By Sports Writer Mauricio Savarese. SENT: 830 words, photos, video.
ISRAEL-EMIRATES-MISSING TOURISTS — Israel's agreement with the United Arab Emirates to open diplomatic ties in 2020 brought an electrifying sense of achievement to a country long ostracized in the Middle East. Now over two years since the breakthrough accords, the expected windfall of Gulf Arab tourists to Israel has been little more than a trickle. Experts say the lack of Emirati and Bahraini tourists reflects Israel's long-standing pariah status in the Arab world and reveals the limits of the Abraham Accords. By Isabel Debre. SENT: 1,080 words, photos.
POT EDIBLES-SICK TODDLERS — The number of young kids, especially toddlers, getting sick from cannabis edibles has spiked in recent years as marijuana becomes legal in the more places in the U.S. By Health Writer Jonel Aleccia. SENT: 490 words, photos.
———————
TRENDING
———————
PEOPLE-JEREMY RENNER — Actor Jeremy Renner undergoes surgery after snow plow accident. SENT: 310 words, photos.
BRITAIN-PRINCE HARRY — Prince Harry says he wants his father and brother back. SENT: 250 words, photos.
MASTERS-WRONG STALLINGS — Masters invitation goes to the wrong Scott Stallings. SENT: 420 words, photo.
CALIFORNIA-CAR FALLS OFF CLIFF — Four alive in "miracle" after car plunges off California cliff. SENT: 470 words, photos, video.
—————————
NATIONAL
—————————
FOUR DEAD-UNIVERSITY OF IDAHO — A man facing first-degree murder charges in the slayings of four University of Idaho students last fall is not expected to fight extradition at a hearing in Pennsylvania, where he was captured at his parents home. SENT: 490 words, photos.
EXECUTION-TRANSGENDER-INMATE — Nearly 1,600 death row inmates have been put to death in the U.S. since 1977, but an execution in Missouri would be the first involving a transgender woman. SENT: 740 words, photos.
——————————
INTERNATIONAL
——————————
KOREAS-TENSIONS — South Korea reconfirmed that Seoul and Washington are discussing its involvement in U.S. nuclear asset management in the face of intensifying North Korean nuclear threats, after President Joe Biden denied that the allies were discussing joint nuclear exercises. SENT: 700 words, photos.
ISRAEL-PALESTINIANS — An ultranationalist Israeli Cabinet minister visited a flashpoint Jerusalem holy site for the first time since taking office in Prime Minister Benjamin Netanyahu's new far-right government last week. The visit is seen by Palestinians as a provocation. SENT: 510 words, photo.
—————————
BUSINESS/ECONOMY
—————————
FINANCIAL MARKETS — Asian stock markets were mixed ahead of updates on U.S. employment amid fears of a possible global recession. By Business Writer Joe McDonald. SENT: 500 words, photos. With JAPAN-ECONOMY — Survey finds bleak outlook for Japanese companies in 2023.
—————————
HOW TO REACH US
—————————
At the Nerve Center, Jerome Minerva can be reached at 800-845-8450 (ext. 1600). For photos, Wally Santana (ext. 1900). For graphics and interactives, ext. 7636. Expanded AP content can be obtained from http://newsroom.ap.org. For access to AP Newsroom and other technical issues, contact apcustomersupport@ap.org or call 844-777-2006.