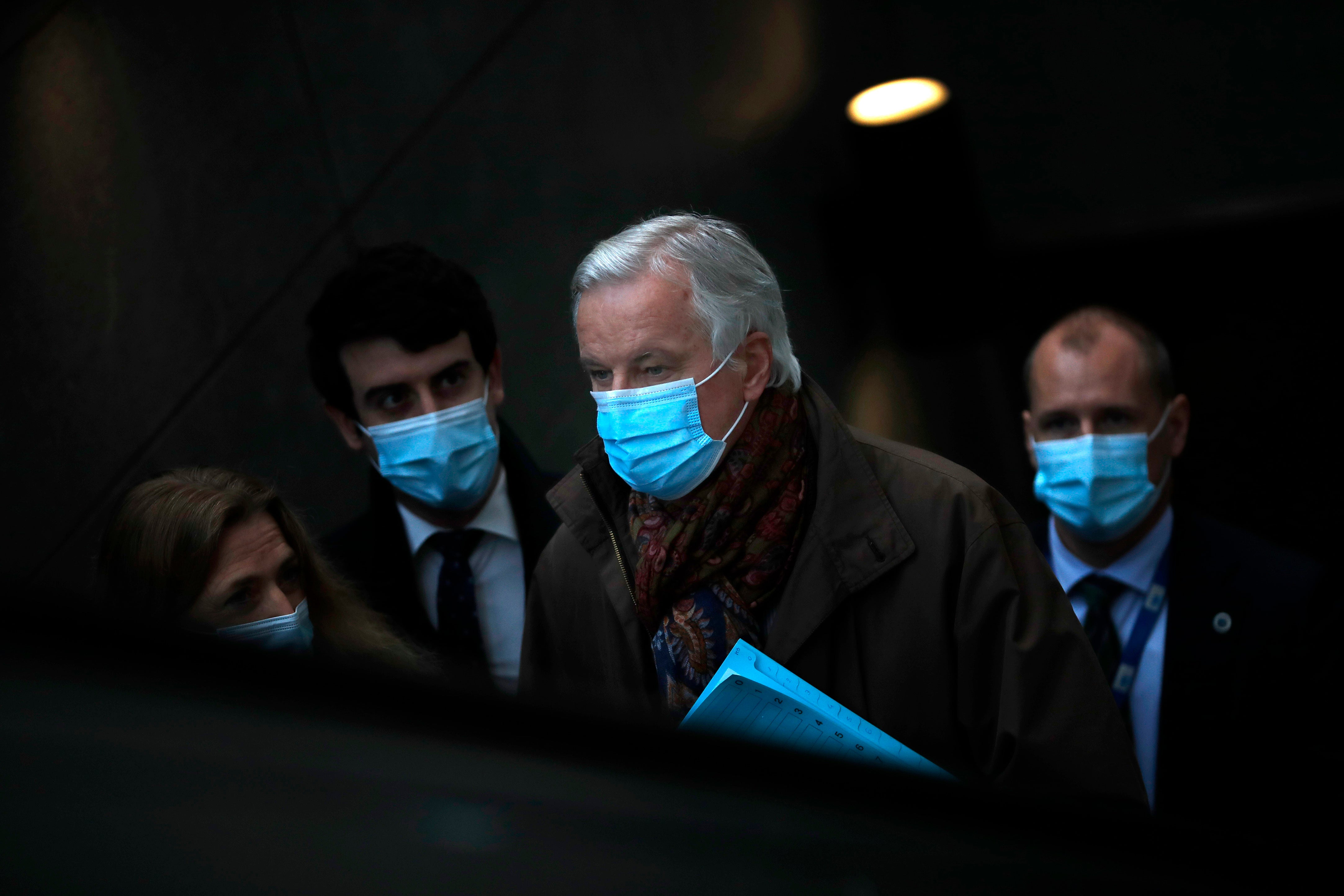 Here are the AP's latest coverage plans, top stories and promotable content. All Times EST. For up-to-the minute information on AP's coverage, visit Coverage Plan at https://newsroom ap.org
MINNESOTA-JUVENILE-LIFER — An independent panel of national legal experts who reviewed the conviction of an African American man sentenced as a teenager to life in prison for the murder of a little girl has recommended his release. In a 57-page report, the panel said police suffered from "tunnel vision" in investigating the case, ignoring witnesses and evidence that might have helped clear Myon Burell, then 16 of the murder of 11-year-old Tyesha Edwards in 2002. By Robin McDowell and Margie Mason. SENT: 1,680 words, photos With abridged version, SENT: 730 words, photos.
VIRUS OUTBREAK-US SURGE — Deaths from COVID-19 in the U.S. have soared to more than 2,200 a day on average, matching the frightening peak reached last April, and cases per day have eclipsed 200,000 on average for the first time on record, with the crisis all but certain to get worse because of the fallout from Thanksgiving, Christmas and New Year's. By Lisa Marie Pane and Rachel La Porte. SENT: 760 words, photos.
BIDEN-TRUMP-GOP — Americans waiting for Republicans in Congress to acknowledge Joe Biden as the president-elect may have to keep waiting. GOP lawmakers sticking with President Donald Trump say they might wait until January to declare the elections final. By Lisa Mascaro. SENT: 960 words, photo.
ELECTION 2020-SUPREME COURT — The Supreme Court on Tuesday rejected Republicans' last-gasp bid to reverse Pennsylvania's certification of President-elect Joe Biden's victory in the electoral battleground. The court without comment refused to call into question the certification process in Pennsylvania. SENT: 440 words, photo.
BIDEN-DEFENSE — President-elect Joe Biden makes his case for retired Army Gen. Lloyd Austin to be secretary of defense, urging Congress to waive a legal prohibition against a recently serving military officer running the Pentagon. By Robert Burns and Jonathan Lemire. SENT: 1,050 words, photo. With BIDEN-ATTORNEY GENERAL — Alabama Sen. Doug Jones emerges as the leading contender to be nominated as Biden's attorney general; BIDEN-CABINET — Biden selects Ohio Rep. Marcia Fudge as his housing and urban development secretary and former Agriculture Secretary Tom Vilsack to reprise that role (both sent).
IRAQ'S MOSUL RECOVERY — The Iraqi city of Mosul remains for many the symbol of the Islamic State group's reign of terror, the place from where it proclaimed its caliphate in 2014. It's also where IS made its last stand before the city was freed three years later, after a costly battle that killed thousands and left Mosul in ruins. Today, there are signs of recovery amid the wreckage of homes. Some residents have trickled back, local musicians again serenade enthralled crowds. At night, the city lights gleam as restaurant patrons spill out onto the streets. By Samya Kullab. SENT: 980 words.
VIRUS OUTBREAK-MIDEAST The United Arab Emirates says a Chinese coronavirus vaccine tested in the federation of sheikhdoms is 86% effective, though it released few details. Sinopharm's shot relies on a tested technology, using a killed virus to deliver the vaccine, similar to how polio immunizations are made. By Jon Gambrell. SENT: 450 words, photos.
____________________________
______________________________
KATIE HILL-RESTRAINING ORDER — Ex-Rep. Katie Hill wins restraining order against ex-husband. SENT: 650 words, photos.
ASUTRALIA DIGITAL PLATFORMS — Google and Facebook would risk multimillion-dollar fines if they failed to comply with proposed legislation introduced into the Australian Parliament on Wednesday that would make the tech giants pay for journalism they display. SENT: 400 words.
FIREEYE-HACKED — Cybersecurity firm FireEye says was hacked by nation state. SENT: 185 words.
__________________________________
MORE ON THE VIRUS OUTBREAK
_________________________________
VIRUS OUTBREAK — A retired British shop clerk received the first shot in the country's COVID-19 vaccination program Tuesday, the start of an unprecedented global immunization effort intended to offer a route out of a pandemic that has killed 1.5 million. Margaret Keenan, who turns 91 next week, got the shot at 6:31 a.m. on what public health officials have dubbed "V-Day." By Danica Kirka. SENT: 1,090 words, photos.
VIRUS OUTBREAK-ASIA — South Korea has reported 686 new cases of the coronavirus, tying its second-highest daily jump since the emergence of the pandemic, as a resurgence driven by the greater capital area threatens to erase hard-won gains against the virus. SENT: 430 words, photos.
VIRUS OUTBREAK-SINGAPORE CRUISE passenger on board a Royal Caribbean "cruise to nowhere" has been diagnosed with the coronavirus, prompting the vessel to return early to Singapore on Wednesday. Royal Caribbean said in a statement that a guest on the Quantum of the Seas ship "tested positive for coronavirus after checking in with our medical team." SENT: 340 words, photos.
VIRUS-OUTBREAK-BIDEN-SCHOOLS — Joe Biden is pledging to bring the coronavirus pandemic under enough control to open most of the nation's schools during his first 100 days as president. The president-elect said Tuesday that the promise is dependent on Congress providing sufficient funding to protect students, teachers and staff. SENT: 500 words, photo.
VIRUS OUTBREAK-IDAHO Idaho public health officials abruptly ended a meeting Tuesday after the Boise mayor and chief of police said intense protests outside the health department building — as well as outside some health officials' homes — were threatening public safety. SENT: 1, 020 words, photos.
Find more coverage on the Virus Outbreak on the featured topic page in AP Newsroom.
VIRUS OUTBREAK-CONGRESS — The Trump administration dives back into Capitol Hill's confusing COVID-19 negotiations, offering a $916 billion package to House Speaker Nancy Pelosi that adds a $600 direct payment to most Americans. By Andrew Taylor. SENT: 690 words, photos. With TRUMP-CONGRESS-DEFENSE BILL — The House approves a wide-ranging defense policy bill, even as President Trump renews his threat to veto it. SENT: 950 words, photo.
ELECTION 2020-TRUMP-STATE LAWMAKERS — President Trump's campaign to overturn the will of voters and reverse his reelection loss to Democrat Joe Biden takes hold among state and local Republicans even as it marches toward imminent failure. By Nomaan Merchant and Thomas Beaumont. SENT: 930 words, photos.
BIDEN-EDUCATION — The former president of the nation's largest teachers union has received endorsements from the Congressional Hispanic Caucus and national Hispanic organizations as she pursues the top education job in the Biden administration. Lily Eskelsen García led the National Education Association until September. By Collin Binkley. SENT: 900 words, photo.
SUPREME COURT-PRESIDENTIAL POWER — The Supreme Court hears a case that could make it easier for the president to fire the head of the agency that oversees government-controlled mortgage giants Fannie Mae and Freddie Mac. By Jessica Gresko. SENT: 440 words, photo. UPCOMING: 550 words after 10 a.m. arguments.
BIDEN-CIVIL RIGHTS LEADERS — President-elect Joe Biden has met with leaders of some of the nation's top civil rights organizations and vowed that his administration will prioritize racial justice and assemble a diverse Cabinet that can tackle pressing equity issues. SENT: 720 words, photos.
BIDEN-HEALTH SECRETARY — President-elect Joe Biden calls for urgent action on the coronavirus pandemic as he introduces his health care team. Biden lays out three COVID-19 priorities for his first 100 days in office: a call for all Americans to voluntarily mask up, a commitment to administer 100 million vaccines and a pledge to try to reopen a majority of the nation's schools. By Jonathan Lemire and Ricardo Alonso-Zaldivar. SENT: 960 words, photos, video.
BREXIT — The leaders of Britain and the European Union will meet on Wednesday for a final push at a Brexit deal, as the two sides warned that the chances of a post-Brexit trade deal by a year-end deadline is slipping away. SENT: 865 words, photos.
ETHIOPIA MILITARY CONFRONTATION — Ethiopia's government says its security forces shot at and detained United Nations staffers as they tried to reach part of the embattled Tigray region. SENT: 588 words, photos.
NEW-ZEALAND-VOLCANO SERVICE — A woman whose son was killed in a volcanic eruption in New Zealand a year ago said that as she stood crying, wailing and calling out his name on a beach soon afterward, a stranger came up to her and held her. SENT: 580 words, photos.
UNITED NATIONS-IRAN-NUCLEAR — Secretary-General Antonio Guterres is urging Iran to address concerns raised about its nuclear and ballistic missile programs and return to "full implementation" of its 2015 nuclear deal with major powers. SENT: 660 words.
GEORGE FLOYD-MINNEAPOLIS POLICE — Minneapolis City Council members who tried unsuccessfully to dismantle the police department in response to George Floyd's death are voting Wednesday on whether to shrink it, a move that could imperil the entire city budget because the mayor is threatening to use his veto to protect public safety amid soaring crime rates. SENT: 910 words, photo.
RACIAL INJUSTICE-POLICE SHOOTING-OHIO — Civil rights and FBI investigators will help look into the fatal shooting by an Ohio sheriff's deputy of a Black man whose family says that he was holding not a gun, but a sandwich, and that he was shot in front of two toddlers and his grandmother while inside his home, not outside it, as authorities assert. SENT: 780 words, photo.
PORTLAND-PROTESTS — Protesters outraged with the arrests of seven people at a home where a family was evicted in September hurled rocks at officers, sprayed a fire extinguisher at them and damaged police vehicles on Tuesday. The violence happened in broad daylight. Portland has been the site of frequent protests, many involving violent clashes between officers and demonstrators, ever since the police killing of George Floyd in Minneapolis in May. But most happened at night. SENT: 750 words, photos.
OHIO GOVERNOR — Lethal injection is no longer an option for Ohio executions, and lawmakers must choose a different method of capital punishment before any inmates can be put to death in the future, Republican Gov. Mike DeWine said. SENT: 570 words, photos.
SCI-ARCTIC REPORT CARD — A new report shows how warming temperatures in the Arctic are transforming the region's geography and ecosystems. The National Oceanic and Atmospheric Administration's annual Arctic Report Card was published Tuesday. The report shows that the past year was the second warmest on record in the Arctic. The extent of snow on the ground in June across the Eurasian Arctic was the lowest recorded in 54 years. SENT: 500 words, photos.
YE-TOP 10 FILMS — AP's film writers offer their lists of the top 10 films of 2020. By AP Film Writers Jake Coyle and Lindsey Bahr. SENT: 1,200 words, photos.
Find more year-end coverage on the featured topic page in AP Newsroom.
ERUOPE RACISM — Players have taken a knee, unfurled slogans and demanded tougher action only to find soccer — their working environment — remains infected with racism. The tipping point might just have come, with elite players in Paris taking the ultimate step by refusing to continue playing. SENT: 600 words, photos. WITH CHAMPIONS LEAGUE ROUNDUP — In a powerful protest against alleged racism, players from Paris Saint-Germain and Istanbul Basaksehir walked off the field during a Champions League game on Tuesday and didn't return after a match official was accused of using insulting language about a Black coach. SENT: 760 words, photos.
COWBOYS-RAVENS — Back in action after a 15-day layoff, Lamar Jackson directed a relentless rushing attack that the Baltimore Ravens hope will be the first big step in a run to the playoffs. Jackson ran for 94 yards and a touchdown, and the Ravens returned from a COVID-19 outbreak to amass 294 yards rushing in a 34-17 rout of the Dallas Cowboys on Tuesday night. SENT: 820 words, photos.
The Nerve Center can be reached at 800-845-8450 (ext. 1600). For photos ext. 1900. For graphics and interactives ext. 7636. Expanded AP content can be obtained from http://newsroom.ap.org. For access to AP Newsroom and other technical issues, contact apcustomersupport(at)ap.org or call 877-836-9477