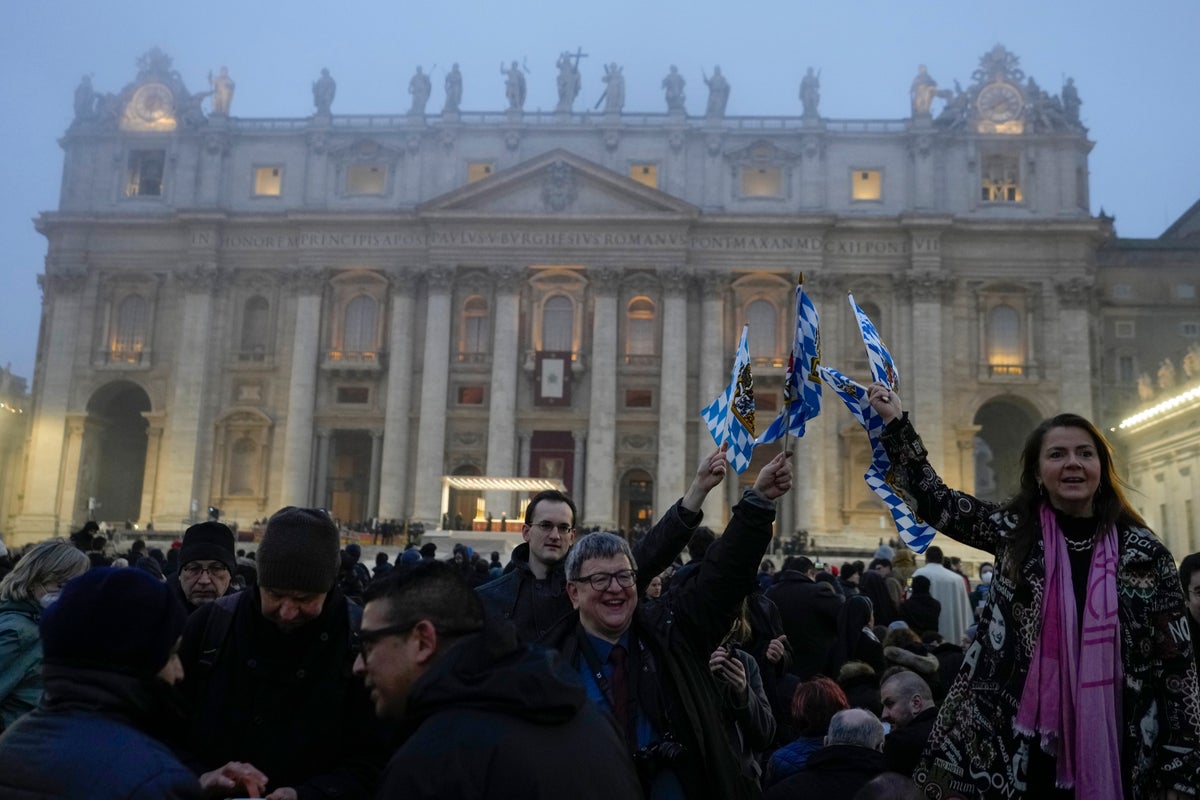 Here are the AP's latest coverage plans, top stories and promotable content. All times EST. For up-to-the minute information on AP's coverage, visit Coverage Plan at https://newsroom.ap.org.
————————
TOP STORIES
————————
CONGRESS — Republicans don't appear to be any closer to selecting a House speaker, with Kevin McCarthy failing to round up the necessary votes through six ballots. They'll try again Thursday to end the political chaos that has tarnished the start of their new majority. By Lisa Mascaro and Farnoush Amiri. SENT: 1,090 words, photos, video. UPCOMING: 1,100 words after House reconvenes at noon. Also see MORE ON CONGRESS below.
VATICAN-BENEDICT XVI — Mourners poured into St. Peter's Square for the funeral of Pope Emeritus Benedict XVI to pay their final respects to the German theologian who made history by retiring and to attend a rare requiem Mass for a dead pontiff presided over by a living one. Bells tolled and the crowd applauded as pallbearers carried Benedict's cypress coffin out of the basilica and rested it before the altar in the piazza, as red-robed cardinals looked on. By Nicole Winfield, Giada Zampano and Frances D'Emilio. SENT: 890 words, photos. UPCOMING: Funeral at 3:30 a.m.; video. With VATICAN-BENEDICT XVI-THE LATEST; VATICAN-BENEDICT XVI-HONG KONG-TAIWAN — Hong Kong cardinal, Taiwan at papal funeral, but not China.
RUSSIA-UKRAINE-WAR-REHABILITATION — Sitting on comfy armchairs in a low-lit room smelling of lavender and pine trees, the men take deep breaths as they close their eyes and listen to meditation music playing in the background. But this is not a spa. Wearing their military uniforms, Ukrainian soldiers are taking a break at this rehabilitation center in the Kharkiv region to restore their bodies and minds before going back to the frontline. SENT: 670 words, photos, video.
EIGHT DEAD UTAH — Eight family members, five of them children, were found dead from gunshot wounds in a southern Utah home, according to authorities who did not provide more details or a potential motive for the killings. By Sam Metz. SENT: 340 words, photos. UPCOMING: video.
VIRUS OUTBREAK-CHINA — Patients, most of them elderly, are lying on stretchers in hallways and taking oxygen while sitting in wheelchairs as COVID-19 surges in China's capital Beijing. SENT: 310 words, photos. With VIRUS OUTBREAK-HONG KONG — Hong Kong to start reopening border with China on Jan. 8.
SEVERE WEATHER — Officials in California ordered evacuations in a high-risk coastal area where mudslides killed 23 people in 2018 as a huge storm barreled into the state, bringing high winds and rain that threatened widespread flooding and knocked out power to more than 100,000 people. By Olga R. Rodriguez. SENT: 960 words, photos, video.
—————————-
MORE ON CONGRESS
—————————-
CONGRESS-REPUBLICAN DISARRAY — The stalemate over the Republican House speaker vote is raising alarms within the party as members warn they are sabotaging their new, narrow majority and alienating voters. SENT: 1,180 words, photos.
CONGRESS-NO RULES — As Republicans continue to squabble over who will be the next speaker, there are essentially no members in the U.S. House of Representatives — only members-elect. SENT: 640 words, photos.
———————-
TRENDING
———————-
COLLEGE-ADMISSIONS-BRIBERY — College scam mastermind Rick Singer gets 3 1/2 years in prison. SENT: 820 words, photos, video.
MISSING RAPPER-THEOPHILUS LONDON — Family says missing rapper Theophilus London found safe. SENT: 270 words, photo.
————————
NATIONAL
————————
FOUR DEAD-UNIVERSITY OF IDAHO — The man accused in the November slayings of four University of Idaho students is back in Idaho, where he's charged with first-degree murder and felony burglary, and could make his first court appearance as early as Thursday. SENT: 650 words, photos, videos. With FOUR DEAD-IDAHO-EXPLAINER — Next steps and new details in Idaho killings.
DEATH PENALTY-SOUTH CAROLINA — The South Carolina Supreme Court hears arguments on whether the state can use a newly created firing squad or the rarely used this century electric chair to carry out executions. SENT: 730 words, photos. UPCOMING: Arguments scheduled for 11:30 a.m.
LITHIUM MINE-NEVADA TRIBE — A yearlong legal battle over the largest proposed U.S. lithium mine resumes in Nevada when a federal judge hears arguments from the mining company, the government agency that approved it and a rancher, environmentalists and tribes who oppose it. SENT: 620 words, photos. UPCOMING: Developing from 1 p.m. hearing.
———————-
INTERNATIONAL
———————-
SYRIA-ECONOMIC CRISIS-EXPLAINER — Syria's economy has hit its lowest point since the country's civil war began nearly 12 years ago, with severe fuel shortages in both government and rebel-held areas, spiraling inflation and the Syrian currency hitting an all-time low on the black market. SENT: 980 words, photos.
AFGHANISTAN — Afghanistan's ruling Taliban killed eight Islamic State militants and arrested nine others in a series of raids targeting key figures in a spate of attacks in Kabul, a senior Taliban government spokesman said. SENT: 330 words, photos.
———————-
BUSINESS/ECONOMY
———————-
TECH JOB CUTS — E-commerce giant Amazon and business software maker Salesforce are the latest U.S. technology companies to announce major job cuts as they prune payrolls that rapidly expanded during the pandemic lockdown. By Business Writers Michael Liedtke and Michelle Chapman. SENT: 610 words, photos.
FINANCIAL MARKETS — Asian shares were mostly higher following a rally on Wall Street as investors assessed minutes from the Federal Reserve's latest meeting of policymakers and welcomed encouraging data on U.S. jobs. By Business Writer Yuri Kageyama. SENT: 610 words, photos.
————-
SPORTS
————-
BILLS-HAMLIN — NFL players and coaches are rallying to support Damar Hamlin, two days after the Buffalo Bills safety's heart stopped and he needed to be resuscitated during a game at Cincinnati. By Sports Writer John Wawrow. SENT: 1,020 words, photos, videos.
———————-
HOW TO REACH US
———————-
At the Nerve Center, Jerome Minerva can be reached at 800-845-8450 (ext. 1600). For photos, ext. 1900. For graphics and interactives, ext. 7636. Expanded AP content can be obtained from http://newsroom.ap.org. For access to AP Newsroom and other technical issues, contact apcustomersupport@ap.org or call 844-777-2006.