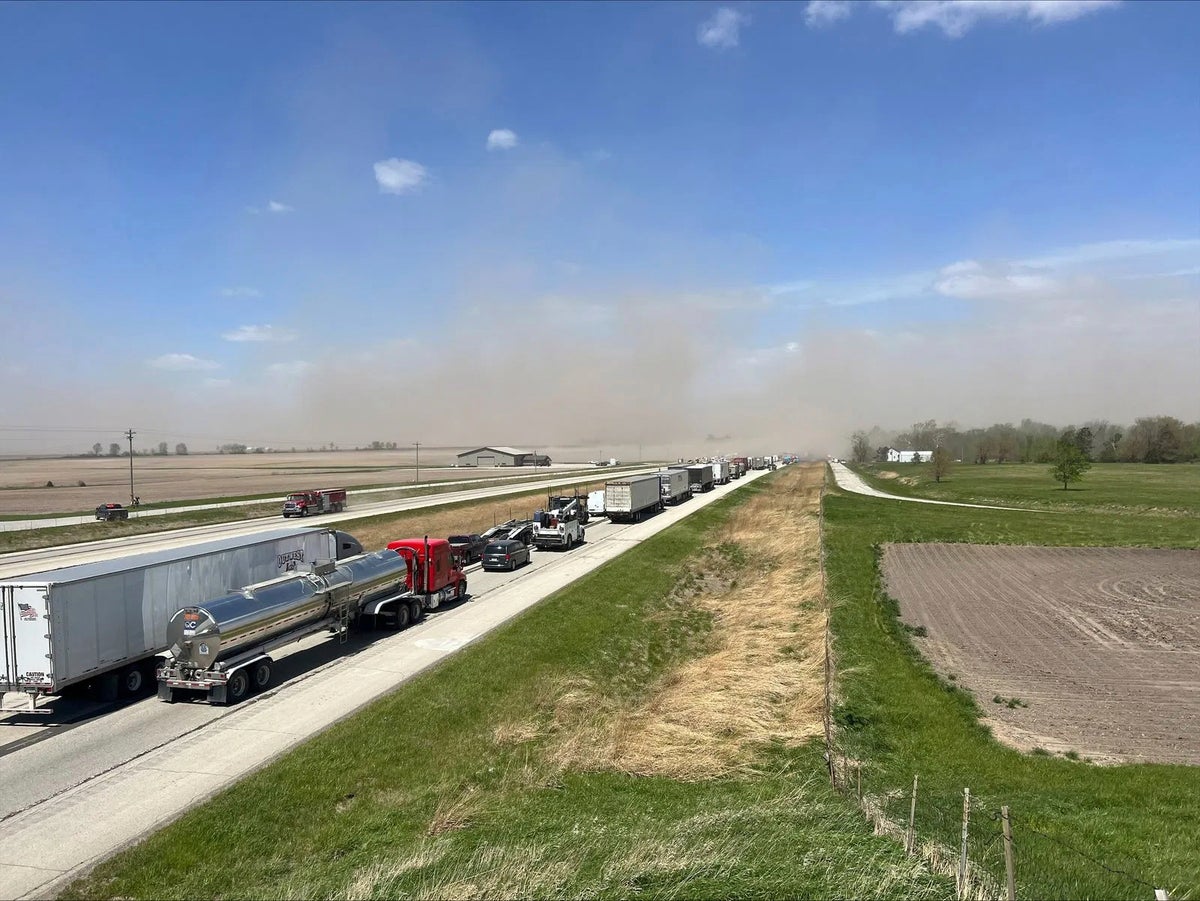 Here are the AP's latest coverage plans, top stories and promotable content. All times EDT. For up-to-the minute information on AP's coverage, visit Coverage Plan.
———————-
TOP STORIES
———————-
TREASURY-DEBT — Treasury Secretary Janet Yellen notified Congress that the U.S. could default on its debt as early as June 1, if legislators do not raise or suspend the nation's borrowing authority before then and avert what could potentially become a global financial crisis. By Fatima Hussein. SENT: 580 words, photo. With BIDEN-DEBT LIMIT — Biden, top lawmakers to discuss debt limit on May 9.
HOLLYWOOD WRITERS STRIKE — Television and movie writers launched a strike for the first time in 15 years, as Hollywood girded for a walkout with potentially widespread ramifications in a fight over fair pay in the streaming era. By Film Writer Jake Coyle. SENT: 1,080 words, photos. UPCOMING: Will be updated after picketing starts.
ELECTION 2024-INCUMBENT PRESIDENTS — President Joe Biden is pushing forward with his reelection campaign even though polls show a majority of Americans don't want to see him run again. History shows that most incumbents are able to win reelection, even if their chances might occasionally appear dire along the way. By Chris Megerian. SENT: 980 words, photos.
TEXAS MASS SHOOTING-SEARCH — The search for a gunman in Texas who killed five neighbors from Honduras dragged into a fourth day with false alarms and few apparent leads, while Republican Gov. Greg Abbott faced backlash over drawing attention to the victims' immigration status. By Juan A. Lozano and Paul J. Weber. SENT: 830 words, photos, video.
BRITAIN-CORONATION-FAITHS — At a time when religion is fueling tensions around the world, King Charles III is trying to bridge the differences between the faith groups that make up Britain's increasingly diverse society. By Danica Kirka. SENT: 1,120 words, photos. With BRITAIN CORONATION- FIVE THINGS TO KNOW.
MARIJUANA-DOG POISONINGS — Veterinarians are growing alarmed by an apparent rise in marijuana poisonings among dogs that ingest discarded joints and edibles on city sidewalks. By Bobby Caina Calvan. SENT: 660 words, photos.
———————-
MORE NEWS
———————-
MET GALA-SERENA WILLIAMS-KARLIE KLOSS — Serena Williams, Karlie Kloss reveal pregnancies at Met Gala. SENT: 250 words, photos, video.
BRIDE KILLED — South Carolina bride dies at beach when speeding DUI driver slams golf cart. SENT: 290 words, photos.
SENATORS SALE — Ryan Reynolds, Snoop Dogg in mix to buy Ottawa's NHL team? SENT: 350 words, photos.
DISNEY-DESANTIS — DeSantis board sues Disney in latest tug-of-war in Florida. SENT: 810 words, photos.
KYRGIOS-STOLEN CAR — Tennis star Kyrgios helps police catch man who allegedly stole Tesla. SENT: 200 words, photos.
SILENCED TRANSGENDER LAWMAKER — Montana Rep. Zooey Zephyr sues over removal from House floor. SENT: 880 words, photos.
GWYNETH PALTROW SKIING LAWSUIT — Gwyneth Paltrow won't recoup attorney fees in ski crash suit. SENT: 480 words, photos.
BIDEN-EID — Muslim mayor blocked from White House Eid celebration. SENT: 690 words, photo.
———————-
NATIONAL
———————-
MISSING TEENS-BODIES FOUND-OKLAHOMA — Authorities searching a rural Oklahoma property for two missing teenagers discovered the bodies of seven people, including the suspected remains of the teens and a convicted sex offender who was sought along with them, the local sheriff said. SENT: 510 words, photos.
TRANSGENDER HEALTH-OKLAHOMA — A new law will make it a felony to provide gender-affirming care to minors in Oklahoma. SENT: 440 words, photo.
WINDSTORM-CRASHES — A windstorm in southern Illinois kicked up dangerous clouds of blinding dust off farm fields, causing numerous crashes that killed at least six people on Interstate 55, police said. SENT: 480 words, photos, video.
———————-
INTERNATIONAL
———————-
ISRAEL-PALESTINIANS — A high-profile Palestinian prisoner died in Israeli custody after a nearly three-month hunger strike, Israel's prison service announced, at a time of already soaring tensions between Israel and the Palestinians. SENT: 770 words, photos.
TURKEY ELECTIONS-KILICDAROGLU — The main challenger trying to unseat Turkish President Recep Tayyip Erdogan in this month's presidential election cuts a starkly different figure than the incumbent who has ruled the country for two decades. SENT: 1,150 words, photos.
—————————
HEALTH/SCIENCE
—————————
GERMANY-CLIMATE TALKS — Environmental campaigners urged climate envoys from dozens of nations gathering in Berlin to discuss a global deadline for phasing out fossil fuels and ways of increasing aid to poor countries hit by global warming. SENT: 510 words, photo.
———————-
BUSINESS/ECONOMY
———————-
CHINA-EV EXPORTS — Chinese electric car exporters are starting to compete with global brands in their home markets. By Business Writers Joe McDonald and Yuri Kageyama. SENT: 1,120 words, photos.
FINANCIAL MARKETS — Asian shares were mixed with some markets closed or anticipating holidays and investors showing muted reaction to the latest U.S. banking failure. By Business Writer Yuri Kageyama. SENT: 830 words, photos. With AUSTRALIA-ECONOMY — Australian central bank hikes interest rate to 3.85%.
EUROPE-ECONOMY — The European Union will release May figures on inflation, which has eased but is still painfully high, squeezing households and businesses and leading the European Central Bank to keep up its pace of interest rate hikes to tamp down price spikes. By Business Writer David McHugh. UPCOMING: 500 words, photo by 5 a.m.
FIRST REPUBLIC BANK-EXPLAINER — First Republic Bank has become the second large regional bank with assets over $200 billion to fail in just a few weeks. SENT: 810 words, photos.
———————-
SPORTS
———————-
RANGERS-DEVILS — Akira Schmid rebounded from his only bad game and made 31 saves in Game 7 to lead the New Jersey Devils to a 4-0 victory over the New York Rangers in an entertaining first-round playoff series. By Sports Writer Tom Canavan. SENT: 860 words, photos.
———————-
ARTS/ENTERTAINMENT
———————-
MET GALA — Fashion's biggest night of the year included lots of vintage from Chanel and a reveal by Janelle Monae. By Entertainment Writer Leanne Italie. SENT: 1,370 words, photos, videos.
OBIT-CANADA-GORDON LIGHTFOOT — Gordon Lightfoot, Canada's legendary folk singer-songwriter known for "If You Could Read My Mind" and "Sundown" and for songs that told tales of Canadian identity, died on Monday. He was 84. SENT: 940 words, photos.
TONY AWARDS-NOMINATIONS — Broadway theaters will be hoping to attract more visitors with a coveted Tony Award nomination. By Entertainment Writer Mark Kennedy. SENT: 510 words, photos. UPCOMING: Developing from 8:30 a.m. announcement. With TONY AWARDS-NOMINATIONS-LIST.
———————-
HOW TO REACH US
———————-
At the Nerve Center, Jerome Minerva can be reached at 800-845-8450 (ext. 1600). For photos, Hiro Komae (ext. 1900). For graphics and interactives, ext. 7636. Expanded AP content can be obtained from AP Newsroom. For access to AP Newsroom and other technical issues, contact apcustomersupport@ap.org or call 844-777-2006.