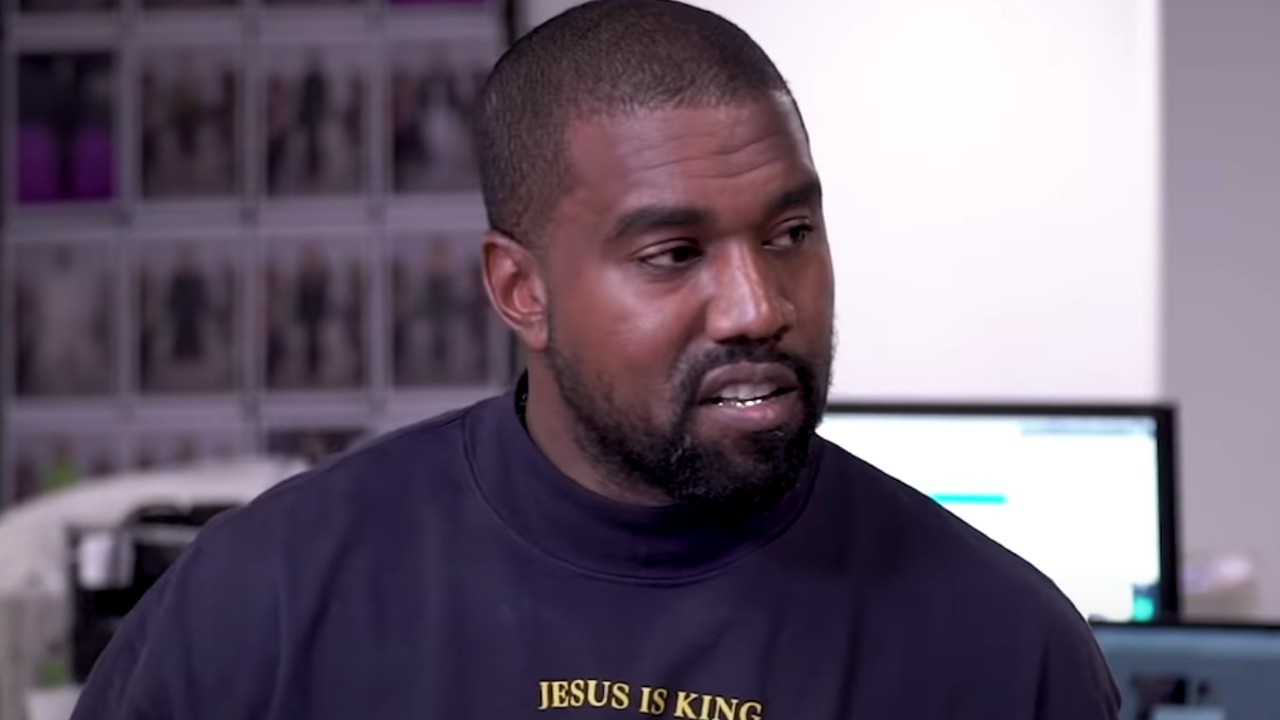 For much of this year, Kanye West had been relatively quiet, spending time away from his social media accounts and relishing in his (yet-to-be-legalized) marriage to Bianca Censori. The polarizing star broke his virtual fast (and the Internet), however, when he returned to Instagram this past weekend to reveal that he'd watched 21 Jump Street, which he said helped him "like Jewish people again." He attributed his alleged change of heart to the performance of the film's co-lead, Jonah Hill, who belongs to the faith. Many have reacted, and the latest to chime in is an antisemitism watchdog group that's demanding an apology.
Kanye West made headlines during the final few months of 2022, during which he made a number of anti-Semitic remarks. During an interview with right-wing media pundit Alex Jones, West even shared praise for infamous Nazi Party leader Adolf Hitler. With all of this in mind, the StopAntisemitism group (which named West Antisemite of the Year in 2022) is not impressed by his most recent comments. The organization's executive director, Liora Rez, spoke about the post during an interview with TMZ and didn't mince words. Rez stated that West needs to offer a sincere apology and put in more effort if he seeks to rectify his past sentiments:
Shortly after the "Can't Tell Me Nothing" shared his controversial views, an anti-Semitic campaign known as "Ye is Right" emerged. That's likely one of the negative elements that Liora Rez is referring to when she mentions the "dangerous trickle-down effect." When it comes to how the rapper can make amends, Rez suggested that he first denounce noted white nationalist Nick Fuentes, who the star hung out with months ago. Meanwhile, the American Jewish Committee also expressed disdain over the 21 Jump Street message. Richard Hirschhaut, a spokesperson for the group, spoke talked to TMZ as well, providing his own take on the matter:
Aside from prominent Jewish groups, a few notable Jump Street alums have also responded to Ye's latest take. Co-director Chris Miller responded via Instagram, saying "Um… thanks for watching?" While replying to a fan, Miller (who helmed the film alongside frequent collaborator Phil Lord) also quipped that "all it took was seeing a Jewish man praying to a Korean Jesus'' for the Grammy winner to "claim to not be antisemitic anymore in a still-antisemitic way." CinemaBlend also caught up with Seth Rogen – who cameoed in the 2014 sequel – and asked how he felt about good buddy Jonah Hill curing the star's antisemitism. Rogen joked that Hill "can have it" and mused that the critically acclaimed movie should be sent around the world. 
Kanye West, all the while, is still feeling the effects of his antisemitic declarations, as he's since been dropped by Adidas, Def Jam and Balenciaga. In the aftermath, he declared that he'd been "beat to a pulp" financially, as the first of those dissolved agreements alone cost him his billionaire status. Whether he can forge some kind of mea culpa and recoup his losses is hard to say but, based on the statements from StopAntisemitism and more, that's going to take a considerable amount of effort on his part.