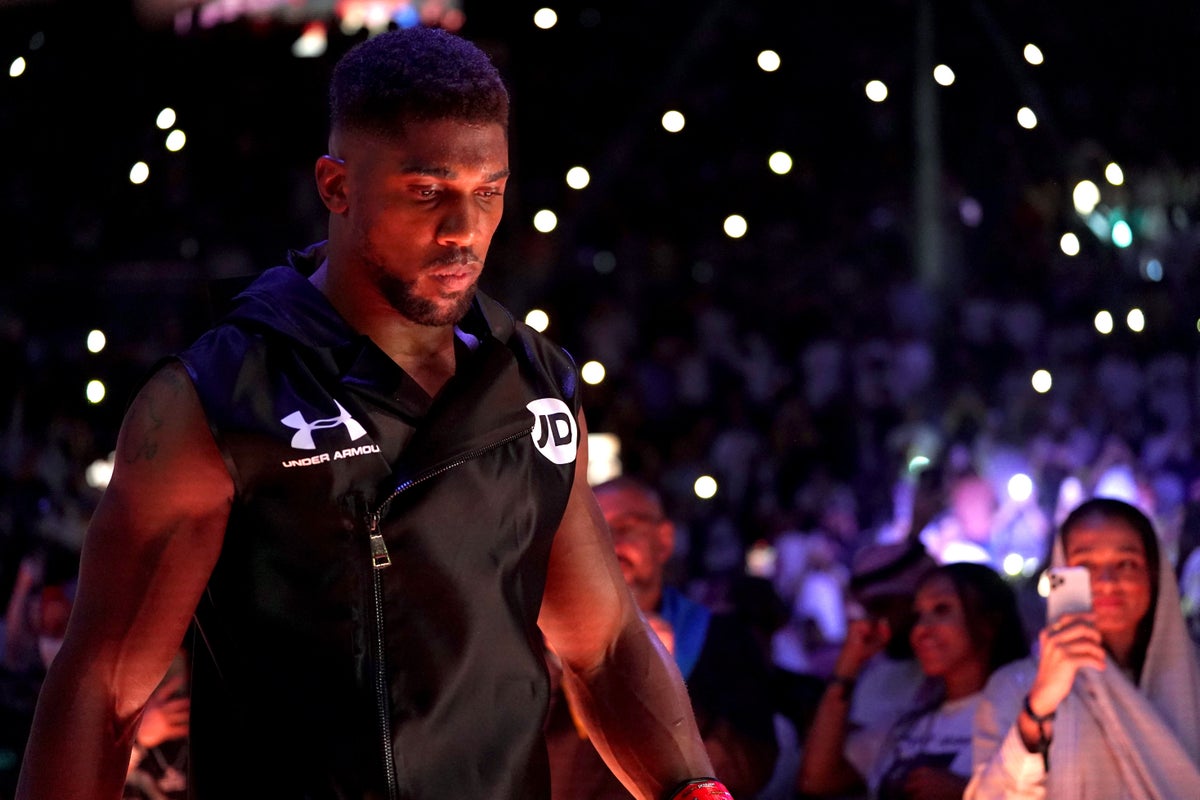 Anthony Joshua still believes he is among the best three heavyweights in the world ahead of next weekend's return to the ring.
Joshua will be back in action next Saturday when he fights Jermaine Franklin at the O2 Arena eager to taste victory for the first time since 2020.
Consecutive defeats by Oleksandr Usyk have taken the former Olympic champion away from the world-title picture and he is no longer in the top three of the WBA, WBO, WBC or IBF rankings.
But when asked who thinks the best heavyweights around are, Joshua said: "Usyk, (Tyson) Fury and myself.
"Minus me, Usyk, Fury and (Deontay) Wilder because he is a former champion.
"I rate the rankings. I have been in top 10 for the last how many years? About eight years I have been in the top 10 so I rate them.
"As long as I am in the top 10 I am happy, but to be there consistently is not easy. It is all about who you fight as well. Rankings are important but you need to fight the big names as well."
Joe Joyce and Daniel Dubois are ahead of Joshua (24-3, 22KOs) in the WBO and WBA rankings and therefore they are next in line to face Ukrainian Usyk.
Usyk had been expected to fight Fury in a unification contest at Wembley at the end of April but it collapsed earlier this week to once again highlight one of boxing's big shortcomings.
He's a people's champion, I'm a people's champion. There is no competition in that sense

— Anthony Joshua on Tyson Fury
It has opened the door for a Battle of Britain contest to finally occur after Joshua's promoter Eddie Hearn insinuated they would be willing to speak with Fury's camp following Saturday's showdown with Franklin (21-1, 14KOs).
Twice before talks between the two teams fell through and while Joshua has no qualms with Fury being the "people's champion", the 33-year-old knows his own worth.
"He's a people's champion, he's a people's champion," Joshua insisted sincerely regarding his British rival.
"Remember I put a lot of effort into pushing the heavyweight division into a healthy place early on in my career. I understood the concept of marketing and PR and it shows in the figures right?
"It shows in the figures with brand partnerships and stuff. It didn't happen easily but yeah, he's a people's champion, I'm a people's champion. There is no competition in that sense.
"The only competition I need to have with him is in the ring."
Fury and Usyk were set to fight on April 29 with a 70-30 split in favour of the WBC champion, but talks officially ended on Monday to thwart efforts to put all the belts on the line.
Joshua added: "If he is doing 70-30 for an undisputed cruiserweight fighter and heavyweight champion unified, what is he going to try and offer me?
"It is just a nightmare but look, I have a great team in my corner. I have a great promotional company, great management company that help me. I don't make all the decisions myself. I am in the gym.
"When that fight – God willing – happens, they will back my corner and they know what I bring to the table.
"They will negotiate fiercely to make sure I get a lion's share as well as what's on the table. I will leave it to them to do their best to represent me in the right fashion."