Andhra Pradesh: Covid-19 cases doubling every 3-4 days, faster than first & second waves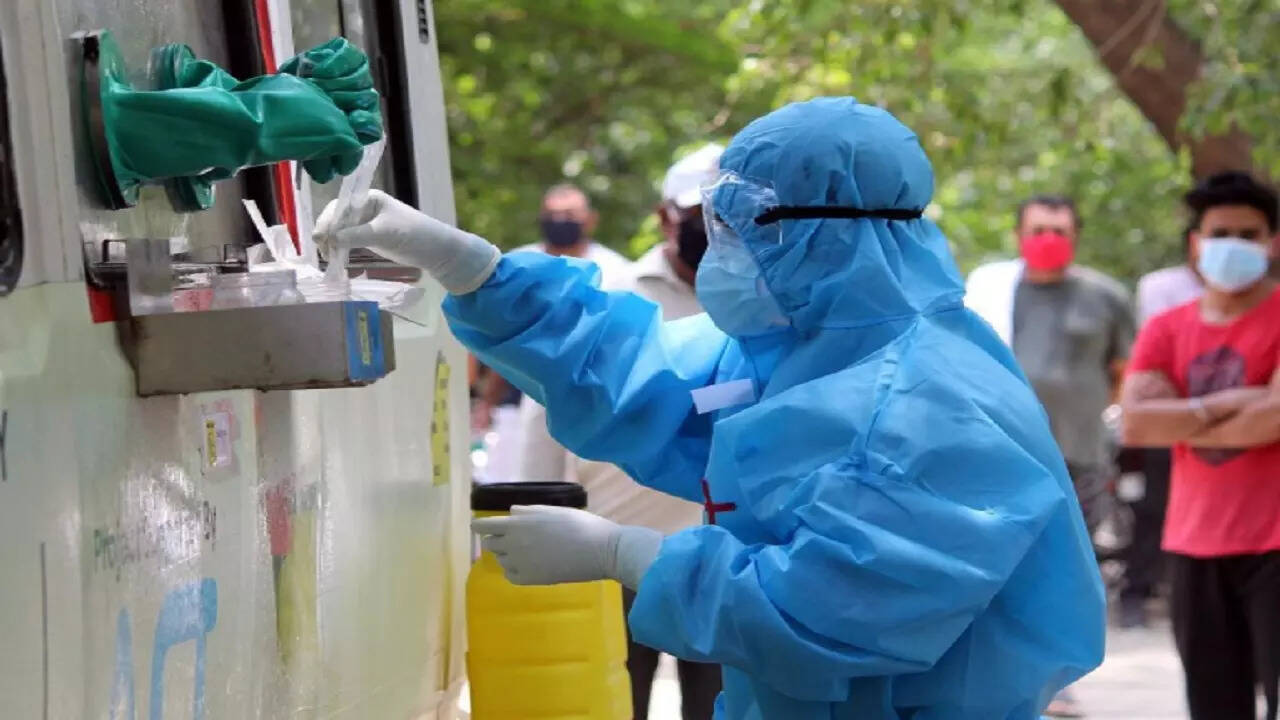 VISAKHAPATNAM: Hardly two weeks into the surge, the daily Covid-19 cases in Andhra Pradesh are doubling every three to four days compared to the gradual increase in the first two waves.
From an average 130 daily cases in December 2021, the state is now posting 1,800 cases a day with a case positivity rate of 5%.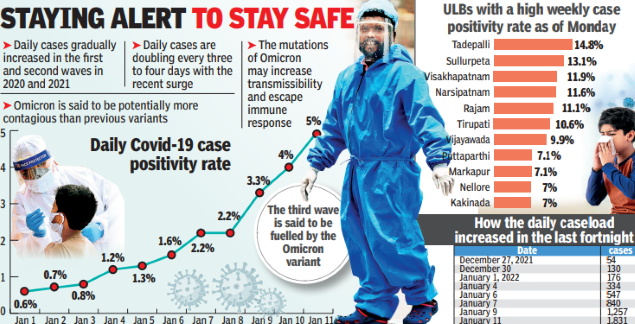 The state took more than a month to reach the 1,800 daily case range from the initial 100 cases during the second wave, and nearly 45 days in the first wave in 2020.
But as the third wave is believed to be fuelled by the Omicron variant, its reported immune evading behaviour and high transmissibility might be leading to the rapid doubling time. The doubling time is one of the key metrics to understand the current rate of spread of the virus in the community.
According to the globally available data, syndromes of Omicron variant closely mimic the common cold with a higher rate of transmissibility and doubling time. Due to this, the Union health ministry recently asked the states to keep a close watch on doubling rates, weekly and daily case positivity rates, Delta and Omicron cases, and newly emerging clusters.
Urban local bodies like Tadepalli, Visakhapatnam, Narsipatnam, Sullurpeta, Tirupati and Vijayawada recorded about a 10% weekly case positivity rate. Several districts like Chittoor and Visakhapatnam are already posting a daily case positivity rate of more than 5%.
The dramatic surge in daily cases and rapid doubling rates may suddenly overwhelm health systems.
Even if hospitalisations remain minimal as reported in other countries, the state may have to face many social and economic consequences. These include the need to ramp up testing, sequencing and tracing efforts, besides the sudden surge affecting key services and forcing the state to impose restrictions on public gatherings, economic activities, mobility, etc. If daily cases double in the third wave compared to the second wave, there may be more patients in hospitals than in the second wave. The state may also have to focus on home isolation facilities and home care.
State Covid-19 nodal officer and Visakha Institute of Medical Sciences director Dr K Rambabu said Omicron spreads at a faster rate than its predecessor variant of concern, Delta, due to its mutations. "Even if a single person contracts the virus, he/she may spread it to the entire family. The highly mutated Omicron variant may have implications for binding and spread, thus increasing transmissibility," said Dr Rambabu.