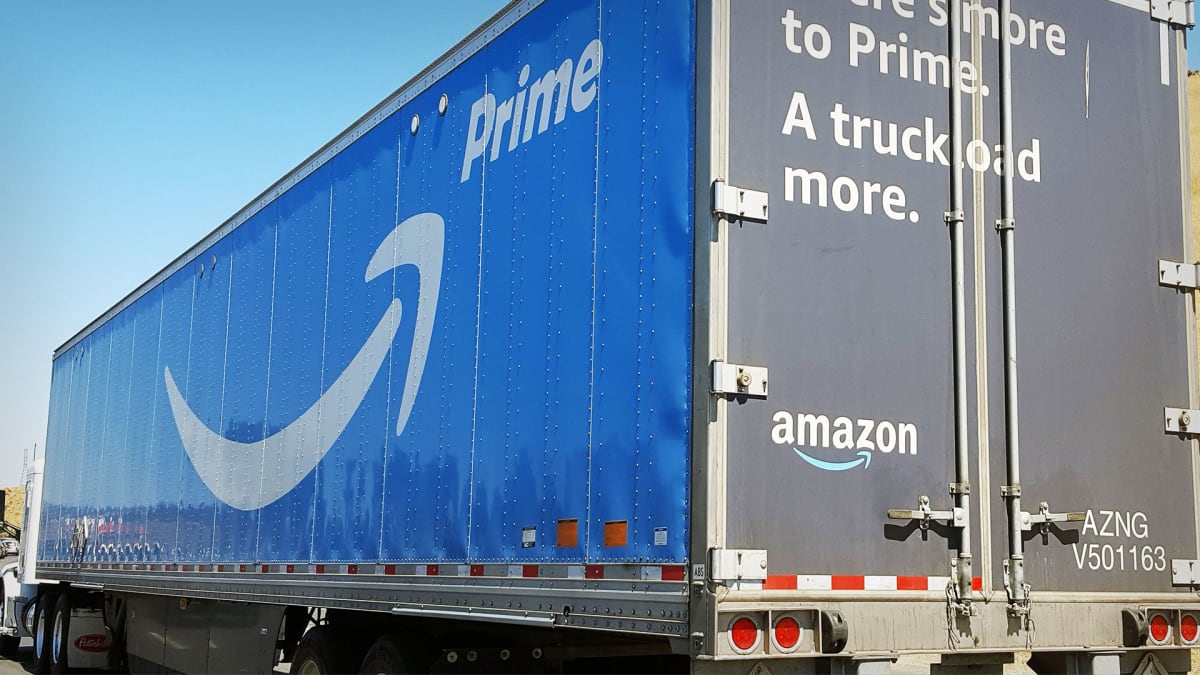 Amazon (AMZN) posted better-than-expected fourth quarter revenues Thursday, thanks to solid gains from its Web Services division, but fell shy of Street earnings forecasts, sending shares sharply lower in after-hours trading.
Amazon said its fourth quarter net profit was pegged at $300 million, or 3 cents per share, down from a split-adjusted profit of $1.39 per share over the same period last year and south of the Street consensus forecast of 18 cents per share.
Revenues rose 6% from last year to $149.2 billion, firmly ahead of analysts' estimates of a $145.45 billion tally. Amazon Web Services contributed $21.38 billion, rising 20.2% from last year, a similar pace of growth recorded over the three months ending in September but just inside the Street forecast of around $22 billion. 
Online sales, however, were down 2.3% from last year to $64.53 billion, suggesting weakening consumer spending over the final months of the year.
Looking into the current quarter, Amazon said it sees operating income of between zero and $4 billion on revenues in the range of $121 billion to $126 billion, compared to the Refinitiv forecast of around $125.1billion.
"Our relentless focus on providing the broadest selection, exceptional value, and fast delivery drove customer demand in our Stores business during the fourth quarter that exceeded our expectations—and we're appreciative of all our customers who turned to Amazon this past holiday season," said CEO Andy Jassy. "We're also encouraged by the continued progress we're making in reducing our cost to serve in the operations part of our Stores business. In the short term, we face an uncertain economy, but we remain quite optimistic about the long-term opportunities for Amazon."
"The vast majority of total market segment share in both Global Retail and IT still reside in physical stores and on-premises datacenters; and as this equation steadily flips, we believe our leading customer experiences in these areas along with the results of our continued hard work and invention to improve every day, will lead to significant growth in the coming years," he added. 
"When you also factor in our investments and innovation in several other broad customer experiences (e.g. streaming entertainment, customer-first healthcare, broadband satellite connectivity for more communities globally), there's additional reason to feel optimistic about what the future holds."  
Amazon shares were marked 4.14% lower in after hours trading immediately following the earnings release to indicate a Friday opening bell price of $108.24 each.
Earlier this year, Jassy confirmed the tech and online retail giant is preparing job cuts affecting around 18,000 of its global workforce, amid what it called an "uncertain and difficult" global economy. Earlier reports, that weren't supplied by figures from Amazon, put the total at around 10,000.
Amazon, the second-largest U.S. employer behind Walmart, with a global workforce of around 1.6 million, said its job cuts review had been "more difficult given the uncertain economy and that we've hired rapidly over the last several years", a view echoed by Salesforce CRM CEO Marc Benioff when he detailed headcount reductions of around 10% of its 56,600-strong workforce at the enterprise software group yesterday.