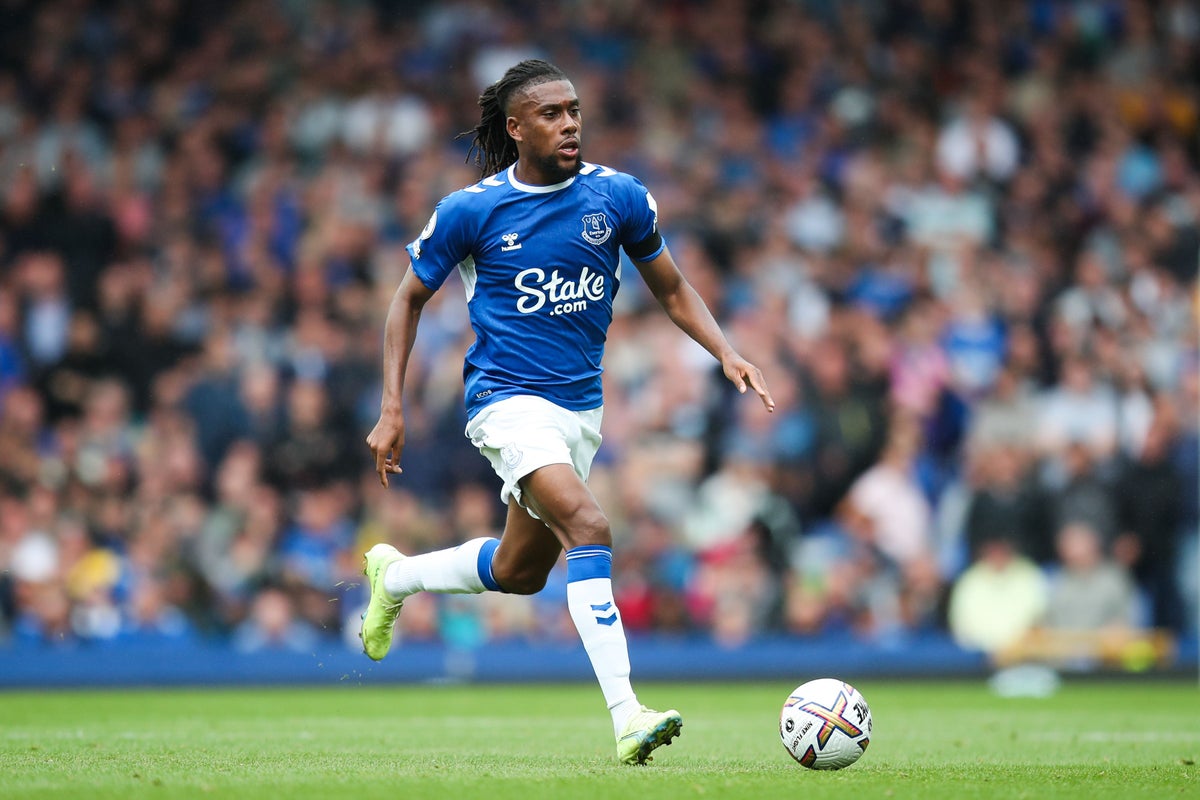 Everton midfielder Alex Iwobi insists the players are targeting victories in their final two games to secure their Premier League status.
Defeat at home to champions-elect Manchester City was not unexpected, even after the vital, morale-boosting win at Brighton six days previously, and has not really changed the equation for Sean Dyche's side.
One win could possibly be enough to extend their top-flight stay into a 70th season but beating both Wolves away and Bournemouth at Goodison Park would almost certainly do that.
A year ago the Toffees safeguarded their future in their penultimate fixture, the final home game against Crystal Palace, but with things so tight at the bottom it is likely the outcome of one or both remaining relegation places will go to the final day.
Which is why a maximum haul for Everton will be absolutely crucial.
"We can't be too down but there is a saying in football that you can't be too high, like against Brighton, and then too low about City. We just need to kick on and go again," said Iwobi.
"The mindset is to have the belief that we can stay up and get maximum points – get six points.
"We have to prepare, analyse and see Wolves' weaknesses and how we capitalise against them."
Despite the City defeat the fans who remained behind at a rapidly-emptying Goodison Park were keen to voice their support for the players.
Iwobi accepts that will be crucial for the final day of the season against a Bournemouth side who are already safe but said it was an important boost for the squad heading to Molineux before that, especially in a campaign which has been fractious between fans and the club.
"To have the fans having our back after a disappointing result shows how much the fans care and want us to do well," he added.
"We use that as motivation to go into the next game. If they can fight for us, it is only right that we can fight for them as well."
Right-back Nathan Patterson is still trying to find his feet in the side having struggled with fitness and it has been difficult for him coming into an under-performing side, starting the last two matches due to an injury to Seamus Coleman.
But having been given his chance he is focused on the fight for survival rather than worrying too much about his own personal difficulties.
"You always have to be ready any time you are called upon and I feel I've done that in the last couple of games," he said.
"We are making sure we are focused on the things we do and as long as we do our job and do our best I'm sure we will be fine.
"All season we've concentrated on ourselves, trying to not look at the table and anyone around us.
"We just have to make sure we are focused and everyone is on the right page."
Everton are still waiting to find out the extent of striker Dominic Calvert-Lewin's groin problem, which forced him to be taken off as a precaution at half-time with the side already 2-0 down against City.
Manager Sean Dyche refused to take any chances after the injury-plagued forward reported a niggle in the first half and took him out of the firing line in the hope he can still feature in their remaining two games.
While Calvert-Lewin has scored only once in five appearances after two-and-half months out with a hamstring problem, his return to the side has contributed to better performances with him being able to provide a focal point.