AIUDF protests against price rise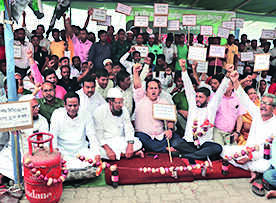 GUWAHATI: The All India United Democratic Front (AIUDF) on Wednesday staged a protest in Guwahati slamming the BJP-led state government over its "failure" to curb price hike of essential commodities, medicine, LPG and fuel.
Party general secretary Hazif Basir Ahmed said price hike in everything has adversely affected the common people across the state at this time when they are struggling to get back the pre-pandemic economic stability.
"The prices from food products to fuel kept on spiralling the day the NDA's government started its second term on Tuesday. We have not seen any step to curb price rise," he added.
He demanded the chief minister Himanta Biswa Sarma-government to consider the matter seriously and take some measures to give relief to the common people.
"People had given a mandate to the BJP government for a change in 2016. Again, the NDA was given a mandate last year. But the NDA has failed to meet the expectations of the people. Infrastructure development is needed. But kitchen essentials, medicine, domestic LPG and fuel at affordable prices are the need of the hour to prevent starvation."
It is pertinent to mention that a litre of petrol now costs over Rs 100, an LPG domestic refill is priced at Rs 1,000 and vegetables were over Rs 70-Rs 80 on Friday in Guwahati.
The Assam Power Distribution Company Limited increased the power tariff by 59 paise with effect from April 1. Meanwhile, the prices of cement, rods along with other construction materials have also gone sky high.