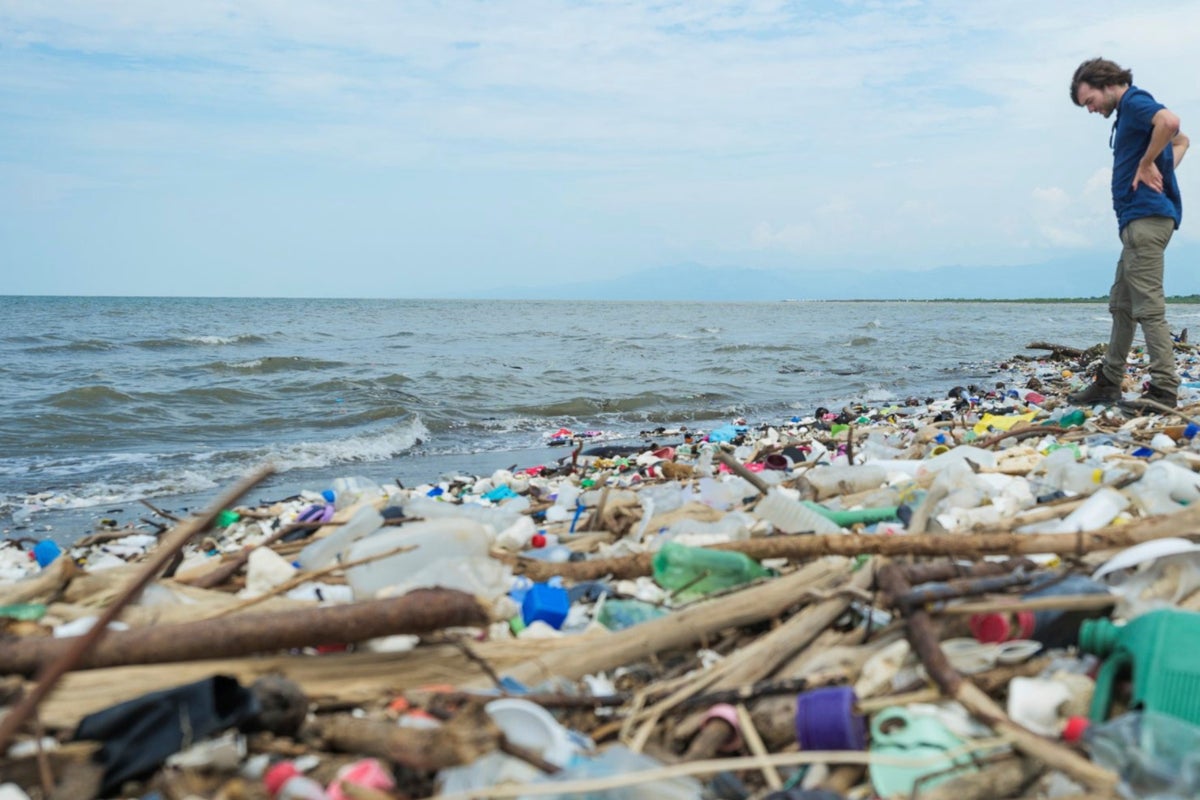 Entrepreneur Joe Gebbia donated $25 million to The Ocean Cleanup Thursday to support the nonprofit's efforts to remove plastic from the world's oceans and rivers.
Experts in the field welcome both the donation and the attention to the issue of ocean sustainability, pointing out that it receives the least funding of all the United Nations' Sustainable Development Goals. According to the World Economic Forum, about $175 billion a year is needed to protect the oceans, but between 2015 and 2019 less than $10 billion total was invested in the cause.
Gebbia, co-founder of Airbnb and Samara and chairman of Airbnb.org, said he was proud to partner with the nonprofit, which declared his donation the largest in its history.
"The Ocean Cleanup has created systems and technology that actually work at scale," Gebbia said in a statement to The Associated Press. "In order for them to deploy across our oceans and rivers, they now need to scale their funding. It is my hope that this donation can inspire others to act."
The Ocean Cleanup works to remove the existing plastic floating in the ocean, especially in the Great Pacific Garbage Patch, as well as reducing the amount of plastic flowing into the oceans. The nonprofit has removed roughly 440,000 pounds of plastic from the Garbage Patch, which consists of an estimated 220 million pounds of plastic located between Hawaii and California.
"Joe's continued support of The Ocean Cleanup's mission has a direct impact on our operations all over the world," Boyan Slat, The Ocean Cleanup's founder and CEO, said in a statement. "Thanks, in part, to his generous assistance, we are able to scale up our work in oceans and rivers, helping us reach our goal of ridding the world's oceans of plastic."
Daniela Fernandez, founder and CEO of the nonprofit Sustainable Ocean Alliance, which helps young leaders connect to work on solving issues threatening oceans' health, said many donors do not realize that supporting programs battling climate change does not necessarily support the welfare of the oceans. She said Gebbia's donation is a sign of change.
"I do think that we are seeing philanthropists pay more attention," said Fernandez, whose group is co-sponsoring Our Ocean Youth Leadership Summit in Panama later this month to discuss cleanup and other possible solutions to the oceans' issues. "I think it's really exciting to see this large support take place."
Fernandez said it is important to encourage and empower young people because they may have important new ideas.
"They're frustrated," she said. "But now you're seeing this area of entrepreneurship where people are saying, 'Not only do I want to be angry and write a letter or sign a petition, I actually want to roll up my sleeves and build a mangrove forest in my backyard or put together a coral reef planting campaign for my community.' We're seeing so many ideas."
____
Associated Press coverage of philanthropy and nonprofits receives support through the AP's collaboration with The Conversation US, with funding from Lilly Endowment Inc. The AP is solely responsible for this content. For all of AP's philanthropy coverage, visit https://apnews.com/hub/philanthropy.