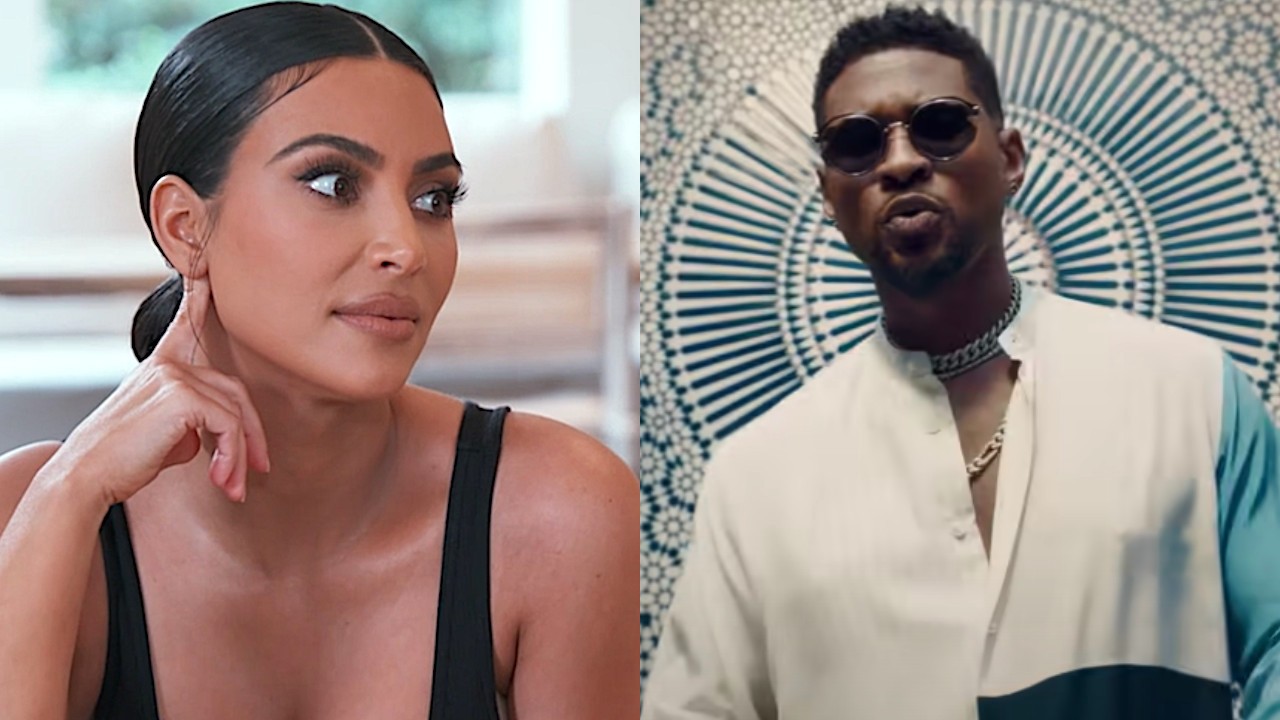 It's no secret that Kim Kardashian has dated and married a number of high-profile celebrities during her time in the public eye. Music moguls and athletes are just a few categories of people that she's reportedly been romantically involved with. And last year, she changed things up a bit by dating comedian Pete Davidson. Now, Kardashian finds herself linked to yet another famous figure: Usher. She apparently attended the singer's show recently and, in the aftermath, rumors are swirling that his girlfriend isn't so happy about them being chummy.
Insiders made note of a few recent run-ins between the SKIMS founder and the Grammy winner. They met up at this year's Met Gala, during which they chatted alongside the reality TV star's ex-boyfriend, Pete Davidson. A source tells RadarOnline that she was "flirting all night" with the "My Way" singer and "didn't even try to hide it when the photographers came around." It's also said that she attended a couple of the entertainer's shows amid his Las Vegas residency after having to miss a show months ago due to bad weather. Despite all of this, a source says that "Usher swears there's nothing between him and Kim."
However, if this rumor is to be believed, the R&B star – whose full name is Usher Raymond IV – is now in hot water with on-and-off girlfriend Jenn Goicoechea. The two have been together for a few years now, as they began dating back in 2019. They've since welcomed two children, daughter Sovereign Bo and son Sire Castrello. When discussing the matter, a source had this to say about Goicoechea's supposed jealousy: 
This should all be taken with a grain of salt at this point, as there's no concrete evidence to suggest that there's some kind of spark between the two celebrities. This could be nothing more than a friendship and, if there was any flirting, it could've merely been playful. I'm not saying that this is totally out of the realm of possibility, but we may just want to cool our jets for now. 
Funny enough, this isn't the first time in the past month that Kim Kardashian has been caught up in dating chatter involving another star. Back in May, rumors swirled about her being "friendly" with Tom Brady. The hearsay actually became so strong that Brady's representative spoke out in an attempt to shut down the speculation. The rep explained that Kardashian merely called to get advice about property on Baker's Bay, where Brady owns land himself.
As far as we know, the reality TV star hasn't dated anyone since Pete Davidson, though that could change soon. Sources close to her claim that she's "open to dating again and putting herself out there." So there's a fair chance that she could have herself a new man sometime soon though, at this point, we definitely can't say for sure that it'll be Usher. 
Those who want to follow the exploits of Kim Kardashian and her relatives can check out The Kardashians. New episodes drop for Hulu subscription holders on Thursdays as part of the 2023 TV schedule.