This article contains spoilers for "The Last of Us," Episode 3 titled "Long, Long Time"
"The Last of Us" may have had its "Stranger Things" moment early, in the third episode of its initial season. The bump that the Netflix show gave to a song, Kate Bush's classic "Running Up That Hill (Deal with God)," which played for quite a long time during a pivotal moment for the characters, was echoed by HBO's new zombie series. The song in "The Last of Us" was Linda Ronstadt's 1970 hit "Long, Long Time" and it was less of a moment and more a whole episode keyed around the ballad. Titled after the song, the bottle episode introduces the characters of Bill (Nick Offerman) and Frank (Murray Bartlett), their love story, its beginning and its end.
It remains to be seen whether the emotional episode will do for Ronstadt what "Stranger Things" did for Bush (and to a lesser extent, Metallica, whose banger "Master of Puppets" also played during a climactic moment), but searches for Ronstadt skyrocketed after the episode aired. Her name trended on Twitter, and U.S. streams of the song increased by a stunning 4,900% in one hour alone, according to Spotify.
What's the song, why was this one chosen for the show and what happened to Ronstadt, often called the "First Lady of Rock"?
Born into an Arizona ranching family, Ronstadt became the lead singer of a folk-rock group, the Stone Poneys, in the 1960s. Her first album as a solo artist, 1969's "Hand Sewn . . .  Hand Grown" is commonly referred to as the first alt-country release by a woman artist. She released her second album only a year later. That album, "Silk Purse" contains the track used by "The Last of Us." 
"Long, Long Time" was a song Ronstadt allegedly had to persuade her record company to include.
"Long, Long Time" is the first song on the album's B-side. Written by Gary White, a Texas artist whom Ronstadt duets with on another song on the album, "Louise," "Long, Long Time" was a song Ronstadt allegedly had to persuade her record company to include. It would end up being the first charting hit for her solo career.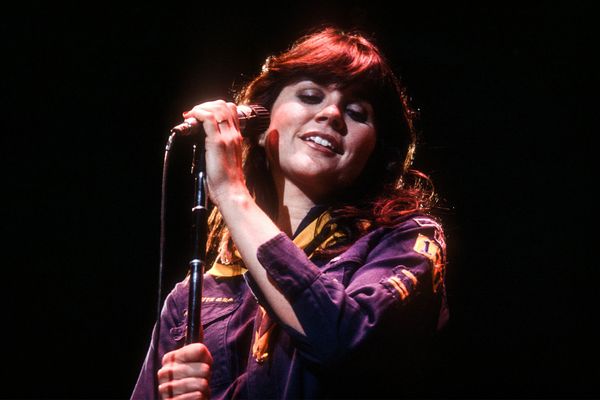 The single of "Long, Long Time" stayed on the Billboard's Hot 100 chart for 12 weeks, though it never reached the top spot. It was also responsible for Ronstadt's first Grammy nomination; in 1971 she was nominated for Best Contemporary Female Vocal Performance for "Long, Long Time." (Her first Grammy win would come five years later.)
Bill stops him — "not that song" — takes over the piano and plays it soulfully, with obvious deep love and experience.
"The Last of Us" co-creator Craig Mazin told IndieWire he knew there would be a song in the episode that two characters would play: one badly and one surprisingly well and true. The song needed "to be this incredibly sad song about yearning for love, and never getting love, and just making your peace with the fact that you will always be alone." Mazin sought the help of a friend, Sirius XM host Seth Rudetsky, whose first and only suggestion was "Long, Long Time." Mazin said, "The whole idea was to hit the highlights of moments in your life where love means something different."
In "The Last of Us," the song first plays in an amateur version. In flashbacks, we see the beginning of the outbreak that will devastate and alter the world of the show. Bill, who describes himself as a survivalist, is holed up in his fortified house and escapes detection by soldiers. Frank falls into one of Bill's booby-traps after years of Bill living a safe — and totally solitary — life. When Bill reluctantly feeds the stranger, and feeds him well, Frank attempts to repay the hospitality by playing a song on Bill's baby grand piano. He chooses a songbook by Ronstadt from the piano bench storage, correctly assuming the book is Bill's. Frank tries an awkward and off-key version of "Long, Long Time."
Bill stops him — "not that song" — takes over the piano and plays it soulfully, with obvious deep love and experience of the heartache the song describes so well. The song doesn't play again, its real, recorded version until the very end of the episode, when main characters Joel and Ellie drive off into the sunset, literally. Ellie, while not understanding airplanes, cars or seat belts, somehow figures out a cassette tape deck and pushes play. Ronstadt's resonant voice fills the car, the deserted road. Curtains from the house's open window move in the breeze to its bittersweet lyrics.
Like Bush (for whom "Running Up That Hill" was unbelievably her only No. 1 hit song), Ronstadt went on to a long and stellar career. After a dozens of Grammys and albums that sold over 100 million copies, she announced her retirement in 2011 for health reasons. 
Ronstadt was first diagnosed with Parkinson's Disease but that diagnosis was later changed to progressive supranuclear palsy, a Parkinson's-like disorder caused by the deterioration of brain cells controlling thinking, movement and coordination. It's a rare condition and one which impacts her ability to sing out loud. She told USA Today in 2022, "I can sing in my brain." 
Meanwhile the world, and perhaps new listeners drawn by the show, will love her voice for a long, long time.