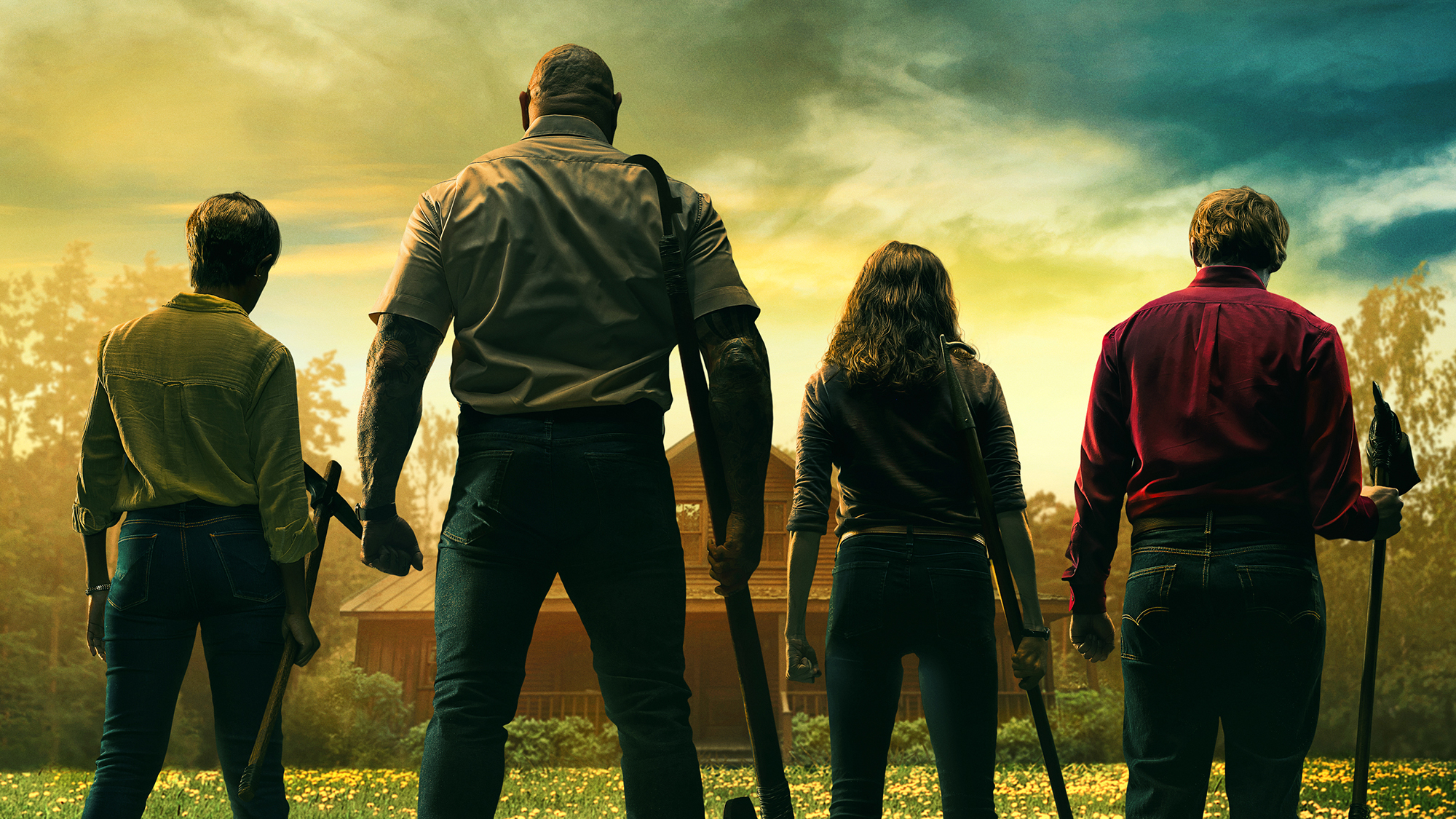 This week's big new movies to watch online is full of stars. You'll find the latest edition of a classic horror series, a documentary for film buffs, a dramatization of an important story and the third chapter of a comedic trilogy that loves to go meta.
The biggest movie you can watch online this week is on Peacock, as Knock at the Cabin moves from digital on-demand to streaming. The film sees a family of three on an idyllic vacation that gets interrupted by the hulking Leonard (MCU star Dave Bautista) and three of his peers, who believes this family is the key to saving the world.
On top of that, the latest Guy Ritchie movie is here, and offers the tempting question of "can Jason Statham and Aubrey Plaza get along?" Lastly, we'll point to a dark comedy starring Toni Collette, Anna Faris and David Duchovny. 
Here are the top 7 new movies to watch online this week:
Operation Fortune: Ruse de Guerre (Digital)
Everyone who's already watched (or rewatched) Lock, Stock and Two Smoking Barrels (one of the new movies on Amazon Prime Video) is probably wondering what actor Jason Statham and director Guy Ritchie are up to these days. The unsurprising news is that they're working together. 
Ritchie's latest comedic action movie Operation Fortune stars Statham as the cleverly named Orson Fortune, a super spy who would prefer to work alone. But when he has to stop billionaire arms dealer Greg Simmonds (Hugh Grant) from making a deal, Mr. Fortune accepts the help of a team of other talented operatives (Aubrey Plaza, Cary Elwes and Bugzy Malone). 
And in order to stop the money and weapons from changing hand, Fortune is pulling in a star who Simmonds loves (we're guessing someone saw The Unbearable Weight of Massive Talent), played by Josh Hartnett (whom we're happy to see in a movie again).
Buy digitally on Amazon right now (released today, March 21)
Clerks III (Starz)
I assure you, we're supposed to be here today, streaming Clerks III. That's because it's finally on a streaming service (Starz, which is how I'm watching Party Down season 3). The possibly final chapter of Kevin Smith's Clerks movies begins with Randall (Jeff Anderson) experiencing a health scare that sends the verbose video store clerk into a funk. Fortunately, Dante convinces him to make the most meta decision ever: make a movie about working in a store. If only someone else had done that. 
Featuring cameos from celebrities who appeared in past Smith movies, such as Sarah Michelle Gellar and Ben Affleck. Oh, and Jay and Silent Bob are back. Critics are mixed on Clerks III, but there's a consensus that Smith delivers strong emotional beats about mortality.
Watch on Starz right now (released today, March 21)
Knock at the Cabin (Peacock)
After a short period of availability via digital rental and purchase, M. Night Shyamalan's Knock at the Cabin is finally streaming this week. So, over at Peacock, you'll be able to stream the story about the terrible vacation that seven-year-old Wen (Kristen Cui) and her adoptive parents Eric (Jonathan Groff) and Andrew (Ben Aldridge) shared.
Young Wen is the first to learn that a quartet of interlopers is coming, as she meets a soft-spoken mountain of a man called Leonard (Dave Bautista). Leonard and his three peers (Nikki Amuka-Bird, Abby Quinn and Rupert Grint) demand that Eric and Andrew make a terrible decision, or else the world will end. 
A completely tense and riveting movie that ends with a surprising third act, 'Knock' sounds like a normal Shyamalan film. Of the films I've seen in 2023, Knock at the Cabin may be the most divisive yet.
Watch on Peacock starting Friday (Mar. 24)
Kubrick by Kubrick (Digital)
Some movie lovers know the career of director, scriptwriter and producer Stanley Kubrick from front to back. But Kubrick by Kubrick allows the titular icon to tell his story, and he doesn't overstay his welcome, thanks to a brisk running time of 72 minutes.
Critics applaud Kubrick by Kubrick not only for its efficiency, but for how it shows audiences a new side of the cinematic maestro. In a series of interview recordings Kubrick gave to film critic Michel Ciment, we get to hear Kubrick explain his films, something he didn't really love to do that often. Also, you may be surprised how Kubrick sounds, as he has the voice of an old New Yorker.
Buy digitally on Amazon right now (released today, March 21)
Call Jane (Hulu)
For anyone who's seen the excellent HBO Max documentary The Janes, the story of Call Jane is quite familiar. Joy (Elizabeth Banks) is a housewife and mother whose recent pregnancy threatens her own life, and since she lives in 1968, before Roe vs. Wade, she can't get doctors to help her. 
She then discovers The Janes, a group of women who work together — aided by select men — who help women in need with access to safe abortions. Critics applauded Call Jane (it's Certified Fresh on Rotten Tomatoes with a score of 82%) both for Banks' performance and how it tells an important story. Call Jane also features a strong supporting cast, with Sigourney Weaver, Kate Mara, Wunmi Mosaku and Chris Messina.
Watch on Hulu starting Thursday (March 23)
Children of the Corn (Digital)
New generations of Children of the Corn may not be harvested as frequently as some other horror movie franchises replenish their stock, but they're no less deadly a terror. This time, 12-year-old Eden (Kate Moyer) is leading the latest batch of creepy kids possessed by spirits rising from a cornfield. 
And while the Children of the Corn don't need an excuse, this batch claim that their parents must be stopped so they don't pay for their mistakes. Our last defense against Eden? One of her classmates, Boleyn (Elena Kampouris), who refuses to go along with the new world order.
Buy digitally on Amazon right now (released today, March 21)
The Estate (Hulu)
A dark comedy filled with some of our favorite stars? Yes, Hulu's getting a movie that we've never heard of, and can't wait to watch. The Estate sees a family assembling over the impending death of Aunt Hilda (Kathleen Turner), and siblings Macey (Toni Collette) and Savannah (Anna Faris) are using this opportunity to try and talk their way into her will. 
They're not unique in this idea, as cousins Beatrice (Rosemarie DeWitt) and Richard (David Duchovny) are also intent on profiting from the passing. Reviews were notably mixed, but this cast is hard to beat.
Watch on Hulu starting Friday (March 24)
More from Tom's Guide