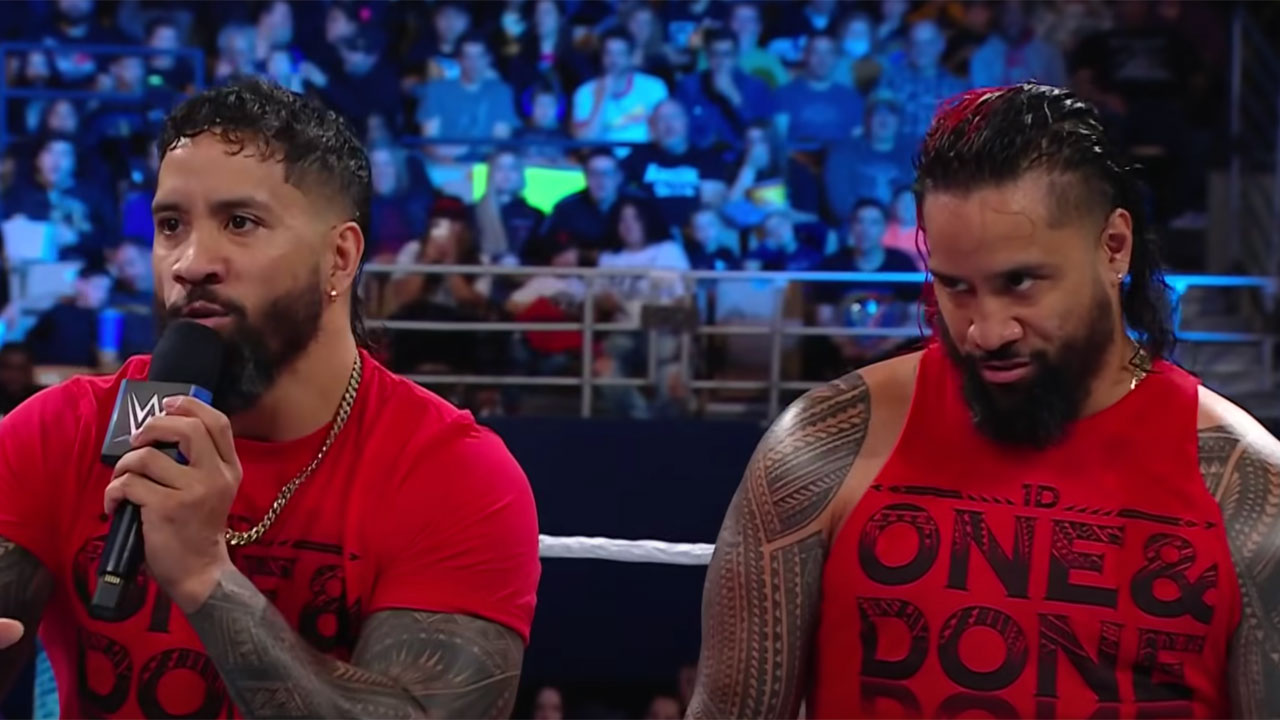 The first night of WrestleMania 39 is officially over, and it went really, really well. The WWE crowd was into every match. We got some all-time classics we'll remember for years to come, and there's nothing but good vibes from fans heading into night two. I can't imagine Triple H and company could have possibly expected it to go this well, but up and down the card, every single person who performed delivered at or above expectations. It's exactly what you'd hope for out of a WrestleMania (though my predictions went terribly).
I could honestly put a little shine on every single match in this column, but I'm going to limit my takeaways to talking about really key moments that I think will matter long-term or things I think will have a shelf life beyond this weekend. It was hard to narrow down to only five, but without further ado, here are what I consider to be the most important takeaways from night one of WrestleMania 39.
Despite Being A Heel, The Crowd Cheered For Rhea Ripley, Leaving WWE With An Interesting Decision
On paper, the crowd should have been rooting for Charlotte Flair and against Rhea Ripley, but those who have been paying close attention for awhile probably aren't surprised that isn't how it worked out. Fans made it very clear they wanted Rhea Ripley to win this match (she did in spectacular fashion), to the point where they were cheering, even when she was doing stereotypically heelish things. I get it. She's a generational talent who should be in the main event for the next decade. She's that good.
So, the question is were fans cheering her because they wanted to see her win this specific match/ win the title or were they cheering for her because they no longer want her to be a heel? The future of Judgment Day is at stake with that question. Either Rhea can continue down her current path and be some kind of anti-hero alongside her stablemates in Judgment Day or she can leave the group and become a full-blown babyface. I have a strong preference for her staying in Judgment Day since I think that faction has so much going for it, but we'll just have to see what Triple H and company decide to do. There's more money in being Hulk Hogan than Ric Flair, but that doesn't mean it's the right decision for everyone.
The Dom And Rey Mysterio Feud Needs To Continue
I've watched a lot of wrestling, and I can't remember too many characters people hate more than Dominik Mysterio. I told a story a few weeks ago about going to Raw and sitting next to a grandma who told me she wanted to beat his ass. Today, I sat next to some hardcore fans who talked to me about how they wanted him gone from WWE a year ago and now this storyline with his dad Rey Mysterio is their favorite non-Bloodline thing on WWE programming. I feel the same way.
I think Dominik Mysterio is so over he could continue to work as a heel without his father in the picture, but there's no reason to test that theory now. Fans can't get enough of this storyline, and there's no reason not to run it back at WrestleMania Backlash. That should give Dominik a chance to pick up a win and maybe set up a SummerSlam match with some kind of fun stipulation. Sometimes staying on a path that's working is the right answer.
There Is A Lot Of Talent In The Men's Tag Team Division
Remember when some people were bitching and complaining about the Fatal 4-Way tag team match getting added to the card? They thought it felt thrown together and pointless. Well, it happened, and it was awesome. It also highlighted why all four of these teams are really good and should be competing for titles in the near future. Alpha Academy is highly entertaining, and Chad Gable is one of the best in-ring workers WWE has. Everyone has done nothing but talk about how The Street Profits should break-up so Montez Ford can go solo, but tonight was a great reminder that this tag team freakin' works. Braun Strowman and Ricochet are one of the most talented big guy/ little guy duos ever, and they're both tremendous at what they personally do. And also, by the way, The Viking Raiders are great too. They've got a really cool look, and they both move around really well for bigger guys.
The tag team division has gotten sidelined a bit for the last nearly two years as The Usos ran wild over the belts, but with their big loss, things are probably about to open up. All four of these teams could make a lot of noise. Plus, it's possible we could get a returning RK-Bro and/ or some potential new signings (FTR maybe?), which would generate even more excitement. If Triple H is willing to give the division the TV time each week, the importance of this division could start growing.
The Usos Are A Historically Great Tag Team
Most fans think The Usos are a really good tag team. It's not like they aren't well-respected, but I'm not sure many six months ago would have put the pair on their personal Mount Rushmores. Well, I think it's time to not only start considering them but maybe make them one of the most common choices for inclusion. They're that good. Their promos are top notch. Either one of them can handle the mic. Their ring work is always clean and fluid, and they both care deeply about telling a real story. They deserved every second of their nearly two year reign with the belts.
I'm not sure what Jey and Jimmy Uso are planning to do next. It's possible they could take a well-deserved break. It's possible they could roll it back with Sami Zayn and Kevin Owens at WrestleMania Backlash. Or it's possible what's next is a continuation of The Bloodline imploding storyline. I'm not really sure what's going to happen, but I am very confident whatever they do, they'll be great at it. Because they're a historically great tag team, who by the way, just headlined WrestleMania 39.
Speaking Of Which, The Usos And Sami/ KO Were The Right Choice To Main Event
There was a lot of controversy over who would main event night one of WrestleMania 39. There were some who advocated for this tag team match. There were others who advocated for Charlotte Flair and Rhea Ripley. Even Charlotte Flair herself talked about and seemed frustrated. Well, she and Rhea delivered a five star classic in their match. They were out there seemingly trying to prove a point, and well, point very much taken. They're both amazing wrestlers who told a really good story in the ring. People will be watching that match for decades to come.
But I still think WWE made the right call picking Sami Zayn, Kevin Owens and The Usos to main event night one. As someone in the crowd, you could just feel more emotional investment in this one. That isn't to say people didn't root very hard in the Charlotte and Rhea match. They did root hard... specifically for Rhea. But The Bloodline match was a few standard deviations higher in terms of emotionally investment. The story was just better, and ultimately, wrestling is about the stories. And the story Jey Uso, Jimmy Uso, Sami Zayn and Kevin Owens, among others, have told is the best wrestling has ever given us. It's only right it main evented. 
You can catch night two of WrestleMania 39 on Sunday evening. You can watch it free with a Peacock subscription.