Earlier this month, FMIA's Peter King shared a quote from a longtime agent that said, "The mocks this year are going to be laughable."
As Yogi Berra said, it's "tough to make predictions, especially about the future."
It's NFL draft day morning, so here is my final mock. Three schools—the usual suspects (Ohio State, Georgia and Alabama)—are tied for the most prospects (three each) in the first round below. There's a legitimate chance that the first two selections of this year's draft will have been collegiate teammates.
Watch the NFL draft with fuboTV. Start your free trial today.
If so, that would be the first time it has happened since 2000 when Penn State's Courtney Brown and LaVar Arrington were the first and second picks, respectively.
Since then, there has been only one draft (2006) where the school (LSU) with the prospect selected No. 1 (JaMarcus Russell) also had another prospect selected in the top 10 (LaRon Landry).
You've probably read plenty throughout draft season, including coverage at The MMQB on the quarterbacks, the sleepers, team needs and a descendant of actual Viking royalty; so let's just get to the picks.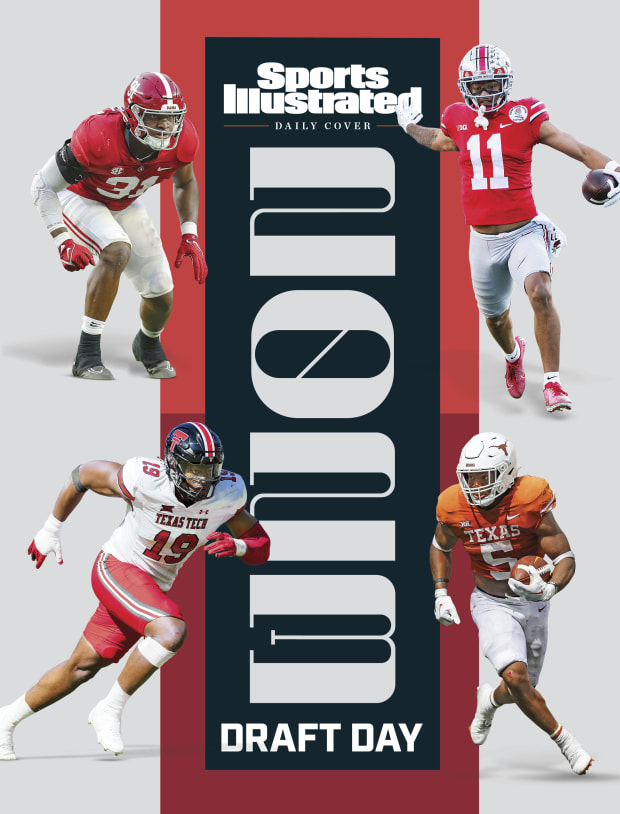 1
Carolina Panthers (via CHI): Bryce Young, QB, Alabama
When the Panthers traded up, it was clear this pick would be used to select a quarterback, and it has since become increasingly likely that Young is their target. The former Heisman Trophy winner lacks ideal size, and Frank Reich has typically coached bigger quarterbacks, but the Panthers' coach has also said that "ultimately it really comes down to [them] being a playmaker." Young is always composed, processes quickly and has the ability to extend and make plays outside of structure.
2
Houston Texans: Tyree Wilson, edge, Texas Tech
If Young is off the board, as expected, the Texans could pass on a quarterback here. If so, there will likely be considerable debate between selecting Alabama's Will Anderson Jr. and Wilson. Wilson's combination of size, length and power offers enormous upside, and the former Red Raider is coming off his most productive season, although a foot injury cut it short.
3
Arizona Cardinals: Will Anderson Jr., edge, Alabama
This pick should be available to the highest bidder, and the odds of finding a willing trade partner should increase if the second pick is not a quarterback. The Colts, Raiders and Titans would all be logical trade partners. Anderson's combination of power, length, burst and relentless motor has allowed him to consistently stuff the stat sheet as college football's most productive pass rusher over the past three years. The high-floor defender has outstanding character and would be an ideal first selection for an organization resetting under the leadership of a new coach and general manager.
4
Indianapolis Colts: Will Levis, QB, Kentucky
This is what I expect the Colts will do, as opposed to what I think the Colts should do (draft Ohio State's C.J. Stroud). That said, it's clear the carousel of rotating veteran quarterbacks in Indy needs to end, as the Colts will enter 2023 with a new starting quarterback for the sixth consecutive season. Even if Gardner Minshew enters this season as a bridge quarterback, Levis has the prototypical size, arm strength and mobility to provide Shane Steichen and the Colts with a long-term fix.
5
Seattle Seahawks (via DEN): Jalen Carter, IDL, Georgia
Seattle's selection of Malik McDowell in 2017 (No. 35) could give John Schneider, Pete Carroll & Co. pause with Carter, but they have a history of taking chances on prospects with character red flags. Once viewed as the potential top pick when the Bears still held the top selection, Carter was the most talented prospect on a team that yielded five first-round picks in last year's draft and has now won back-to-back national championships. He's a versatile and disruptive defender due to his combination of overwhelming power, lateral agility and first-step explosiveness.
6
Detroit Lions (via LAR): Devon Witherspoon, CB, Illinois
Witherspoon isn't the biggest cornerback, but his style and mentality matches perfectly with what Dan Campbell, Aaron Glenn and the Lions want in a corner. He was a three-year starter for the Illini and is a confident, smart and physical cornerback with outstanding ball skills. Witherspoon finished last season with three interceptions and 14 pass breakups.
7
Las Vegas Raiders: C.J. Stroud, QB, Ohio State
It wouldn't surprise me if the Raiders traded up to No. 3 for Stroud. The Raiders signed Jimmy Garoppolo to a three-year contract in free agency, but he isn't necessarily an upgrade over what they had with Derek Carr. Stroud certainly benefited from playing alongside an all-star supporting cast, but he throws with outstanding accuracy, touch and anticipation from the pocket. The athleticism and off-script improvisational skills he showcased in his final college game against Georgia offered a glimpse of what he can do when plays break down.
8
Atlanta Falcons: Peter Skoronski, OT, Northwestern
This is the point in the draft where RB Bijan Robinson would become a possibility. The Falcons also have a perennial need to boost their pass rush if they go in a different direction. Skoronski's lack of arm length (32¼") could shift him inside regardless of his landing spot, but Northwestern's three-year starter at left tackle would immediately fill Atlanta's void at left guard. The former Wildcat is technically sound with smooth and balanced footwork, and is one of the safest prospects in this draft class with potential five-position versatility.
9
Chicago Bears (via CAR): Paris Johnson Jr., OT, Ohio State
The Bears traded the 32nd pick midseason for Chase Claypool, but they still enter the draft with four top-64 picks and find themselves in position to potentially trade back again and acquire even more draft capital if any of the top four quarterbacks slip this far. Assuming they get much more out of Claypool in 2023, the trio of him, DJ Moore and Darnell Mooney will give Justin Fields a solid receiving corps. Johnson is ideally suited to play left tackle, given his combination of size, length and athleticism, but he started at both right guard ('21) and left tackle ('22) for Ohio State and he could step in on the right side if the Bears want to keep Braxton Jones, a fifth-rounder who played well as a rookie, on the left side.
10
Philadelphia Eagles (via NO): Christian Gonzalez, CB, Oregon
It briefly looked as though the Eagles would need to replace both Darius Slay and James Bradberry, but both cornerbacks are now under contract through the 2025 season. That said, Slay is 32 years old, and Bradberry will turn 30 in August. While you can never have too many talented cornerbacks, adding my top-ranked cornerback would allow Howie Roseman to get in front of what could become a future need. Gonzalez is a fluid athlete with good size and outstanding speed who had four interceptions this past season.
11
Tennessee Titans: Anthony Richardson, QB, Florida
As noted earlier, the Titans are among the teams that may attempt to trade up for a quarterback. Despite his inexperience as a one-year starter, Richardson has more upside than any quarterback in this draft class due to his unreal combination of size (6'4" and 244 pounds), speed (4.43 40-yard dash) and arm strength. With Ryan Tannehill under contract for one more season, the Titans can be patient and wait a year before handing the keys of the franchise to Richardson.
12
Houston Texans (via CLE): Jaxon Smith-Njigba, WR, Ohio State
Smith-Njigba lacks elite top-end speed, but he posted combine-best performances in both the three-cone (6.57 seconds) and 20-yard shuttle (3.93). He's a polished route runner with outstanding ball skills and body control. A nagging hamstring injury forced him to miss nearly all of 2022, but he set the Big Ten receiving record with 1,606 yards in '21.
13
Green Bay Packers (via NYJ): Lukas Van Ness, edge, Iowa
Tight end is arguably the team's biggest need, but with three top-45 picks after the Aaron Rodgers trade with the Jets, Green Bay could use one of its Round 2 picks to target one. The Packers could also use reinforcements to bolster their pass rush. Rashan Gary tore his ACL in November and is entering the final year of his rookie deal, while Preston Smith will turn 31 in November.
Van Ness was primarily utilized as an edge defender this past season after mostly aligning inside in 2021. "Hercules" can win with his blend of power, length and relentless effort, but the 272-pound ascending prospect ran a 4.58 40-yard dash at the NFL scouting combine as well. Van Ness has a total of 19.5 TFLs and 13.5 sacks over the past two seasons.
14
New England Patriots: Broderick Jones, OT, Georgia
The Patriots indirectly benefit here from the trade between the Jets and Packers, as the Jets would have likely taken an offensive tackle before them (with the 13th pick). Offensive tackles Trent Brown, Riley Reiff and Yodny Cajuste will be free agents after the 2023 season, while Calvin Anderson and Conor McDermott are slated to become free agents after the '24 season. Jones has the length, athleticism and potential to provide long-term stability at left tackle as he continues to grow into his frame and refine his technique.
15
New York Jets (via GB): Nolan Smith, edge, Georgia
Smith's athletic profile compares favorably to that of Haason Reddick and although he's an undersized edge, he's an outstanding run defender. While he's not a finished product as a pass rusher, there is plenty of upside given his explosive athleticism. Smith's elite leadership qualities should endear him quickly to his coaches and teammates.
16
Washington Commanders: Darnell Wright, OT, Tennessee
The Commanders signed Andrew Wylie to a three-year free-agent contract, but both Wylie and Wright have some positional flexibility. Wright is coming off his best season, which he has followed up with impressive performances at the Senior Bowl and combine. The former five-star recruit is a massive right tackle prospect, who has made a total of 42 starts—27 at right tackle, 13 at left tackle and two at right guard.
17
Pittsburgh Steelers: Joey Porter Jr., CB, Penn State
Given his ties to the organization through his father's days as a Steelers player and coach, the potential for another Joey Porter to play for the Steelers is one of the draft's most interesting story lines, even if it's "not as relevant as you might think." For a team that lost Cam Sutton in free agency, however, this pick would be relevant from a football sense. Porter is a physical corner with excellent size, length (34" arms) and speed. Although he had only one career interception at Penn State, he is disruptive at the catch point and finished 2022 with a career-high 11 passes defended.
18
Detroit Lions: Bijan Robinson, RB, Texas
Speaking of interesting story lines, Robinson's landing spot will be fascinating to watch. As a top-five prospect who plays a devalued position, there is an incredibly wide range of landing spots for the former Longhorn. The team signed David Montgomery, but the oft-injured D'Andre Swift is entering the final year of his contract. Robinson has outstanding size, speed, vision and contact balance, and his 183 missed tackles forced over the past two seasons, per PFF, are 56 more than the next closest back. In addition, Robinson is a dynamic receiver out of the backfield.
19
Tampa Bay Buccaneers: Hendon Hooker, QB, Tennessee
Baker Mayfield has signed a one-year, $4 million contract and is on his fourth team in 10 months. The Bucs used a second-round pick on Kyle Trask in 2021, but he has thrown nine career pass attempts. In other words, the odds of Mayfield or Trask being the long-term replacement for Tom Brady are fairly low. While Hooker tore his ACL last November, is already 25 years old and will go through a significant adjustment from Tennessee's offense, he is an accurate passer with good size and mobility. Hooker also had an official top-30 visit with the Buccaneers.
20
Seattle Seahawks: Will McDonald IV, edge, Iowa State
John Schneider has made 33 draft-day trades in his 13 years as GM, and I considered projecting a trade back here. I could see Schneider potentially target McDonald even if he was to trade back a few spots. The bendy edge rusher has nearly 35" arms and an explosive first step. Although McDonald is a bit undersized, he was highly productive as he left Ames with a school-record 34 sacks.
21
Los Angeles Chargers: Jordan Addison, WR, USC
Both Keenan Allen and Mike Williams will have salary-cap numbers north of $30 million in 2024, the final years of their contracts. Addison would be a good complement to what the Chargers already have at wide receiver. Addison plays faster than he timed at the combine (4.49 40-yard dash) and is a polished route runner with run-after-catch ability.
22
Baltimore Ravens: Myles Murphy, edge, Clemson
Receivers Zay Flowers and Quentin Johnston are both in the mix here, but in this mock the Ravens can capitalize on a player slipping further than he should. Murphy is an elite athlete with some inside-outside versatility and is an excellent run defender. A hamstring injury delayed his ability to work out, but the 268-pound edge defender ran a 4.51 40-yard dash with a 1.59 10-yard split at a workout in early April.
23
Minnesota Vikings: Deonte Banks, CB, Maryland
The Vikings signed Byron Murphy to a two-year deal, but their top three corners in terms of snaps played last season are no longer on the roster. Banks tested extremely well at the combine—4.35 40-yard dash, 42" vertical and 11'4" broad jump. He's a willing and reliable tackler, and he had his most productive season in 2022 with nine passes defended.
24
Jacksonville Jaguars: Brian Branch, DB, Alabama
One of the areas where the Jags need to improve is their coverage in the slot, and Branch would provide an immediate upgrade. Branch's versatility, intelligence and instincts make him one of the safest prospects in this draft class. Branch is an incredibly reliable tackler, and he posted the second-lowest missed tackle rate (3.3%) among defenders with 50-plus tackles last season, per PFF.
25
New York Giants: Emmanuel Forbes, CB, Mississippi State
The Giants tied for the league low with six interceptions in 2022, and they need an upgrade opposite Adoree' Jackson. Forbes is a slender cornerback but has good length, speed, instincts and ball skills. He finished his collegiate career with 14 interceptions, six of which he returned for touchdowns. New York can target some of its other top needs (center and wide receiver) on Day 2. 
26
Dallas Cowboys: Michael Mayer, TE, Notre Dame
The Cowboys could go in a few different directions here, but Mayer would be a great fit at the end of the first round. Dalton Schultz is now in Houston, and Jake Ferguson currently tops their tight end depth chart. Mayer has plenty of experience playing in-line and is the most complete tight end in this draft class with an all-around skill set. He's a savvy route runner with strong hands and led Notre Dame in receiving in each of his three seasons.
27
Buffalo Bills: Quentin Johnston, WR, TCU
Johnston would provide Josh Allen and the Bills with another weapon in their vertical passing attack, and Gabe Davis is scheduled to become a free agent after the 2023 season. Although Johnston has had some issues with drops, he is a big-bodied receiver with outstanding speed who averaged 19 yards per catch through his three seasons at TCU.
28
Cincinnati Bengals: Dalton Kincaid, TE, Utah
The Bengals signed Irv Smith Jr. to a one-year contract to fill the void created by Hayden Hurst's departure, but they currently have no tight ends under contract beyond the 2023 season. Kincaid is a natural receiving threat and arguably the most talented pass catcher in the draft, regardless of position. The former Ute is a savvy route runner with run-after-catch ability and outstanding ball skills. He finished '22 with 70 catches for 890 yards and eight touchdowns.
29
New Orleans Saints (via SF): Bryan Bresee, IDL, Clemson
This pick could be used to address the free-agent losses of David Onyemata and Shy Tuttle. Injuries and personal tragedy the past two seasons have made it difficult for Bresee to build upon his impressive true freshman season, but he has the power and quickness to become a disruptive force in the middle of the Saints' defense.
30
Philadelphia Eagles: Calijah Kancey, IDL, Pittsburgh
The Eagles brought back 32-year-old Fletcher Cox for another season, but they lost Javon Hargrave in free agency. We know that Roseman loves to build through the trenches, so, if they don't trade back, I'd expect the Eagles to add to their defensive (or offensive) line(s) with one of their two first-round picks. Although Kancey is undersized and lacks length (30 5/8" arms), his quick hands and feet allow him to win inside as a pass rusher. Kancey has recorded at least seven sacks and 13 TFLs in back-to-back seasons.
31
Kansas City Chiefs: Zay Flowers, WR, Boston College
Perhaps the Chiefs will need to move up for Flowers, but the former BC Eagle would get to continue to play catch with Patrick Mahomes in this scenario. JuJu Smith-Schuster (78/933/3) led Kansas City's wide receivers in 2022, but he has signed with the Patriots in free agency. Flowers is a quick and smooth athlete who is elusive after the catch with an extra gear. He was highly productive at Boston College, finishing last season with 78 catches for 1,077 yards and 12 touchdowns.
• How the Legendary 1983 QB Draft Class Changed the NFL Forever
• How Bryce Young's Upbringing Shaped Him Into an Elite, Atypical QB
• A Different Kind of Team. A Different Kind of Adversity. Another Chiefs Super Bowl.