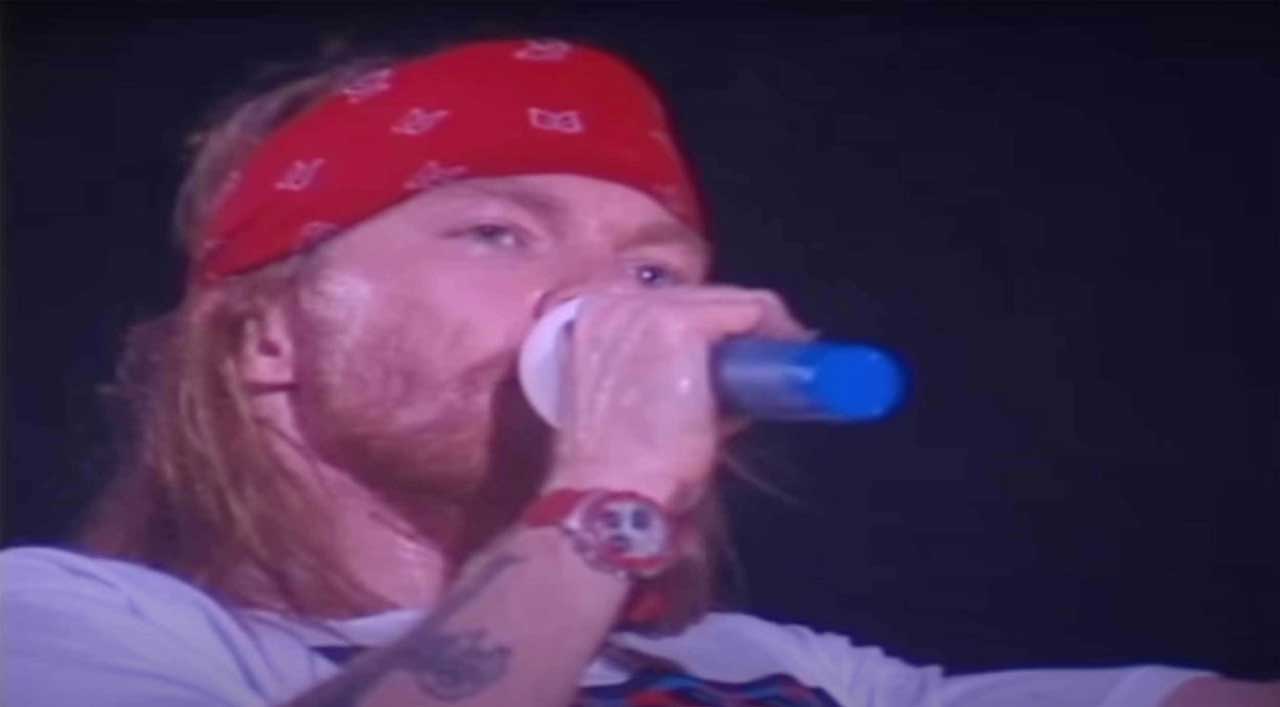 In the Summer of 1992, Guns N' Roses – who appear on the cover of the new issue of Classic Rock – were in the middle of their mammoth Use Your Illusion Tour. It had kicked off in early 1991 with a pair of shows in Rio de Janeiro, and wouldn't wrap up until mid 1993. 
September 2 found the band playing for 48,000 fans at the Florida Citrus Bowl in Orlando, midway through a 26-date schedule that found Guns N' Roses playing stadiums with Metallica. And now the opening 20 minutes from that show have surfaced online.
The footage, which contains a few audio glitches in the opening moments, begins with the band's intro tape, a 1991 oldies-style mashup of GN'R's Welcome To The Jungle and The Lion Sleeps Tonight sung by LA comedy band Big Daddy. Then it's into the performance, which begins with the real version of Welcome to The Jungle and proceeds with Mr. Brownstone, It's so Easy and Live and Let Die.  
The footage reportedly comes from a clip the band gave to local TV stations to use during their reports of the show, and it shows that the band were still capable of real fire onstage, despite the departure of Izzy Stradlin, who had left less than a year earlier, and despite the expanded line-up (we count 13 musicians onstage for Live And Let Die). 
There's also a fantastic highlight, during It's So Easy, when a pair of panties tossed from the crowd land on Axl's mic and are flipped into his face just as he screams the iconic "Fuck Off!" line. It's a magnificent moment.  
After the show, police reported that 200 people had been treated for minor injuries, with four more arrested on minor offences, but city officials were otherwise delighted.
It could have been much worse: During Metallica's previous date in Orlando fans had ripped up $38,000 worth of seats at the Orlando Arena, while violence had erupted in Montreal a month before the Citrus Bowl show, on the night that Guns N' Roses fans rioted and James Hetfield caught fire.
Not everyone was happy, though, with the Orlando Sentinel managing to locate one discontented fan. "I'm not into this crap," said 26-year-old Martha Conley, before the show had even started. "Everybody is already wasted."
Guns N' Roses' world tour begins on June 5. Full dates below.
Guns N' Roses: We're F'N' Back! Tour world 2023
Jun 01: Abu Dhabi Etihad Arena, UAE
Jun 05: Tel Aviv Park Hayarkon, Israel
Jun 09: Madrid Civitas Metropolitan Stadium, Spain
Jun 12: Vigo Estadio Abanca Balaídos, Spain
Jun 15: Dessel Grasspop Metal Meeting, Belgium
Jun 17: Copenhagen Copenhell, Denmark
Jun 21: Oslo Tons of Rock, Norway
Jun 24: Glastonbury Festival, UK
Jun 27: Glasgow Bellahouston Park, UK
Jun 30: London BST Hyde Park, UK
Jul 03: Frankfurt Deutsch Bank Park, Germany
Jul 05: Bern BERNEXPO, Switzerland
Jul 08: Rome Circo Massimo, Italy
Jul 11: Landgraaf Megaland, Netherlands
Jul 13: Paris La Defense, France
Jul 16: Bucharest National Arena, Romania
Jul 19: Budapest Puskás Arena, Hungary
Jul 22: Athens Olympic Stadium, Greece
Aug 05: Moncton Medavie Blue Cross Stadium, NB
Aug 08: Montreal Parc Jean Drapeau, QC
Aug 11: Hershey Hersheypark Stadium, PA
Aug 15: East Rutherford MetLife Stadium, NJ
Aug 21: Boston Fenway Park, MA
Aug 24: Chicago Wrigley Field, IL
Aug 26: Nashville GEODIS Park, TN
Aug 29: Charlotte Spectrum Center, NC
Sep 01: Saratoga Springs Saratoga Performing Arts Center, NY
Sep 03: Toronto Rogers Centre, ON
Sep 06: Lexington Rupp Arena, KY
Sep 09: St. Louis Busch Stadium, MO
Sep 12: Knoxville Thompson-Boling Arena, TN
Sep 15: Hollywood Hard Rock Live, FL
Sep 20: Biloxi Mississippi Coast Coliseum, MS
Sep 23: Kansas City Kauffman Stadium, MO
Sep 26: San Antonio Alamodome, TX
Sep 28: Houston Minute Maid Park, TX
Oct 01: San Diego Snapdragon Stadium, CA
Oct 08: Sacramento Aftershock Festival, CA
Oct 11: Phoenix Chase Field, AZ
Oct 16: Vancouver BC Place, BC