15 of the worst things the Tories did and said last week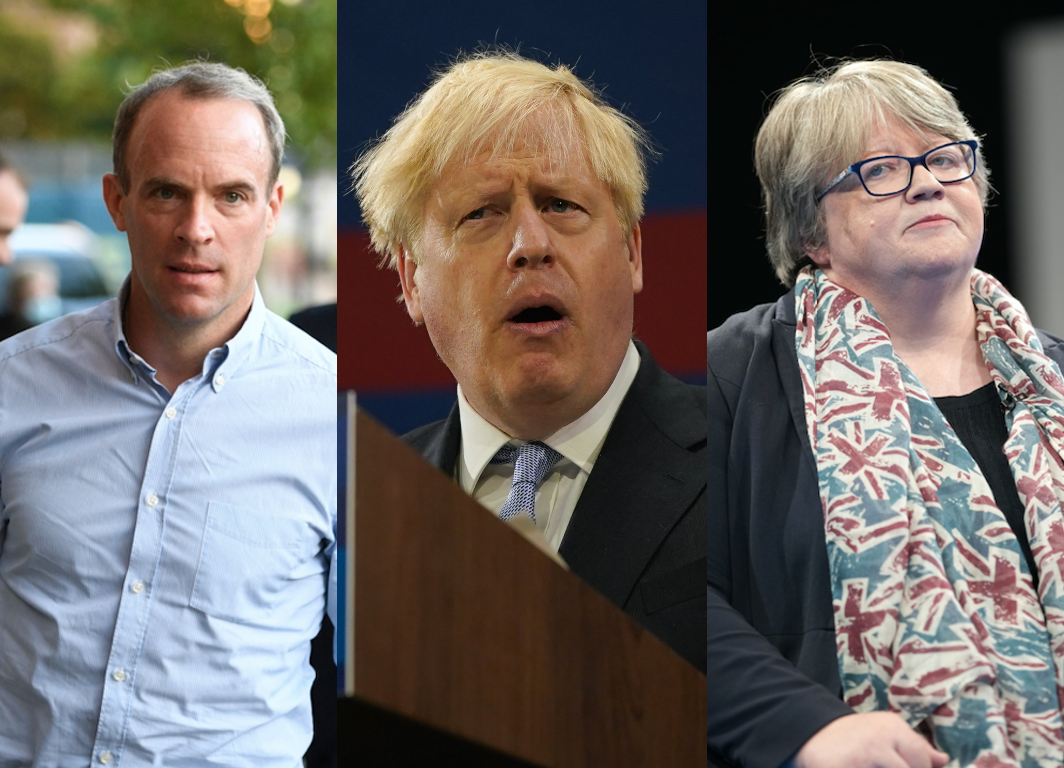 It's almost never a quiet week when it comes to the Conservative Party but last week, which coincided with the Tories national conference in Manchester, proved rife for facepalming.
It was a week that saw increasing concerns over food, fuel and driver shortages, and the Tories take the controversial move to scrap the £20 uplift in Universal Credit.
Then there was the icing on an already terrible cake: it was the week of the Conservative Party Conference.
We wish we didn't have to, but here are 15 times Conservative MPs really got it wrong over the past seven days.
Sign up to our new free Indy100 weekly newsletter
1. Culture secretary Nadine Dorries said "no one" would be pushed into poverty by the Universal Credit cut
In a brief chat with journalist Owen Jones at the party conference, Dorries also said that the government was "giving people a step out".
The Joseph Rowntree Foundation, however, estimate that the £20-a-week cut risks 500,000 people falling into poverty.
I don't think this is an evidence-based assessment https://t.co/UNM4f279gH

— Liam Thorp (@LiamThorpECHO) October 7, 2021
Those who say Universal Credit cut will plunge thousands more into poverty:

Resolution Foundation
Legatum Institute
Joseph Rowntree Foundation
Child Poverty Action Group
Save The Children

Those who say it won't:

Nadine Dorries

Sometimes it's hard to know who to believe

— Will Thorpe (@withorpe) October 7, 2021
She says some silly stuff.

— Deborah Meaden 💙 (@DeborahMeaden) October 7, 2021
2. A "desperately difficult" £82,000 salary
In an interview with The New Statesman, Sir Peter Bottomley, the Father of the House of Commons, said the salary for MPs is "grim" and should be the same as a GP's.
Oh to experience the grim reality of living on just £82,000 a year pic.twitter.com/zryEVvzoPo

— James Felton (@JimMFelton) October 6, 2021
Hello I would like to experience this grim reality please https://t.co/q6pflKrKW5

— Rosie Holt (@RosieisaHolt) October 6, 2021
if you donate just a few pounds a month to our new charity, MPs in Need, you can help Sir Peter Bottomley escape the grim reality of an £82,000 salary https://t.co/YWEFIPmg5q

— Toby Earle (@TobyonTV) October 6, 2021
If he wants a GP's pay, I want him/all MPs to do a 5 yr qualification & three yrs speciality training - like GPs.

Tory MP reveals grim reality of living on just £82,000 as he asks for payrise https://t.co/H04DxMI55x via @MetroUK

— Brian Moore (@brianmoore666) October 6, 2021
Fucking retrain as an HGV driver then https://t.co/t4R8T3wDkc

— Mitch Benn hates to say he told you so 🇬🇧🇪🇺 (@MitchBenn) October 6, 2021
3. Sunak's 'OCD' dishwasher habits
The chancellor of the exchequer told the Daily Mail that he has a "very OCD approach to dishwashers" – comments which angered those who suffer from the debilitating mental health condition.
I've written something about Rishi Sunak's problematic use of the term 'OCD'

'If Rishi had said, "I have to stack my dishwasher in a certain way because I worry if I don't, something bad will happen to the people I love", then I'd believe it'@MetroUK https://t.co/5Ryz4LwXPE

— Jess Austin (@jessaustin111) October 8, 2021
It never ends. @RishiSunak said he has an 'OCD approach' to stacking his dishwasher. The Telegraph and The Times are two outlets that parroted what he said. I recently spent a week, gripped with terror, convinced I was a murderer and had 'forgotten'. How is this still happening?

— james mcmahon (@jamesjammcmahon) October 8, 2021
This kind of careless language is so harmful. As someone with a close family member who suffers from OCD I know there's nothing quirky or charming about it. Thanks for writing about it so bravely and eloquently

— lulah ellender (@LulahEllender) October 8, 2021
When people say they are OCD about a tidy desk at work. No that's just being tidy and possibly a bit anally retentive. Its not OCD.

— James (Jim) Auton (@thejabberwocky6) October 9, 2021
@RishiSunak OCD is not a synonym for 'fussy' or 'particular'. It is a serious condition that destroys lives. We will never get people to open up about their mental health and seek help when conditions like OCD continue to be treated as a joke.

— Catherine Judah (@CathJudah) October 4, 2021
4. Thérèse Coffey having 'the time of her life'
The work and pensions secretary was filmed singing to the Dirty Dancing track during a karaoke event at the party conference, on the eve of the cut to Universal Credit taking effect.
Therese Coffey, Work and Pensions Secretary at a #torybrexit UKIP conference karaoke singing 'the time of my life' on the day millions lost £20 a week through the cut to Universal Credit. Unbelievable.

pic.twitter.com/xF8SyicfDI

— Simon Gosden. Esq. #fbpe 3.5% 🕷🇪🇺🇬🇧🏴‍☠️🦠💙 (@g_gosden) October 6, 2021
Imagine Being a Tory.
At conference.
You've fucked the country.
Fucked poor and disabled people.
Up there, dancing like a cunt.
Imagine it.
Fuck me https://t.co/Fhtp8AbT1i

— John Niven HQ (@estellecostanza) October 6, 2021
These people sing like they govern. https://t.co/l9CWWpOntW

— Otto English (@Otto_English) October 6, 2021
Tories having the time of their lives forcing more people into poverty https://t.co/UGUX6NRORc

— Sinéad Ennis (@EnnisSinead) October 6, 2021
As children starve and the country turns to utter despotic knee jerk misery here we the tories reminding everyone they don't give a f**k and they don't care if you know it 😔😔😔 https://t.co/D8862nZFvi

— Gemma spooKennedy 🩸🩸- natural born worrier (@GemmaKennedy13) October 6, 2021
5. Dominic Raab not knowing what 'misogyny' means
The former foreign secretary, demoted to justice secretary in Boris Johnson's recent reshuffle, told BBC Breakfast that "insults and misogyny" are "absolutely wrong", whether it's "a man against a woman, or a woman against a man" – the latter actually being known as 'misandry'.
"Misogyny is absolutely wrong, whether it's a man against a woman, or a woman against a man" pic.twitter.com/fTmPWkb9VU

— James Felton (@JimMFelton) October 6, 2021
Dominic Raab on BBC Breakfast this morning: 'Misogyny is absolutely wrong, whether it's a man against a woman, or a woman against a man'. That's our Justice Secretary, there. He doesn't know what misogyny is. pic.twitter.com/JGGlwKYZJh

— Anna Mazzola (@Anna_Mazz_Law) October 6, 2021
What this situation really needs is Dominic Raab suggesting that "woman against a man" "misogyny" is a real problem. pic.twitter.com/ijra9Y9ipk

— Jo Maugham (@JolyonMaugham) October 6, 2021
Dominic Raab, the Justice Secretary, does not even understand what misogyny is.

How can we trust this Tory Government to tackle violence against women and girls?https://t.co/uAs3MoLO23

— Taiwo Owatemi MP (@TaiwoOwatemi) October 6, 2021
Dominic Raab being as thick as left-out mince is OF COURSE no surprise. But we can't just roll our eyes at the Actual Justice Secretary not knowing what misogyny is during an epidemic of violence against women and girls

— Terri White (@Terri_White) October 6, 2021
If you ever think you're unqualified for a job just remember that Britain's Justice Secretary can get away with not knowing what misogyny means during a fucking national VAWG crisis and absolutely no one will blink an eyelid. https://t.co/sAzMj75HMA

— Diyora Shadijanova (Диёра Шадижанова) 🇺🇿🇹🇯 (@thediyora) October 6, 2021
6. Sir Iain Duncan Smith calling for people to return to the office because they kept going "in the 1940s" 
The ex-work and pensions secretary wrote in the Daily Mail that "instead of rising to the challenge" of Covid like those in the Second World War would have done, people have "thrown their hands up in despair".
[wearily fetches megaphone] THE HOME WIFI CAPABILITIES WERE FAIRLY FUCKING BASIC DURING THE NON-CONTAGIOUS BLITZ pic.twitter.com/BKb5QpNRQ9

— James Felton (@JimMFelton) October 10, 2021
My Grandma used to say they'd no alternative when the zoom link went down. On with the trilby and out Grandpa went. pic.twitter.com/CfVSuJLuOR

— JOHN NICOLSON M.P. (@MrJohnNicolson) October 10, 2021
Another stupid WW2 analogy form the right wing IDS.
Was the Blitz contagious? pic.twitter.com/xoMtpbnUzU

— Brian Moore (@brianmoore666) October 9, 2021
He so right. My great-grandad was blown up in the blitz, and soon after his wife blew up too. Then one of their neighbours, who worked in a care home, caught Being Blown Up, and within a week half of her patients had exploded. pic.twitter.com/YqdfZsnips

— Russ Jones (@RussInCheshire) October 10, 2021
Given that three times as many people have died of Covid 19 in the UK than died in all bombing in WW2, I'm wondering when the tired old Blitz analogies will go away.

— Otto English (@Otto_English) October 10, 2021
People during the Blitz: "I hope politicians in the future use this experience to try to shame our descendants into going back to the office during a pandemic at a time when home working is much more viable because of technology I can't even dream of. Pass the Spam…"

— Matt Green (@mattgreencomedy) October 10, 2021
once more for those at the back THE BLITZ WASN'T INFECTIOUS pic.twitter.com/SfhMg3YrCq

— Tom Davidson (@TomDavidson09) October 9, 2021
7. Sajid Javid telling the public to "turn to family first" for social care support
The health secretary's remarks at Conservative Party Conference angered Twitter users, amid an ongoing debate about the funding of social care support.
And what do you actually mean by this @sajidjavid? That women's unpaid labour should be relied upon to uphold the state thereby pushing women out of careers and into financial decline?

Are women not included in your plan to 'level up'?https://t.co/zOLq4eBhDi

— Women's Equality Party (@WEP_UK) October 6, 2021
'Healthcare begins at home' and 'people should turn to family before the NHS' says Sajid Javid.

Well, I learnt how to paint via YouTube so better start working out how to do hip replacements, do a Cataract op. and repair a Hernia.
Any volunteers....I will need to practice. 😶

— Robert Bob 3.5% #FBPE #RejoinEU. #FBPA (@MrRobertBob1) October 5, 2021
Good morning to everyone who already is caring for their own family & is near the end of their tether & just needs to know social care will be there to pick up the pieces when they can't but oh https://t.co/IGZLSbAxz1

— gabyhinsliff (@gabyhinsliff) October 6, 2021
Sajid Javid's speech on #SocialCare was a shit-show! The big plan's: family first then community. So who's going to get me ready for work? My 4-yr-old niece or another responsibility for #BusDrivers? Millions of lives & jobs in the hands of those who lack basic understanding 1/3

— Touretteshero (@touretteshero) October 6, 2021
Sajid Javid says health and social care 'begins at home' and people should turn to family before NHS
He's not thought this through has he?

— sue#NHSLove💙💙💙#FBNHS (@SueSuezep) October 6, 2021
8. Michael 'Jon Bon Govey' Gove
Boris Johnson made the remarks about the new secretary of state for levelling up, housing and communities during his party conference speech, in reference to the MP being captured busting some moves on dance floors across the country.
Another joke as Johnson refers to "Jon Bon Govey" who he says was one of the "top government operatives" sent to go clubbing. In the audience, Michael Gove turns as pink as a peony

— Jane Merrick (@janemerrick23) October 6, 2021
Johnson leading the audience in a cheer for "Jon Bon Govey" - joking they sent him out to a sweaty "boite de nuit" to prove it was safe.
It's cringey but they're lapping it up. pic.twitter.com/1kHZglatPQ

— Heather Stewart (@GuardianHeather) October 6, 2021
The PM jokes that he sent cabinet ministers to nightclubs to show they were safe

Telling the conference hall: "Let's hear it for Jon Bon Govey"https://t.co/8tnFWX0L8j

— Evening Standard (@standardnews) October 6, 2021
Boris Johnson addressing a packed hall at Tory conference. Quickly pays tribute to Michael Gove's dancing - 'Jon Bon Govey!' pic.twitter.com/8Fhd4mpqpO

— Alexandra Rogers (@journoamrogers) October 6, 2021
9. Build Back Batter, Bitter and Butter
In a series of short videos posted to social media, the prime minister made a series of "bizarre" puns on his party's slogan.
So last night Boris Johnson tweeted a video of him unwrapping a fish supper saying build back batter. And this morning he has tweeted a video of himself spreading some toast saying build back butter. And everyone is just OK with this.

— Mhairi Hunter (@MhairiHunter) October 5, 2021
Whoever got paid to come up with the
" Build back .. Bitter, Batter & Butter " vids for the PM.
You're absolutely stealing a living. What utter shit.
Embarrassing.

— Adam Brooks (@EssexPR) October 5, 2021
r u telling me that gordon brown saved the world economy and now we have a guy that says "build back butter"??

being british is a real rollercoaster

— Char (@charwrites_) October 8, 2021
We're a nation of masochists, it's the only explanation pic.twitter.com/TAcNNZ4VlN

— Hannah Rose Woods (@hannahrosewoods) October 4, 2021
10. People need to "get off their Pelotons"
Oliver Dowden, the Conservative Party chairman, insulted civil servants by saying that they needed to "get off their Pelotons and back to their desks".
Food £200
Data £150
Rent £700
Peloton £2,000
Utilities £150
someone who is good at the economy please help me budget this. my family is dying https://t.co/Po3nxfbCUu

— Rey Morfin (@ReyMorfin) October 5, 2021
Fun fact: most civil servants don't earn enough to afford a peloton https://t.co/cvtNpxyRkV

— 🧛🏻‍♂️ kristopher lee 🧛🏻‍♂️ (@k_d85) October 5, 2021
I don't think I know many actual civil servants who could afford a peloton. And those who can have long since returned to the office. https://t.co/UQSlq9f0vS

— Mikey Smith (@mikeysmith) October 5, 2021
I can assure him,us Civil Servants not had any time to sit on anything apart from our office chairs wfh. We have been working very hard to support the people in need during this pandemic.What wages does government think we're on that we can have a Peloton,we're on a wage freeze?!

— marni russell (@marnirussell) October 5, 2021
11. 'Woke-ing' from home
Jake Berry, former Northern Powerhouse minister, commented on people returning to work and said: "We have to end the civil service 'woke-ing' from home. Sorry, I mean 'working' from home, but let's be honest, it often is woke-ing."
Like working from home, but WOKE-ING from home.

Geddit?

No, me neither. https://t.co/M9LAUpyodt

— Sharon O'Dea (@sharonodea) October 4, 2021
Someone's trying to get into the @DailyMirror's 'joke of the day.'

Sorry Jake. I know it's early in the day, but it's my sad duty to inform you you have not been successful on this occasion. https://t.co/6x2nqaehsD

— Mikey Smith (@mikeysmith) October 4, 2021
This the funniest joke anyone has ever made. Nice one, Jake. https://t.co/XFlGo29D7k

— PoliticsJOE (@PoliticsJOE_UK) October 4, 2021
I've thought about this for around ten minutes and I genuinely don't get what it's supposed to mean. https://t.co/UZZgBACdjb

— Peter Walker (@peterwalker99) October 4, 2021
I've always thought my tiny desk in the corner of the living room under the mouldy bit of the ceiling had a quality I couldn't quite put my finger on. But that must have been it. It's just too damn woke https://t.co/AghSB4sdJp

— Jennifer Williams (@JenWilliamsMEN) October 4, 2021
12. Office gossip
Sticking with the whole working from home thing, Boris Johnson said this week that people should go back to the office or risk their colleagues gossiping about them.
There is only one thing in life worse than being talked about, and that is being forced to return to the office for no good reason.https://t.co/tEUy7ZI3Tt

— Rob Briner (@Rob_Briner) October 5, 2021
Government: We are going to make flexible working easier for everyone.

Days later…

Boris: Get back to the office or everyone will gossip about you.

You couldn't make it up.

— Sue (@Surfingsue) October 5, 2021
Huge incentive to not go back to work

— Graham Lovelace (@glovelace) October 5, 2021
He has first-hand experience of said gossip!

— Benedict (@benedict_86) October 5, 2021
13. Nadine Dorries, who used to employ her daughters, slammed the BBC for 'nepotism'
Speaking at party conference, she said: "We're having a discussion about how the BBC can become more representative of the people who pay the licence fee, and how it can be more accessible to people from all backgrounds, not just people whose mum and dad worked there."
.@NadineDorries hired her daughters and paid their £80k salary using taxpayers money

(And in 7 years I didn't know anyone at the BBC whose parents worked there. I'd like a source for her claim, but I expect there isn't one because it's not true)https://t.co/lrKMJ6WNtu https://t.co/BRyAprBKsn

— Julia Macfarlane 🇮🇩🏴󠁧󠁢󠁳󠁣󠁴󠁿 (@juliamacfarlane) October 5, 2021
Gosh this is awkward pic.twitter.com/Z5unRLp3cW

— Sam Bright (@WritesBright) October 4, 2021
This is the Nadine Dorries who in 2013 employed two of her daughters as staff in her parliamentary office at a cost of £80,000, right?

https://t.co/3ckCmGngoQ

— Andy Saunders (@mrasaunders) October 5, 2021
14. He's behind you!
Like something fresh out of a pantomime, Kit Malthouse told Good Morning Britain during an interview in Manchester that he has "no idea where [the prime minister] is" in the conference centre, only for the camera to pan around to show the Tory leader just metres away.
'I have no idea where he is.'

Cue half of the UK - 'he's behind you'!

Now we've got a shortage of rank amateurs, what next?

— 💙Calimocho loves Marmite 🏴󠁧󠁢󠁷󠁬󠁳󠁿🌼🏳️‍🌈💙 (@Calimocho14) October 5, 2021
Pantomime Season gets earlier and earlier every year.

"HE'S BEHIND YOU"

— Tony P-K (@BongoThePongo) October 5, 2021
I haven't laughed until I cried for a long time. Hilarious.

— The Wombat (@bigwombatt) October 5, 2021
Made my morning. Cringeworthy but hilarious 😃😄😂

— d¿walks. keeping the mask on (@Diane_walks) October 5, 2021
15. Marbella
Finally, after all this, Mr Johnson is apparently on holiday in the Costa del Sol, angering members of the public who think he should be doing more important things.
Boris Johnson is reportedly holidaying in a luxury villa on Marbella as the cost of living crisis is in full swing and Universal Credit is cut back. Of course he is.

— Matthew Stadlen (@MatthewStadlen) October 9, 2021
I'm a bit bored with everyone moaning about rising prices, food shortages and the petrol crisis, so I'm spending the week in a luxury villa in Marbella. https://t.co/0Fs9ncNnJm

— Parody Boris Johnson (@BorisJohnson_MP) October 9, 2021
Boris has gone to a luxury villa in Marbella for a week long holiday not paid for by him.
This bloke is an absolute piss take.
Country is a mess.
He doesn't care.
Get this twat out.
The most undedicated, apathetic PM this country has ever had.
Man's a disgrace.#ToriesOut

— MJB 🖤 (@tudorgurl) October 10, 2021
As Britons face soaring UK energy bills, rising Covid cases, benefit cuts, empty supermarket shelves and a petrol crisis.... Boris Johnson jets off for a luxury break in Marbella https://t.co/Ek0A2s6brx

— Otto English (@Otto_English) October 9, 2021
We could do with one ourselves after listing all this twaddle.